As someone who lives in a tropical country, I'm in a constant battle with the heat and humidity. Not only does the weather affect my skin, it takes a toll on my hair as well. I wash my hair only to have it dry in a big frizzy mess. And by day 2.5, the greasiness has already started to show. So I was a bit sceptical when it came to reviewing the new Japan's No.1- L'Oréal Extraordinary Oil Hair Care range. An oil shampoo to tackle my oily roots? And wouldn't the conditioner weigh down my hair? But in the name of beauty (or hair in this case), I was willing to give it a try.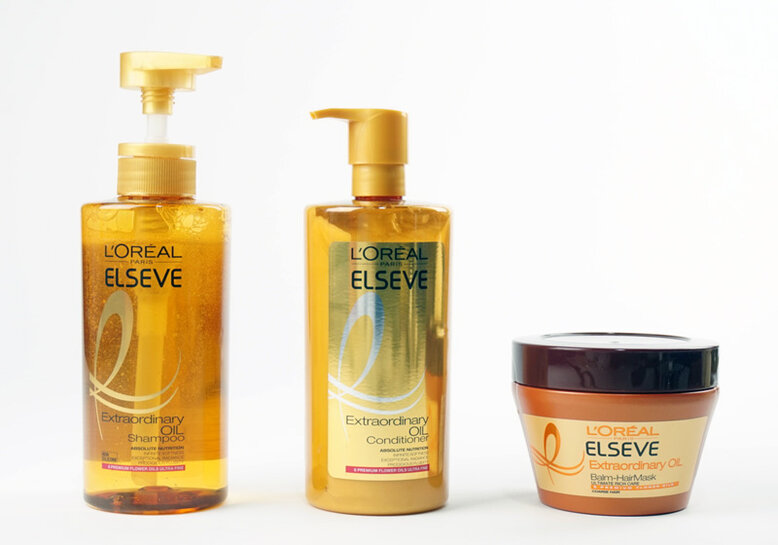 I was pleasantly surprised the first time I used it. The clear liquid didn't feel heavy or oily as I massaged it into my roots; moreover, it rinsed out easily too. And the scent was just divine. Standing in the shower shampooing my hair, I realised it's a concept similar to my oil makeup removers – where oil is used to sop up excess sebum, dirt and makeup without stripping the skin of its natural oils. A blend of 6 flower oils – lotus to soften, tiare to smoothen, rose to strengthen, flax to add shine, chamomile to tame frizz and sunflower to give it bounce – the shampoo gently, but effectively cleanses the scalp without stripping away your natural sebum leaving the scalp balanced and not sensitised as it can sometimes get when a shampoo is too harsh. With all the grease and buildup out of the way, my scalp felt clean, fresh and cool. The same blend of oils also helps nourish and strengthen the hair by entering and sealing the hair cuticle.
Now because my hair is quite thick and coarse, I skipped the conditioner and went straight to using the mask. The mask, like the conditioner, is a beautiful golden cream. It's so golden it almost shimmers. If you have fine hair or your hair is quite limp, I'd say use the conditioner. But if like me your hair is a coarse, badly behaved mess, the mask is probably a better idea. I combed and massaged in the mask with my fingers making sure to distribute it evenly through the lengths of my hair. When it comes to conditioners and masks, you've got to make sure you don't use it on the scalp and roots because this will just flatten your hair – and no one wants that. I rinsed it out after about 3-4 minutes and found that like the shampoo, it was really easy to rinse out as well. I also found that there was less hair on the bathroom floor as compared to other brands. After towel drying my hair, I worked in a few drops of the Extraordinary Oil treatment and let my hair air-dry.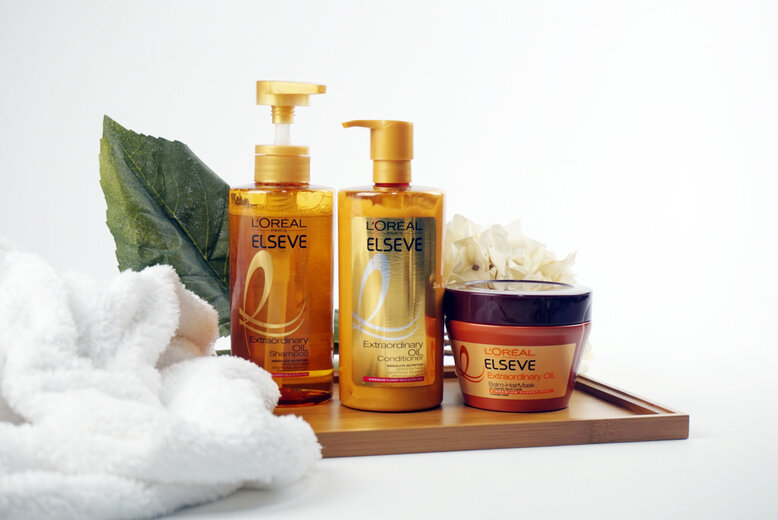 Once dry, my hair felt much softer to the touch and smoother. It definitely had a beautiful sheen to it. And contrary to what I thought, it didn't feel weighed down; in fact it was quite bouncy, and "airy". There was no residue or any sign that I had used an oil shampoo and mask, so I'd say this range lived up to its promises and will definitely be on our must-use list!