Variety is the spice of life. But when we find something that works really well for us, we stick to it. This goes for most anything in life, but beauty products and regimens especially.

That said, we do have favourites. And the Skin Inc Facial In A Flash + Treatment is one of them. So you can just imagine how elated we were to find out that our beloved facial got even better and can now be experienced in a new location. Nestled in VivoCity, the swanking new location offers a quick respite for on-the-go women (and men) in the island city.

The branch offers the services Skin Inc Facial In A Flash Bar is known for, namely its Facial In A Flash Treatment and Facial In A Flash + Treatment. But it also has a new offering, the Powered Up Perfection, which gives clients an opportunity to indulge in masks for different skin needs. Enjoy multi-masking as you can mix and match masks depending on the needs of the different areas in your face.

All services are designed for busy people who need a quick boost of pampering — perfect for a GlamMama, our creative director Kersie. Below's a run-through of her experience.
Current skin type: Dry​

Skin concerns: Melasma/pigmentation issues getting more serious in the last year, losing firmness​
Recommended treatment: A serum concoction and masks​
Recommended serum concoction: Hyaluronic acid for hydration, collagen for restoration, and chlorella for pigmentation
Recommended masks: Lines Be-Gone, a rose gold mask that reverses the signs of aging for the bottom half of the face. Get Glowin', a platinum mask that aims to brighten the complexion for the top half of the face.


The process
The treatment begins with cleansing. Starting with a clean canvas is a must, so makeup is removed. After that, a gentle peel is done to ensure that dead skin cells are gone. And then, serum, mist and masks are applied. A light treatment using the Optimizer Voyage Tri-Light follows. The treatment is capped off with a tinted sunblock and a relaxing shoulder massage.
The sensorial experience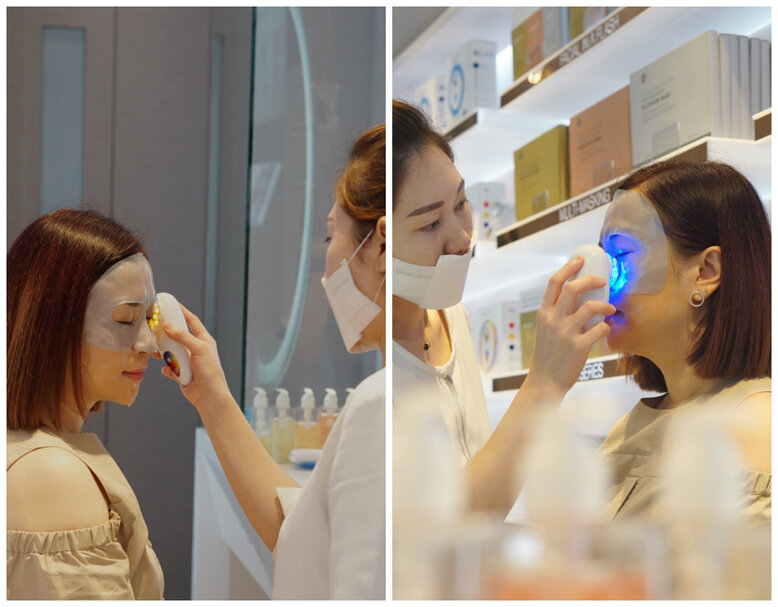 "​As I'm not new to this facial, I know to expect the same quick relaxation," Kersie says. "However, I've not tried the masks yet so I was curious about how they will incorporate masking to the overall experience. After the mask was applied, the light treatment was done over the mask. This was when I wished the chair was with a headrest and is slightly reclining like a dentist chair so I could get a quick shut-eye."

"Overall, I'm really happy with the results," Kersie shares. "My skin looked immediately softer and brighter. With just their tinted sunblock, I felt I didn't need to put on more makeup even though I was attending an event soon after the session. ​It's something I would definitely recommend. It's great for a quick relaxation and brightening fix right before that dinner or event where you want to look refreshed."
If you want a quick pampering session, too, you can visit SKIN INC's branches or try out their Facial On The Go vending machine, which gives you a single serving of their Facial In A Flash Mask series.
Learn more about Skin Inc here.