Too busy for a facial? You don't have to be. Skin Inc's latest facial treatments will bring your skin back to life in a flash -- perfect for the time-pressed ladies who struggle with finding time for some self-lovin'.
If you have just 20 to 30 minutes to spare, consider heading down to the
Skin Inc Facial In A Flash Skin Bar
. Located at Skin Inc's swanky new concept lifestyle store that sits in Scotts Square -- a considerably undisturbed establishment in the bustling Orchard Road -- this bar is your quick stop for a skin refresher. They may not be serving up cocktails any time soon, but at least you get a skin-boosting concoction for a complexion that glows.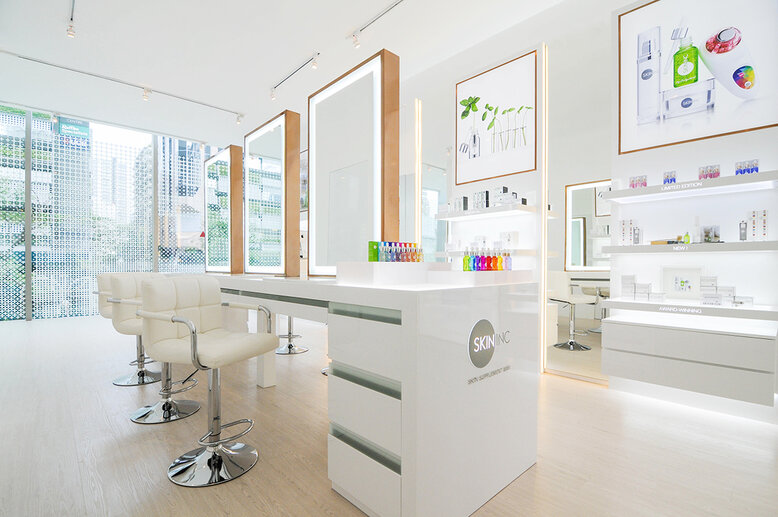 Skin Inc at Scotts Square, Singapore
The Facial In A Flash Skin Bar offers two treatments: the
Facial In A Flash
(20 minutes for SGD45)
and
Facial In A Flash+
(30 minutes for SGD65)
. The 20-minute Facial In A Flash treatment offers Skin Inc's iconic customised 3-step program, followed by the highly raved Optimizer Voyage Tri-Light treatment. The 30-minute Facial In A Flash+ treatment features the same offerings, enhanced with a Pure Serum-Mist onsen water infusion and a relaxing shoulder massage. All in all, you get to indulge in the benefits of a customised facial treatment Skin Inc is famously known for before you scurry off to your next appointment of the day.
--------------------------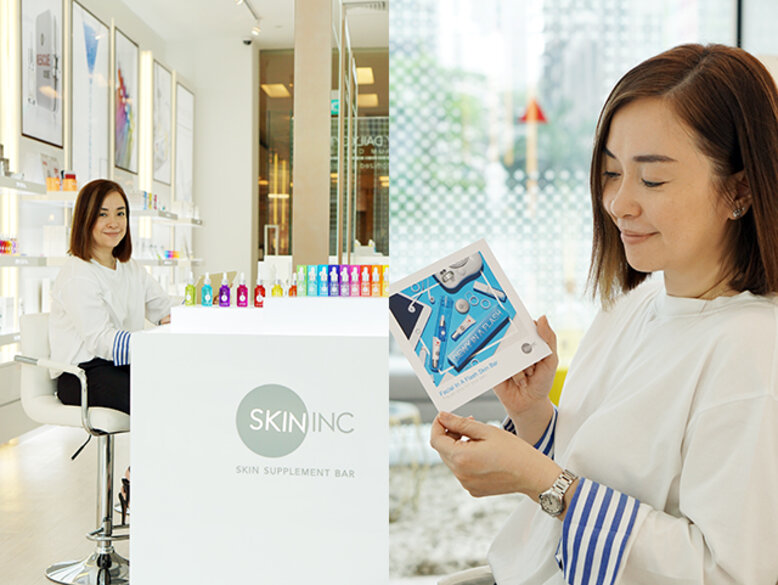 Reviewing the Skin Inc Facial In A Flash+ Treatment
So, who better than our Creative Director and busy mom of three,
Kersie (@GlamMama)
, to help us review Skin Inc's Facial In A Flash+ Treatment? Below, the lowdown.
Current skin type:
Dry
Skin concern: Fine Lines, Dullness, Stressed Skin
Recommended serum concoction: Collagen, Chlorella, French Pine Bark
The Process
Stepping into the bright and clean Skin Inc's newest store at Scotts Square was a very welcoming experience. We began the treatment by decoding my skin identity before I was "prescribed" my very own serum cocktail: a blend of Collagen, Chlorella and French Pine Bark to restore, revitalise and repair my skin.
--------------------------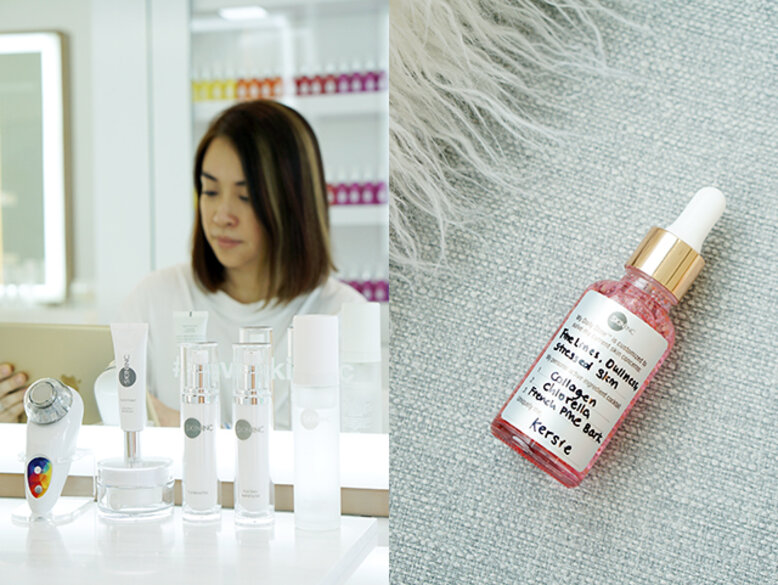 Decoding skin identity; Skin Inc customised serum cocktail
The cleansing and removal of makeup was obviously a must, but I was glad that they left my eye & brow makeup untouched so I could still continue on my day without having to redo my eyeliner. Seeing as I was seated at the Skin Bar in the store, arranging and tucking my hair neatly before the treatment was a nice bonus.
--------------------------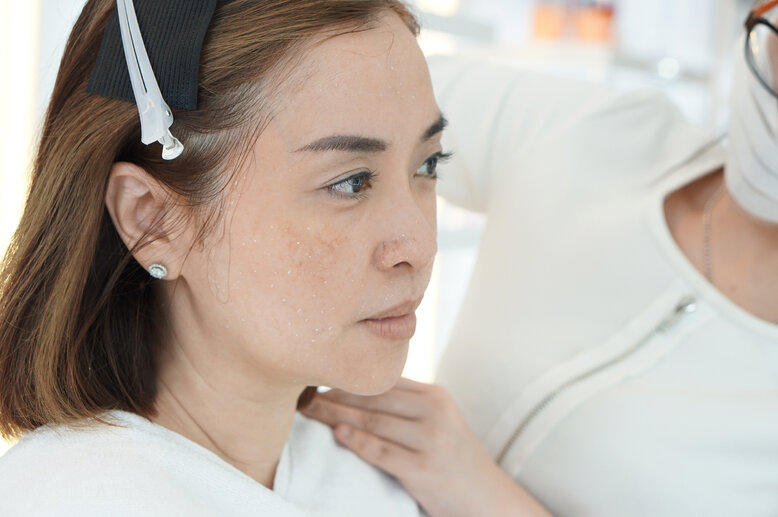 Pure Revival Peel step
After cleansing came the Pure Revival Peel, an exfoliant that helps polish away grimes and dead skin cells, followed by the Pure Serum Mist infusion, which felt cooling and very, very relaxing. A generous layer of Pure Deepsea Hydrating Mask was then slathered on my skin before the Optimizer Voyage Tri-Light treatment, where the therapist strategically positioned the red and blue lights around my facial contours to repair and calm my skin respectively.
--------------------------

The Afterthought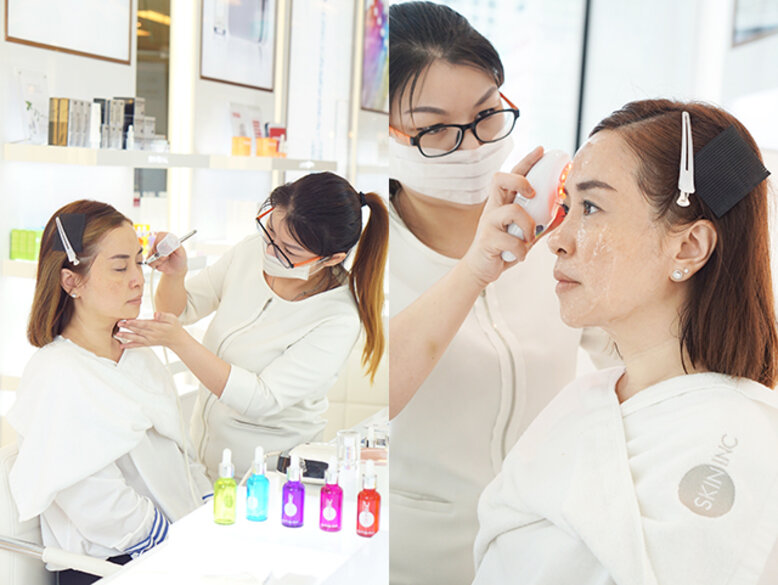 Pure Serum Mist infusion; Optimizer Voyage Tri-Light treatment
I'm generally sensitive to strong scents, so I'm glad the overall treatment was mildly scented. My face definitely looked brighter and felt tighter after the treatment, so much so that I could still feel the effects the day after. Although it was an express facial, I still felt pampered and relaxed that I only wished the seat had a headrest so I could doze off in peace. I forgot to bring my foundation out that day, so I was happy that my therapist ended off the treatment with tinted sunscreen.
--------------------------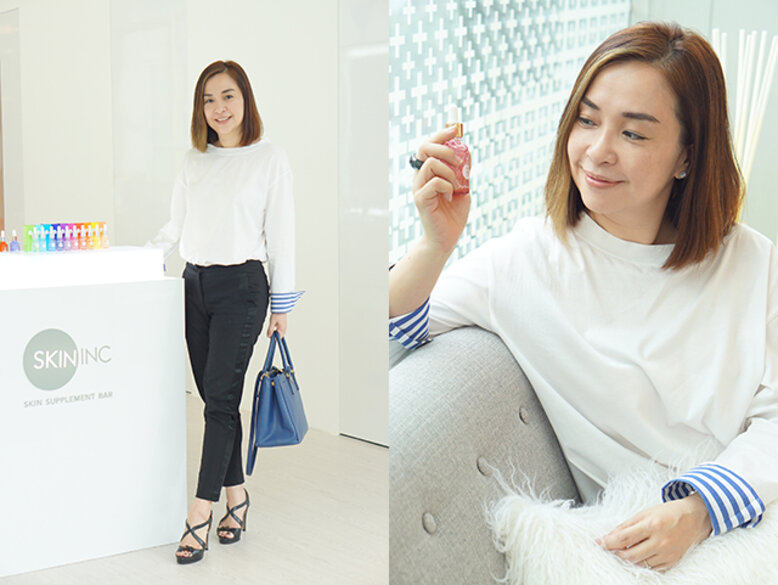 Juggling between a busy work schedule during the weekdays and family bonding time during the weekends can be a feat, so I really enjoyed the quick facial pit stop. Now, instead of stopping for more caffeine in-between meetings, I can get my quick facial fix for the month!
--------------------------