Clay masks are a tricky thing and when you try one, it's either a hit or a miss. I have tried numerous clay masks and my experience with each of them varies. Most of them made my skin breakout (or purge) and the rest made no difference to my skin. So for quite some time, I abstained from buying clay masks even though I missed the relaxing feeling when I use one... until I bought and tried the Origins Original Skin Retexturizing Mask with Rose Clay.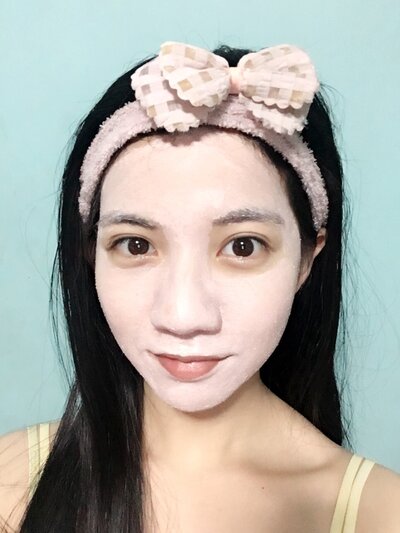 With the pretty pink clay mask on
Admittedly, it was an impulse buy. I was browsing the beauty counters when I spotted an array of specialised masks for every skin concern. As I have oily-combination skin, the saleslady at the Origins store recommended that I try the Origins charcoal mask variant but I was particularly drawn to the Origins Rose Clay Retexturizing Mask. The reasons why I picked it over the charcoal variant was really shallow to some extent; it was because it's rose-infused and it comes in my favourite colour, pink. I know, I can be really stubborn sometimes but I'm so glad that I was that day because I found my holy grail clay mask.
It took me a few days after my purchase before I decided to give it a go. A part of me was still scared that my skin will react badly to this mask. But at the first try of using this mask, I was proven wrong. (Yay!) Now, enough with the chitchat and let me tell you the reasons why I love this mask.