In the hierarchy of beauty staples, lip colour ranks high for me. A swipe of a lip colour can affect not just how you look but also how you feel. That said, I'm fascinated by all types of lip products. But my favourite, as do most people from this side of the world, are those with a matte finish. In stores and online, I naturally gravitate toward the matte section.

That said, my tolerance for matte lip products has become high. I like the products really matte, and I don't care much for dryness. I'm also a busy mum who's often pressed for time, so I need something that would ideally last me an entire day with minimal to no touch-ups. Of course, I love a nice colour, too.

Naturally, my interest was piqued when I learned about the Cargo Cosmetics Swimmables Liquid Lipsticks. From the line's name, you can already get a gist of what the products promise.
Cargo Cosmetics Swimmables Liquid Lipstick - PHP995


Packaging, scent and texture
The product comes in a tube with a silver cap. It has a doe foot applicator, which helps make sure that the product glides on the lips smoothly and precisely. It has a bit of a chemical smell to it, but it's not something that would throw you off. It has a creamy texture but not overly so that you can't apply it evenly. The colours are pigmented; one layer is all you need to get maximum opacity (but you can layer it on according to your liking, of course. It doesn't clump up when you do it).
Formula, application and wear
The product promises to be lightweight and moisturising on the lips. As mentioned, I don't really put a premium on this criterion because I'm not particular about having a dry feeling on my lips. I'm not a lip balm addict either. But I do exfoliate my lips before putting the product on. A word of warning to those who are more sensitive to texture, though: it's not as light as a feather. But it's also not something you'd be annoyed by if you're used to wearing liquid lipsticks.
Top to bottom: Montauk, Sorrento, Newport
The product sets quickly, but it feels tacky when you put your lips together. Despite that, it doesn't feather or smudge. So yes, once it dries, it's budge-proof. You can even put your fingers on it and it won't transfer. I've tried wearing it for an entire day — I got ready for an event in the morning and got home late — and it still looked good. It's Swimmable, as in you can swim in it. I wasn't able to use it in the water, but I did brave heavy rain in Metro Manila with it on and it didn't move.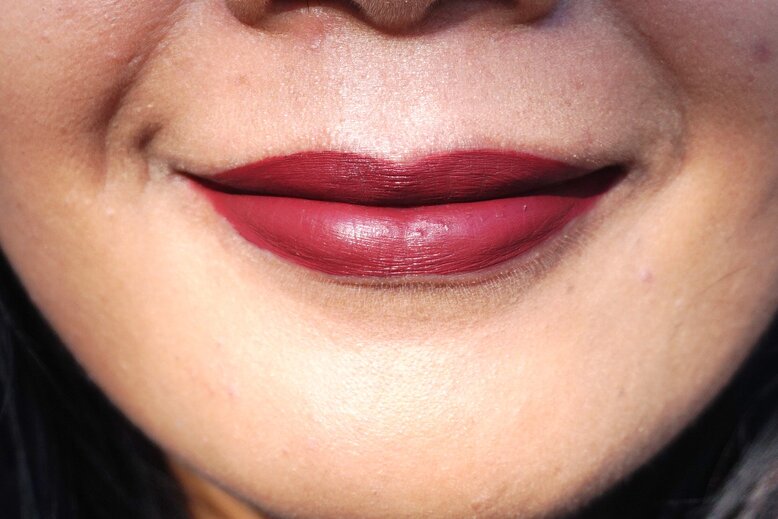 Wearing Montauk
A bit of the lipstick gets removed in the inner part of my lips at the end of every meal, but that's something that usually happens when you eat with lipstick on. I'm happy to report, though, that it doesn't move or stain other parts of your face even when you eat haphazardly. It doesn't leave its mark on your straws or cups either. I've tried eating with oily food with the product on as well and have learned that it stays on quite well, with the exception of eating overly oily food like chicken wings. I lick my lips a lot, too, but it doesn't fade even when I do so.

The interesting part is despite being budge-proof, it's actually quite easy to take off. I just use a makeup wipe, and it gets removed easily.

If you want something that you can put on and forget about (yes, even your doubts about how you look or if you need to touch up), get yourself a tube of Cargo Cosmetics Swimmable Liquid Lipstick.
You can get the Cargo Cosmetics Swimmable Liquid Lipstick at Beauty Bar.