Everyone has been anticipating the historic collaboration between Rihanna and LVMH since rumours sparked last January. Aside from this being the first time LVMH created a new brand since Christian Lacroix in 1987, this would also be the first time a woman of colour is heading a fashion house under the brand. Now all those whispers are finally taking form. Following the success of Fenty Beauty and her lingerie line, Rihanna's new Fenty fashion label is launching soon. Days ahead of the debut of Fenty Maison in Paris, they've finally teased us on what the singer's first-ever fashion collection. With the help of her former stylist (and now the label's Fashion Director) Jahleel Weaver, Fenty Maison opens strong and edgy with these looks.

Monochrome power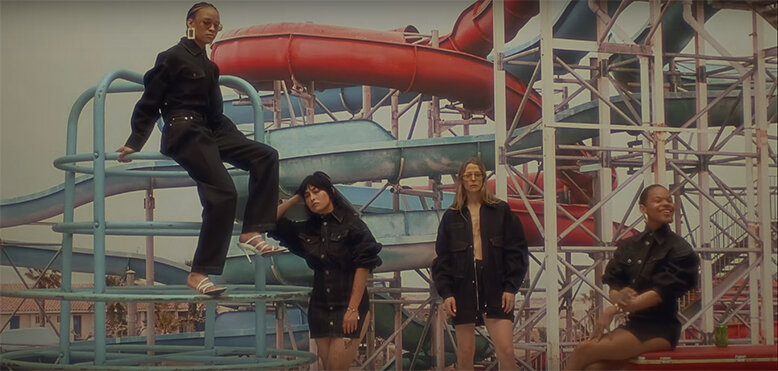 Models wearing all-black in the first Fenty fashion collection teaser. (source)
The Fenty Maison video teaser featured monochromatic looks. Tailored pieces in neutral whizzed through the screen as Rihanna styles the models donning her collection. Ensembles are all in earthy tones ranging from all-white, black, and tan hues made from a variety of fabrics.

Structured silhouettes
The collection also featured sharp suits that speak loudly of girl power. The singer made most of her pieces with strong, padded shoulders and cinched waists. To give the clothes more structure, she chose to put corsets and boning in various pieces. Also, as you can observe from the teaser, durable denim and a unique fabric called Weapon — a blend of canvas and cotton — seem to be the favourite fabric for this collection.
Glam accessorising
Another thing we can expect from this upcoming Fenty fashion line are cool accessories. Models, and even Rihanna herself as she posed for New York Times Style Magazine, wore oversized sunglasses. Lined with metallic frames, this sporty eyewear gives the wearer a futuristic look. Aside from that,

From ancient paintings to old postcards and booklets she saw in Barbados long ago, Rihanna gets inspiration for her new label from basically anything. Using herself as a muse and channelling her own style in the clothing she creates, Rihanna is able to make traditionally masculine looks very femme that fits everyone. That's right — as always, Fenty aims to be inclusive. Their pieces, whose prices range from USD200 to USD1500 (~SGD275 to ~SGD2,068), are available up to a French size 46 (or US size 14).
These first Fenty fashion pieces are meant to be wardrobe staples that can be paired with basically anything. Doing away with traditions, her versatile designs won't be worn down a runway. Now, when you see it, you don't have to wait months before you can get your hands on these luxury goods. Fenty Maison will drop new clothes online every month, each of which portraying a different facet of femininity. Excited? You can catch her very first collection this 29 May at Fenty.com.
(Cover photo from: @fenty)