I have a love-hate relationship with manicures because of my naturally tiny nails. Painting my teeny-weeny nails would often result in a hot mess because I would always attempt to do nail art even though there's insufficient space. Even if it's just a plain colour block, I almost always just end up with a thick slab of dried polish on top of my nails — not a pretty sight.
So, I always make sure that my nail length is long enough for some polish action. Personally, my ideal length is about one centimeter and a half from the base of the nail, not really super long but just enough. Even though there are a few lifestyle adjustments that come with slightly long nails (like changing the way you type), it's totally worth it.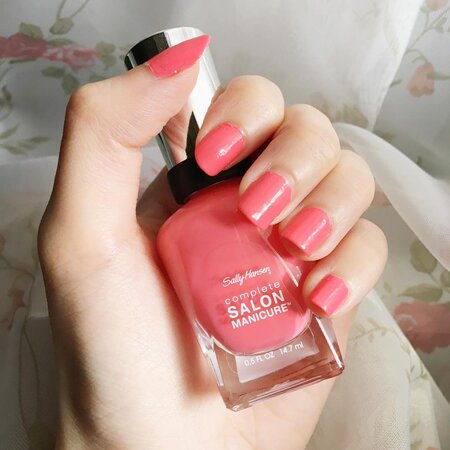 Sally Hansen Regular Nail Polish in Slice of Sunset


Before I proceed, let's just make one thing clear: I'm not an expert in painting nails; in fact, my skill level can be classified as that of a beginner's. With that said, let's get started and see how my Sally Hansen Miracle Gel Polish review went.
Packaging, Scent And Application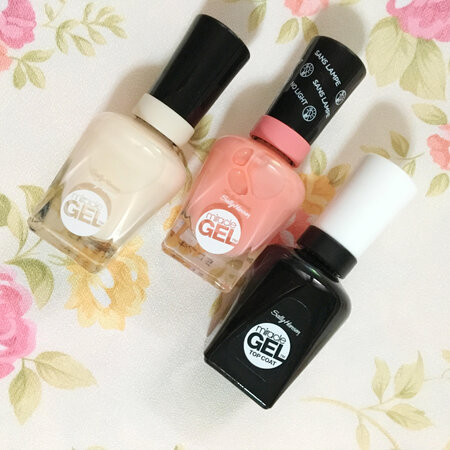 Sally Hansen Miracle Gel Polish Sans Lamp - PHP495 each
Sally Hansen Miracle Gel Polish comes in a typical glass nail polish packaging with minimal design. What sets it apart is the size and shape of its applicator. Unlike the usual applicators, Sally Hansen's brush has flat, thick bristles that make it easier for the polish to glide over the nail. For a beginner like me, this definitely helps because I can neatly paint each nail in just three swift strokes.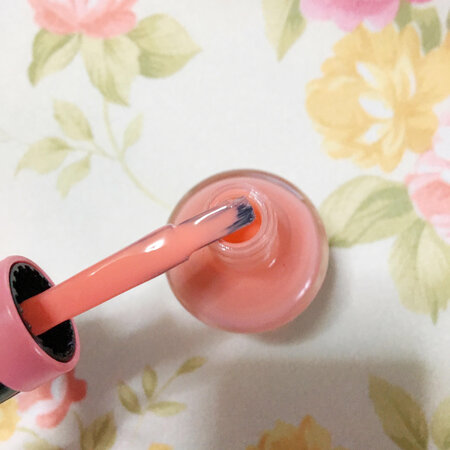 Flat, thick bristles
Another good thing I noticed while I did my Sally Hansen Miracle Gel Polish review is how it doesn't have a strong odour; it's not as overpowering as other polishes.
Moving on to the actual application. It's a pleasant surprise for me when it applied just like a regular nail polish. Normally, for gel nail polishes, the formula can be a little too thick so they can be quite hard to work with. But with Sally Hansen, the consistency is almost the same as their regular variant. I find this formula to be a bit quick-drying, so you have to work fast or else you'll end with obvious, uneven strokes.
So How Long Does It Last?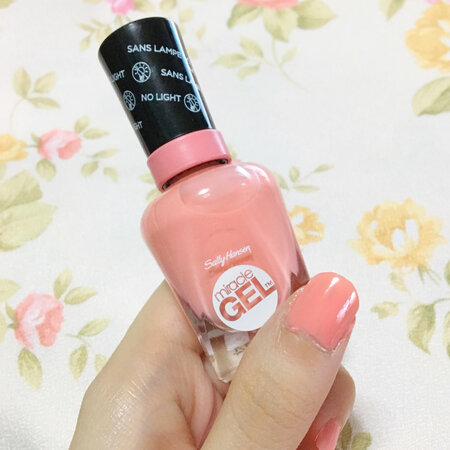 My Sally Hansen Miracle Gel Nail Polish review was done with the colour Rosey Riviter


So how long does it last before it chips? The answer is seven days. It may not be as impressive as those professional gel manicures done in nail salons, but it's definitely more long-lasting than your average polish. As someone who's quite active (and clumsy), I usually expect polish chipping in just two to three days. So, for me, the wear-time of this polish is impressive.
If you're looking for a nail polish that's relatively affordable, long-lasting and has a lightweight formula, give Sally Hansen miracle gel nail polish a try.
Check out our review on Cargo Cosmetics' liquid lipsticks, too!