The month of June began with glitz and glamour as Filipino fashion designer Sassa Jimenez launched her anniversary collection. Entitled TEN, the collection marked her decade in the local fashion industry. Doing away with a traditional runway event, Sassa showcased her 10-piece collection through an exhibit, accompanied by groovy beats, delectable food, and drinks. Stepping inside the dimly lit studio was akin to being in a museum, as Sassa's ruffled and bold pieces were displayed through contemporary installations. TEN is a testament to the evolution Sassa Jimenez has gone through the years. Surprisingly enough, the designer's journey didn't start as a childhood dream, as one might expect. Read on as she looks back on memory lane with TEN.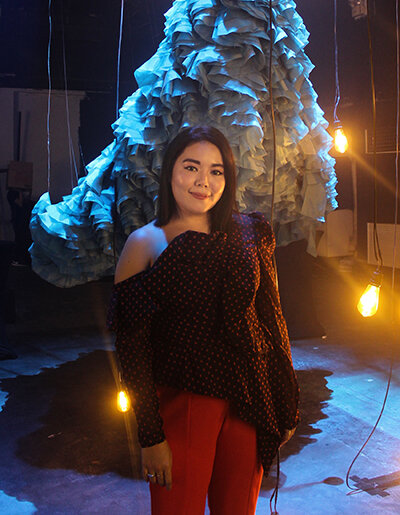 Sassa Jimenez
How did it all start for you? How did you come to love fashion and designing clothes?
I think I became interested in clothes when I would read storybooks and find a princess or some heroine that's in really nice clothes. But I didn't think fashion could be a career when I was young. It was a hobby until my mum introduced me to the idea that it could turn into a serious business. She convinced me to study fashion and merchandising in the States. When I moved back here, I started doing small shows, [such as] for college events that my friends would invite me to. Eventually, I found myself doing a solo show in Philippine Fashion Week. I really consider that my big break and since then, everything started to snowball. Social media was also starting to become a thing, so I think that's also what helped when I began.
A closer look at the details of one of TEN's pieces


How has being in the industry for 10 years changed you as a designer? Any significant learnings?
When I started, I was 21 and there were a lot of things to be learned, especially on the business side. That was something I really took for granted when I was in my 20s. But, you know, you try, you learn, and adjust. Fashion is definitely fast-paced and very competitive — it's not as easy as everyone thinks. Everyone sees the glamour and the parties, but there's a lot of work behind it. If you really want to stay in fashion, then you have to work on it. And I think that work was something I definitely enjoyed.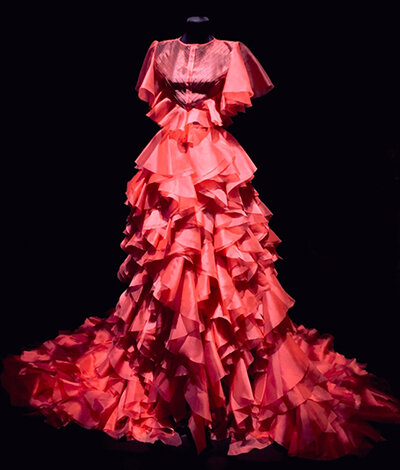 One of the many ruffled ensembles in the collection
What is the most memorable moment in your career?
My very first show in Philippine Fashion Week back is still very vivid. It was so scary. It was a solo show and I did a 45-piece collection. I didn't know what I was getting into until I was already there, but it turned out into a success.
How would you describe your aesthetic? How has your style evolved through the years?
My aesthetic is very feminine, very whimsical, and fantastical. When I began, it wasn't as quiet or mature as it is now. It's still kind of extravagant, but I think there's a sense of sexiness and maturity now.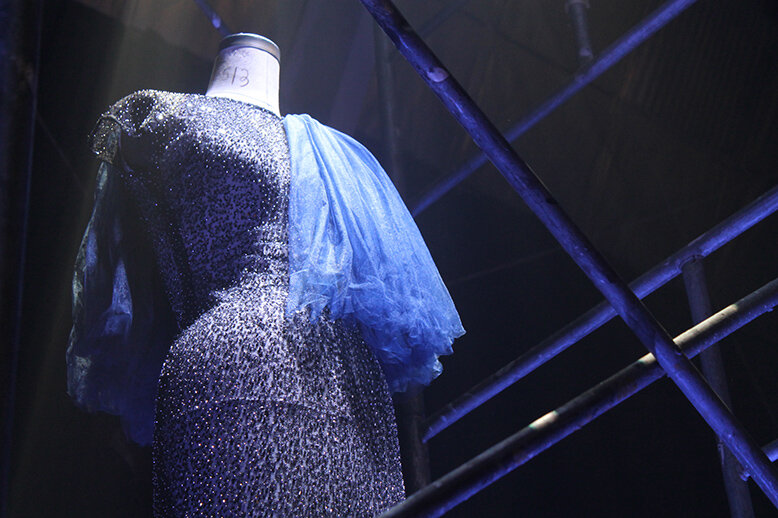 Do you feel like you still have areas you need to improve on?
Definitely. Every day, we discover something new that we need to improve on in the shop. Whether it's something in the work like technique, in our management, or client relations and so on. You know, it's just endless learning.
What was your biggest inspiration for TEN?
Actually, each piece in this collection represents a technique that we've done in the past that I've re-worked and re-imagined. So it represents the 10 years that I've been around. I also take inspiration from storybooks and fairy tales filled with dresses that we really fantasise about as a child.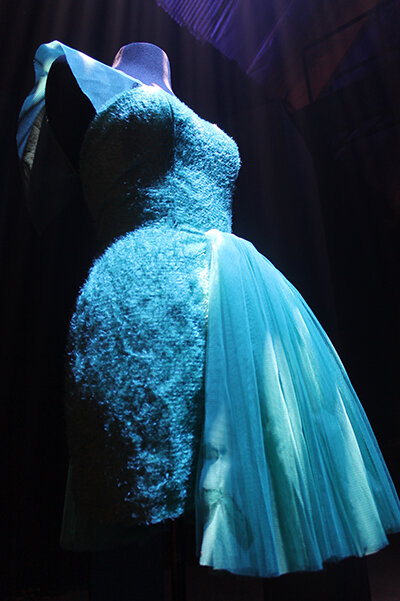 Can you walk us through your work process for this collection?
It's kind of different per collection, but I like exploring fabric and technique before I do the sketching. And then we develop our patterns, do test-runs, and finally, we sew everything together. We try to create and tell a story through the pieces.
Can you give us tips on how to style your pieces?
I think each piece can be styled differently and it depends on who's wearing the dress. In the past year, I've worked with different stylists and photographers who brought a sort of edginess to my clothes. I'm so used to styling everything very polished, sleek, and feminine, so it's nice to experiment and explore a different point of view to my clothes.
Sassa hinted that a huge collection is in store for us next year. But in the meantime, see more of TEN and her other dreamy collections on sassajimenez.com and on their Instagram.
The interview was edited for brevity and clarity.
Next, take these OOTDs as your inspiration for that whimsical yet casual look.