With their millennial pink packaging, Saturday Skin products quickly filled our Instagram feeds with cuteness. But aside from being a perfect addition to your Insta-worthy flatlays, the Korean beauty brand promises to effectively regenerate and maintain elasticity of your skin, with each of their products infused with their signature CHA-7 es Complex. This, along with the rave reviews they received online, makes it appear that the aesthetically pleasing Saturday Skin products are really worth the dime. But to really see if they're more than just a pretty face, we had to put them to a test.
Here, we review two Saturday Skin products: the Waterfall Glacier Water Cream and the Cotton Cloud Probiotic Power Mask. Because both are beloved by reviewers, I was really excited to try them both. Let's see how they fared.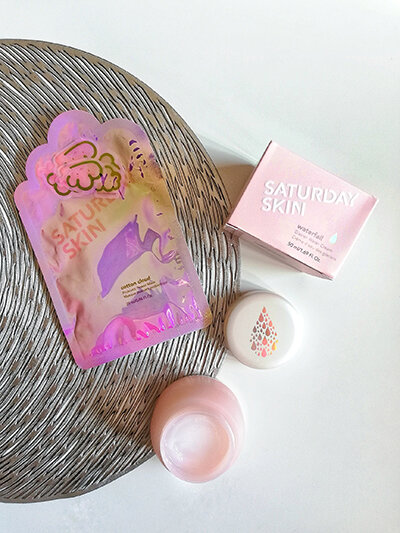 Saturday Skin Products
Packaging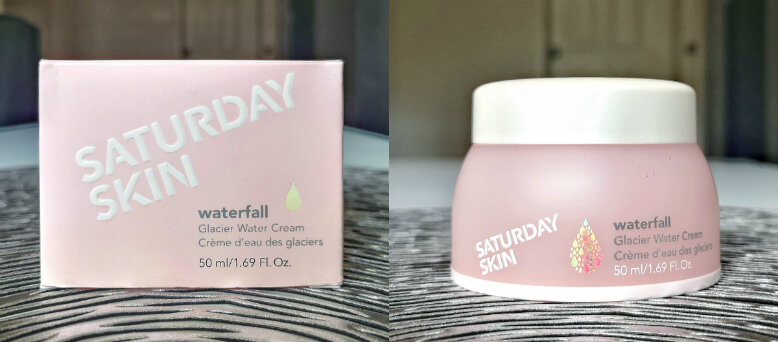 Waterfall Glacier Water Cream's packaging
Saturday Skin's pink packaging is consistent with most of their products. The Waterfall Glacier Water Cream comes in a box and a tub that stick to that very millennial theme, bedazzled with a few metallic waterdrop designs that keep them from being too plain. As you unscrew the cap, you'd find another white plastic cap, further covering the surface from external elements. The only downside is that, since the moisturiser comes in a tub, I feel that it can be quite inconvenient. You have to dip your fingers a bit to get the product, and with this, I'm unable to control the amount I get. Also, even if I wash my hands prior to using, I feel like double dipping my fingers makes it unhygienic.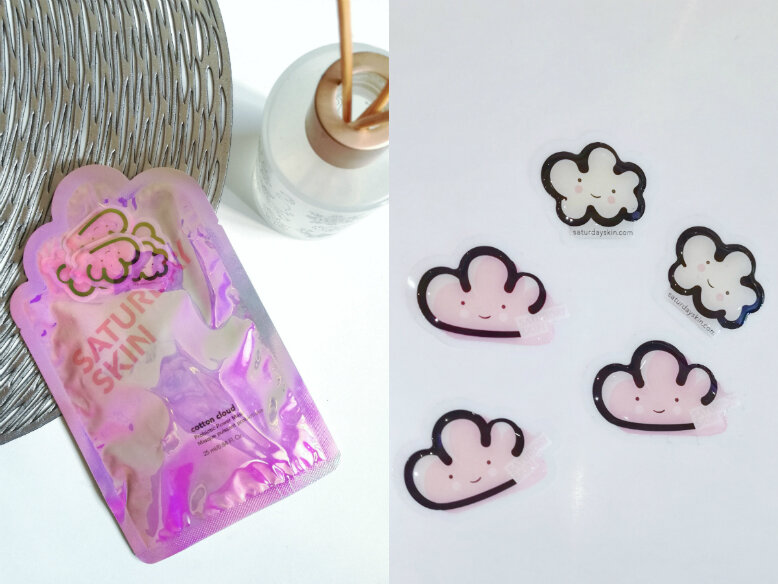 Cotton Cloud Probiotic Power Mask's packaging and the stickers that come with it
Likewise, the Saturday Skin Cotton Cloud Probiotic Power Mask uses metallic pink elements on its foil packaging. It's pretty straightforward, much like other sheet masks — you just need to tear off the upper part to open it. What's great about this one is that it comes with tiny, 3D cloud stickers that you can use with your stationeries or journals. However, if you're planning to snap a photo of this one for your feed, it can be quite challenging. Because of the metallic film overlaying the cover, it's pretty hard to get a clear shot of the brand name. The cloud stickers got stuck to the upper part of my packaging, too, so it covered that as well.
Application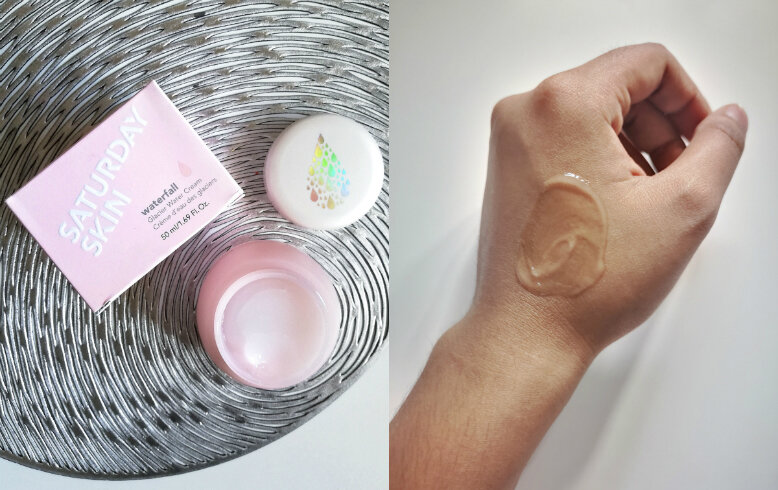 Waterfall Glacier Water Cream when opened and applied

Waterfall Glacier Water Cream had a water-gel texture that was silky and easy to spread. It had absolutely no scent, which I liked. A small pea-sized dab of the formula was enough for half of my face. My skin instantly drank it up and became soft after use. But because its tub packaging made it hard for me to control the amount I got, I tend to get more than needed. That happened more often than I wanted, and during the unlucky times that I applied too much, it felt heavy and sticky. As a result, my face broke out during three weeks of use that pimples popped up even in areas outside my T-zone, which is where I usually get them. Regardless whether I applied the optimum amount or not, my face was a bit greasier than usual when I wake up.
My experience with the Cotton Cloud Probiotic Mask wasn't great at either. The sheet mask, which came in a netted backing to prevent it from sticking to itself, was soaked in thick, milky essence. The creamy formula was enriched with prebiotics and probiotics that promised instant radiance after use. After cleansing and toning, I applied the mask that had been sitting in my fridge hours prior, so it felt cool and refreshing. The sheet perfectly fit the contours of my round face and had large enough space for my eyes. Because it was packed with so much formula, it didn't dry off even after 20 minutes. This mask's scent didn't appeal to me either. The scent was quite sterile for my taste — much like plastic and medicine. However, there was so much residue afterwards, even after I had spread it over to my neck and body. It took so long to dry out and the scent lingered. I felt extremely heavy and greasy after, I was itching to cleanse my face again.
Overall thoughts
Both Saturday Skin products received great reviews, with people complementing how light it felt on their skin. Unfortunately, that wasn't the case for me. I was disappointed because while they, indeed, made my skin feel softer after prolonged use, I felt that my skin also became a bit oilier. The Waterfall Glacier Water Cream would be okay if there was a way for me to consistently control the amount I get. The Cotton Cloud Probiotic Mask, on the other hand, wouldn't be something I'd use in the future, mainly because of its overwhelming scent and after-effects.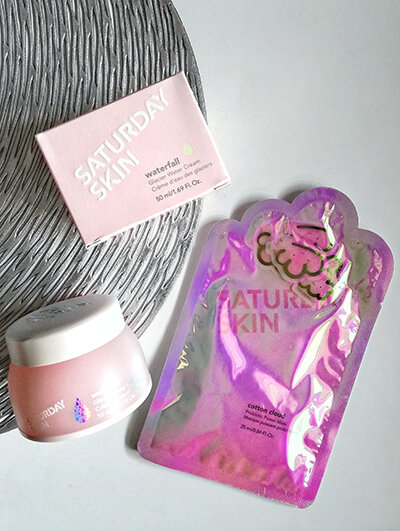 The heaviness and stickiness I experienced with both, I believe, lies not with the product themselves, but with my skin and preferences. I have combination skin which seems to be more compatible with skincare containing BHAs that target extra sebum and acne. Since these two contain AHAs like glycolic acids, they're better for those wanting more skin elasticity to battle anti-ageing and fine lines. I'm not fond of the thin residue AHAs leave that strengthens the moisture barrier. My skincare goals as of now don't align with what they're promising, so I'm giving them a pass.
In search of a moisturiser and a sunscreen in one? Perhaps this one is for you.