One might think that after earning almost USD10 billion last year in in-store and over-the-counter sales, beauty giant Shiseido would keep the shopping experience for their clients traditional — at least for a little while longer. But the brand's CEO Masahiko Uotani begs to differ. In his perspective, people are already turning to online shopping, even when it comes to beauty, and he wouldn't want to be the last one to jump on that train.
This is why the Japanese brand, which also has Laura Mercier cosmetics and Dolce & Gabbana fragrances under their belt, sought for solutions in partnering up and even buying tech start-ups in Silicon Valley to amp their knowledge in augmented reality, artificial intelligence (A.I.), and other technological advancements that will shape up online beauty shopping in the near future.
Some of their recent acquisitions include Olivo Laboratories, which specialise in artificial skin technology, and MatchCo, a California start-up that develops software that allows customers to use their smartphones to create customised foundation.
But Shiseido is not the only beauty company that has tapped into technology to get on with the times. Brands like Make Up For Ever, Espoir, The Face Shop and more, have now let their products be used in beauty app Meitu for an augmented reality experience where users can test how the product will look like on them before they purchase.
Even Sephora has tried their hand at using various technological advancements, with both in-store and mobile app upgrades, including Virtual Artist, Pocket Contour, Mini-Beautic sampling service, and Digital Tag Cards.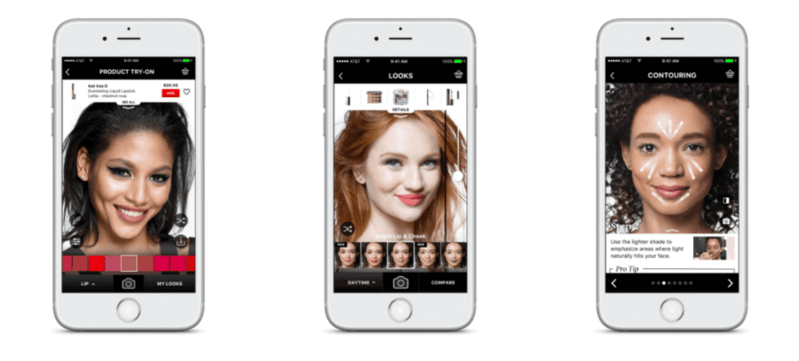 (Photo from: sephoravirtualartist.com)
Even so, there's still a long way to go when it comes to having an accurate tech-mediated beauty experience. Many beauty bloggers, gurus, and fanatics have already gone their way to try custom makeup recommended by an app or an augmented reality simulation and some still ended up with so-so results, if not a complete fail. But progress is definitely on the way.
Given this, there's no stopping the fact that this is where the beauty industry is headed. But will going to shops and beauty counters to do actual swatching and shopping completely be phased out? Hopefully not. It's not like everyone can afford the luxury of trial-and-error every time, right?
In similar news, is this where the fashion industry is headed?