Estée Lauder
has recently released their latest skincare line, the new
Crescent White Full Cycle Brightening
;
and we are absolutely in love with it! As a full cycle skincare system, it's perfect for those who are looking to give their skin a brighter, luminous, and flawless complexion all through the breakthrough approach of working in-sync with the skin's natural circadian rhythm.
Created for and tested on Asian women, the regimen includes seven all-new products such as: Crescent White Full Cycle Brightening Cleanser, Moisture Treatment Lotion, Spot Correcting Essence, Moisture Creme, UV Protector SPF 50/PA++++, BB Creme SPF 50/PA++++, and Brightening Balm and Brightening Powder Makeup SPF 25/PA+++.
Want to know more? Here are the 5 reasons why it's our new skincare love!
--------------------------

#1: It Syncs To The Skin's Rhythm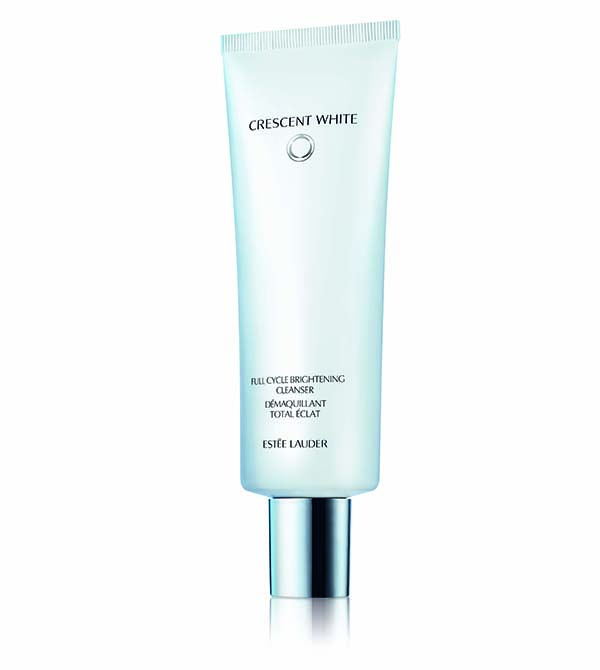 It features a new breakthrough approach in skin brightening by working in-sync with the skin's circadian rhythm to address not only existing dark spots and pigmentation but also the key causes of light loss and discolouration. This means that the potent-yet-gentle regimen works around the clock to target your skin's key concerns, granting you a fairer and more flawless complexion.
#2: Daytime Protection & Prevention
Sun damage is the worst. So one of the best things about this line is how it has been designed to give optimal protection during the day when the UVA and UVB rays are most intense and can cause further hyperpigmentation. Through a combination of its advance SIRT-Technology, powerful Baicalin, potent anti-oxidants, and broad spectrum sunscreen, the
Crescent White
skincare line protects and repairs your skin through the day to reduce pigment darkening. The result: fairer, brighter, and healthier skin that is free from sun damage.
#3: Night-time Repair and Correction
Still in-sync with the skin's natural repair rhythms, the
Crescent White
system works at night to correct the look of existing spots and protect against future spots all while you sleep. This is done though a potent combination of Vitamin C, Molasses, and Sea Fern extracts that breaks up visible accumulated pigments to dramatically reduce the look of spots. These also inhibit cellular responses that contribute to excess pigmentation, allowing your skin to correct itself while you sleep.
#4: Soothes Skin
Nothing beats the feeling of having soothed, calm skin when you wake up the next day. With its intensive anti-irritants such as anti-inflammatory Licorice, the
Crescent White
system help minimize the skin's irritation responses that peak at night. This leaves the skin calm, comforted, and soothed. The result: no more skin dullness and discolouration! You'll wake up every morning looking fresh and bright.
#5: Constant Brightening
If you think your skin can't get any clearer and fairer, then think again. By optimizing the skin's own cycle, this non-stop regimen constantly treats current skin problems while preventing new ones, gradually revealing fairer, more flawless looking skin each day.
Are you excited to give this new skincare regimen a try? Let us know in the comments down below!
Click here for more Estée Lauder hauls from our Community!