The key to having great skin is a solid skincare regimen that takes into account healthy eating habits, an array of skincare products that work to combat your skin issues, and most importantly, a good skin cleansing routine that properly removes makeup, dirt, and bacteria from your face.
So what is the most effective way to cleanse your skin? Here are 3 ways we've found that have worked wonders for us!
--------------------------

A Cleansing Brush
When it comes to getting rid of deep-seeded dirt, one of our favourite ways is to use a cleansing brush. We're currently loving Clinique's Sonic System Purifying Cleansing Brush for its soft yet firm bristles that are slightly tapered for a truly deep clean. It also provides gentle exfoliation which primes the face to better absorb skincare products post-wash.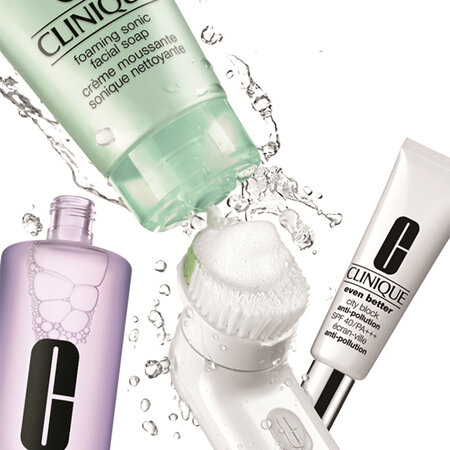 This system is best used with Clinique's Foaming Sonic Soap--an oil-free, non-acnegenic cleanser that cushions your face against the cleansing brush, gently-yet-effortlessly removing all makeup residue, dirt, and bacteria. Best thing about it: its gentle formula of glycerin, sucrose, and caffeine--a combination that's great for preventing and soothing breakouts.