The key to having great skin is a solid skincare regimen that takes into account healthy eating habits, an array of skincare products that work to combat your skin issues, and most importantly, a good skin cleansing routine that properly removes makeup, dirt, and bacteria from your face.
So what is the most effective way to cleanse your skin? Here are 3 ways we've found that have worked wonders for us!
--------------------------

A Cleansing Brush
When it comes to getting rid of deep-seeded dirt, one of our favourite ways is to use a cleansing brush. We're currently loving Clinique's Sonic System Purifying Cleansing Brush for its soft yet firm bristles that are slightly tapered for a truly deep clean. It also provides gentle exfoliation which primes the face to better absorb skincare products post-wash.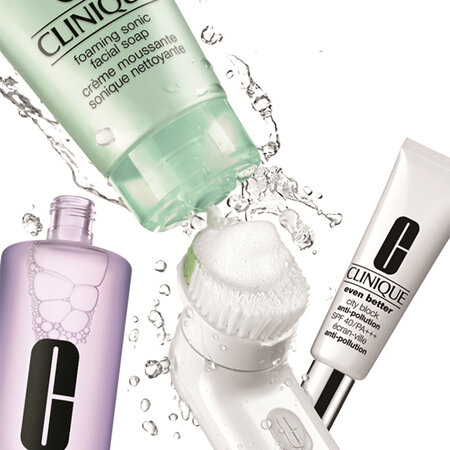 This system is best used with Clinique's Foaming Sonic Soap--an oil-free, non-acnegenic cleanser that cushions your face against the cleansing brush, gently-yet-effortlessly removing all makeup residue, dirt, and bacteria. Best thing about it: its gentle formula of glycerin, sucrose, and caffeine--a combination that's great for preventing and soothing breakouts.
Double Cleansing
One of the main benefits of the Double Cleansing method is that you are assured that you've cleansed all the makeup and dirt from your face. This is best for days when you've worn heavy-duty, waterproof makeup. For this, you'd need a good oil-based cleanser such as Shu Uemura's range of cleansing oils.

With dry hands and face, rub the oil all over your face until all of your makeup has been dissolved. With a bit of water, gently emulsify the oil on your face. Rinse it off with warm water and follow it up with your go-to face wash.
Simple Wash & Tone
Sometimes, it is better to keep things simple. So in between Sonic Cleansing or Double Cleansing days, opt for a simple wash and tone routine. This regimen is also best for days when you've worn little to no makeup.

(photo from paradeoflove)
Pick a facial wash that is gentle on the skin, like
Clinique's Mild Liquid Facial Soap
and follow it up with a tried-and-tested toner such as
Etude House Wonder Pore Freshner Toner
to clean and tighten your pores.
What's your favourite way to cleanse your face? Let us know in the comment box below!
Click here to see more from our Beauty Community!