[ scroll down to find out how you can win tickets to this epic party ]
The 2015 Grand Prix Season in Singapore heralds the return of the fourth instalment of Sky Grandé Prix. A collaboration between marketing agency Vanilla Luxury and lifestyle group Massive collective, this year's Sky Grandé Prix is set to be bigger and better!
Sky Grandé Prix will be a total F1 takeover of all areas across level 45 of Singapore Land Tower--Empire, Patio, Angie's, and Sear--with each featuring a different genre and offering the ultimate setting to party the night away with a 360 degree view of Singapore city skyline.

Sky Grandé Prix will run from 16th to 20th September offering the only 5-day extravaganza for revellers at this year's this FORMULA 1.

Here's a rundown of the parties you can look forward to:

September 16
, #GirlsNightOut: The most luxurious ladies night hosted by Bobby Tonelli, with a chance to win a diamond worth $20,000--hidden in your lychee martinis!
September 17
, Fast & Fashionable: Fashion party headlined by Foxtrot Fashion House.
September 18
, Luxe Infinity: Featuring a REV Magazine Supercar line-up where you can celebrate infinite love for all things F1 with partygoers and partners such as GTR Club Singapore and Sports Car Club.
September 19
, Dragon-i, HK takeover: Featuring Remy Kersten, Dragon-I is the place to be for Hong Kong's chic, gorgeous, cosmopolitan party crowd, as well as the first stop for classy, jet-setting international guests.
September 20
, Dastardly Brunch F1 Edition and Grand After Party: Complete the Sky Grandé Prix experience with a brunch high above the racing fervour.
--------------------------

And now, here comes the best part...
We're giving away party tickets to Sky Grandé Prix!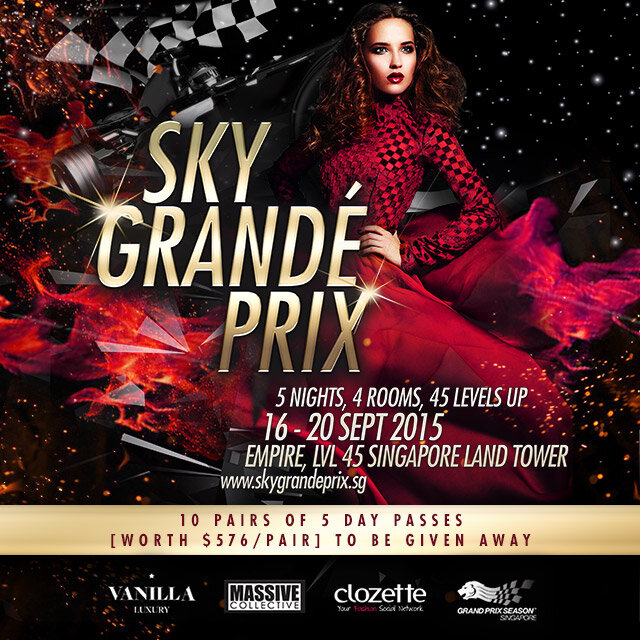 Clozette & GlamAsia are giving away 10 pairs of 5-day party tickets (worth $576 per pair)*
To win a pair of party passes, here's what you have to do!
[Contest ends 11th September (Friday), 12:00NN. Winners will be notified via email.]
Step 1: Answer the following question in the comment box below
Step 2: Email your contact details to [email protected] with the subject "[ANSWER] - SKY GRANDE PRIX"
ANSWER THIS QUESTION
We like our cars the way we like our lippies--glossy or matte.
But which do you prefer? Are you a glossy or matte type of girl?
*giveaway is only for residents in Singapore