[keep scrolling to find out how you can score tickets to this amazing 5-night party!]
If you missed last year's extravaganza, don't fret because Vanilla Luxury announced the return of Sky Grandé Prix -- Singapore's biggest F1 event -- filled with more surprises and festivities in celebration of its fifth year. Taking place at the newly renovated Empire and the new ultra-lux club Skyline, guests are sure to enjoy the famed panoramic view of the race track, made bigger and better than last year with 6 exciting turns!
Plus, what's a great party without music? Get ready to spin the night away with Singapore's hottest DJs taking over Empire and Skyline, with genres ranging from R&B to EDM.
With five themed nights from 14th to 18th September, the event promises all of its guests an unforgettable, indulgent experience, ranging from champagne and diamonds to fast cars and a party of a lifetime.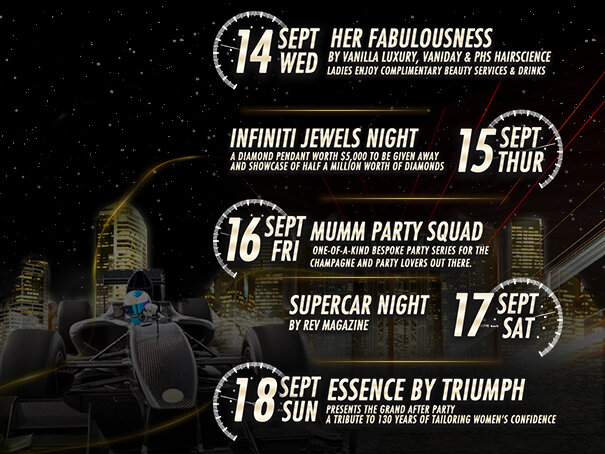 Here's the schedule of festivities to look forward to:
14th September
, Her Fabulousness by Vanilla Luxury, Vaniday & PHS Hairscience: Ladies, get ready for a night of glamorous pampering with complimentary manicures, makeovers, and massages from Vaniday, as well as a specialised hair and scalp analysis from leading hair care trichological experts from PHS Hairscience.
15th September
, Infiniti Jewels Night: The centerpiece of the second night? A half a million dollar diamond collection featuring some of the world's rarest diamonds--including the much vaunted Natural Fancy Pink Diamonds-- from Infiniti Jewels! Revellers also stand a chance to win a $5000 diamond pendant -- how cool is that?
16th September
, Mumm Party Squad – F1 Edition: Indulge in the spirit of the Grandé Prix Champions with the super popular G.H. Mumm Party Squad – a posse of celebrity partygoers that elevate every party with a champagne popping show!
17th September
, Supercar Night by Rev Magazine: Supercars, race queens, glamour, and needless to say, tons of champagne. This and more as Sky Grandé Prix teams up with Rev Magazine!
18th September
, Essence by Triumph presents The Grand After Party: Opening Sky Grandé Prix's final night is the exclusive Asian premier of the Essence by Triumph winter collection. Paired with the most exciting night of race weekend, the final F1 showdown is designed to excite, delight, and bring Sky Grandé Prix to a tantalizing, satisfying finale.
Tickets and table reservations are available at
www.skygrandeprix.sg
--------------------------

And because this is an event to remember, we're giving away tickets to Sky Grandé Prix!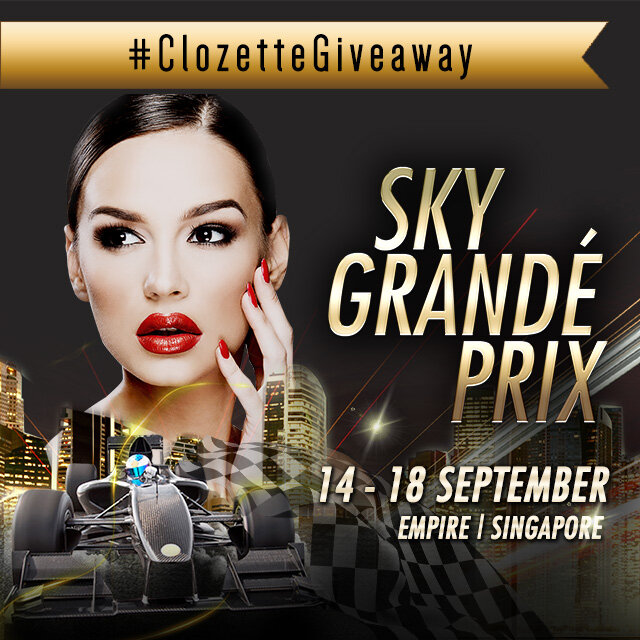 Clozette is giving away 10 pairs of 5-day party tickets (worth SGD $1,080 per pair)*
[Winners will be announced on 5th September 2016]
*Giveaway open to Singapore residents only