In a megacity like Tokyo, it's easy to be spoilt with fine dining options, but it's a whole other experience doing it with sky-high views coupled with exquisite cuisine.

Entrance to Sky Restaurant 634 (Musashi)
Welcome to Sky Restaurant 634 (Musashi) or 634 Musashi, Tokyo's highest fine dining restaurant. Represented by the figures 6 ("mu"), 3 ("sa") and 4 ("shi") in its name, 634 Musashi is perched inside the world-famous Tokyo Sky Tree tower that stands 634 metres above sea level. Despite having been open for more than seven years, 634 Musashi continues to garner popularity among diners today and certainly shows no signs of slowing down.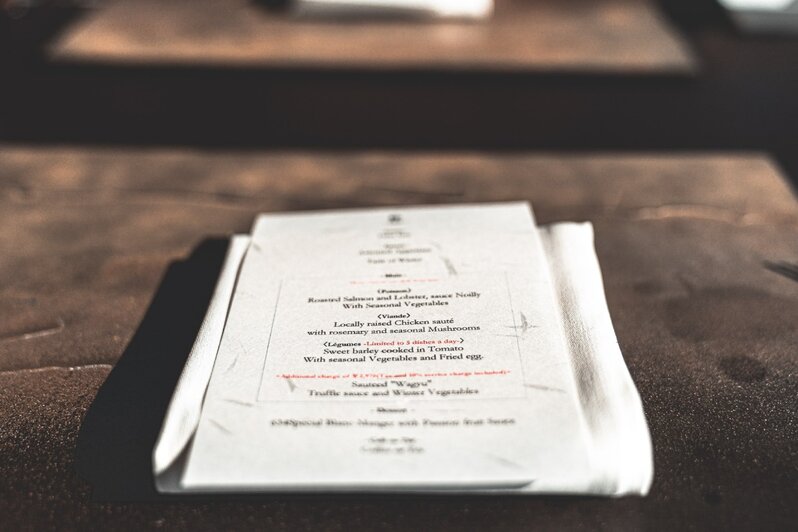 Lunch menu featuring Chef Makimura's "Tokyo Cuisine"
634 Musashi is helmed by Master Chef Naoya Makimura, who once worked at the prestigious Maison Paul Bocuse in Daikanyama. He blends his French techniques with Japanese taste to bring to life his vision for "Tokyo Cuisine," which boasts sophistication and elegance using mostly locally sourced produce for his work.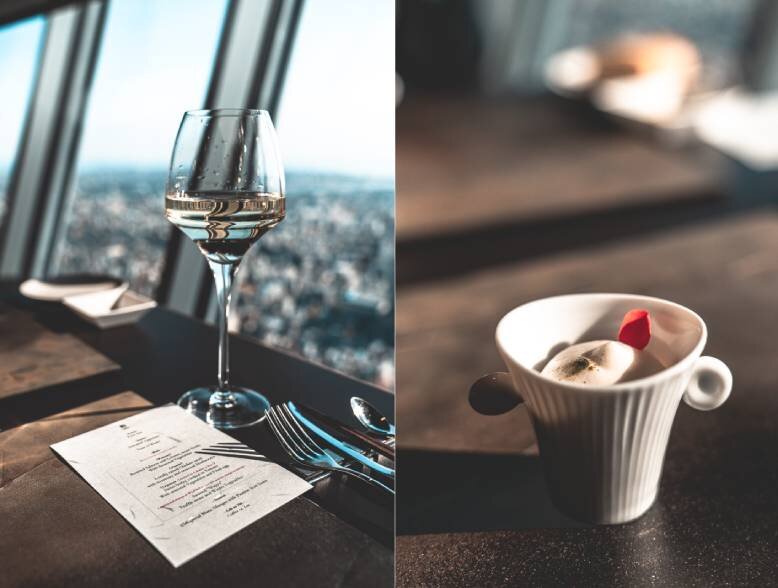 Left: French Sancerre with a view. Right: Corn Potage Appetiser


From the minute you enter 634 Musashi, you'll notice the floor-to-ceiling windows providing unobstructive city views no matter where you are seated.
My decision to opt for a late lunch at 634 Musashi was simple: to enjoy jaw-dropping views of Tokyo's popular landmarks combined with mouth-watering cuisine without breaking the bank. If you're lucky, you'll catch a glimpse of Mount Fuji in the distance on a crisp winter day. Of course, my expectations were exceeded and the view did not disappoint.
For a midday meal, diners can choose between two lunch sets: Iki (JPY6,292/~USD57) or Miyabi (JPY8,712/~USD79) — service charge included. You have the option of adding delicious wagyu beef to your selection with an additional charge of JPY3,025 (~USD28). Note that all persons in your party must choose the same set — a common practice at many Japanese fine-dining establishments. Regardless of what set you decide, each includes an appetizer, entrée, main dish and a dessert. The course begins with a top-up of French Sancerre (non-alcoholic options available), followed by a sumptuous cup of creamy corn potage. The first mouthful was flavorfully rich and intense: a perfect opener to a winter culinary repertoire.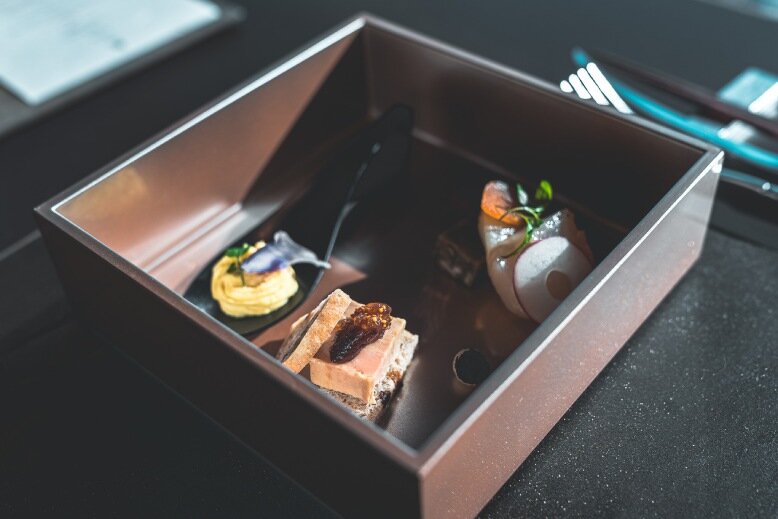 A trio of winter tastes in a classic modern bento


Next came the "Taste of Winter" assorted appetizers, where each entrée dish was wonderfully creative and beautifully presented inside a modern bento box. Appetizers included a trio of foie gras terrine, fish mousse and lightly-torched itoyori fish with persillade scallop mixed with onion confiture and citrus sauce. This bento is a classic depiction of Japanese shun no mono which means "things in season" and thus changes according to the seasonal ingredients available.
For my main dish, I opted for the roasted salmon with lobster and seasonal vegetables, served over a delicious silky smooth Noilly Prat sauce fragrant with hints of tarragon. I found myself unashamedly mopping up every inch of liquid morsels from my plate with my oven-baked bread. While I enjoyed my le poisson selection, the others in my party indulged in the sauteed Saga Wagyu from Kyushu island, served with drippings of emulsified butter and truffle oil glaze. Steak knives were optional here, thanks to the fine marbling that made for its melt-in-your-mouth goodness.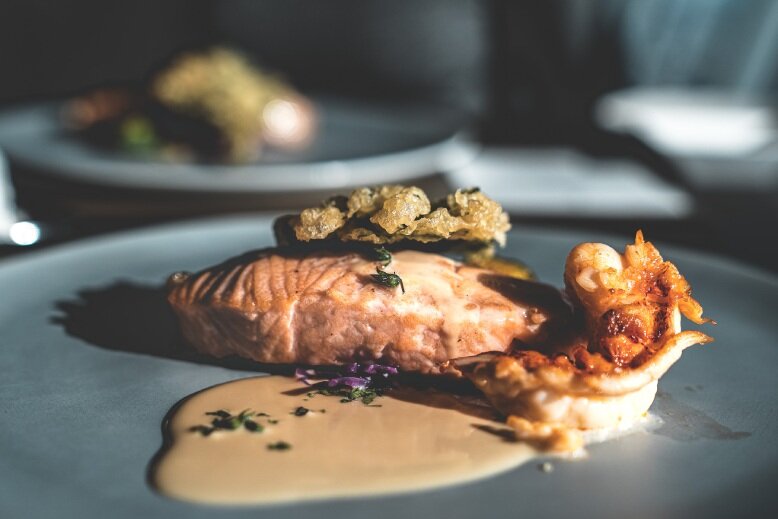 Le Poisson is composed of roasted salmon with lobster, Noilly Prat sauce and seasonal vegetables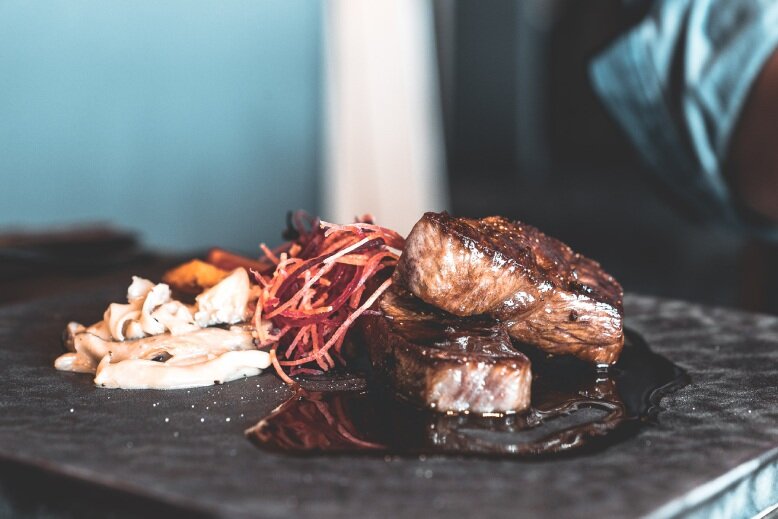 Sauteed wagyu with truffle glaze and seasonal vegetables


The meal was wrapped up with 634 Musashi's signature dessert: the 634 Special Blanc-Mange covered with foam and topped with gold flakes. Tasting it felt like capturing a cloud from your outside surroundings, skimming off the cumulus foam revealed a refreshing passionfruit sauce piped around a light and airy blanc-mange. Balanced and not too sweet, this was a true delight to the palate.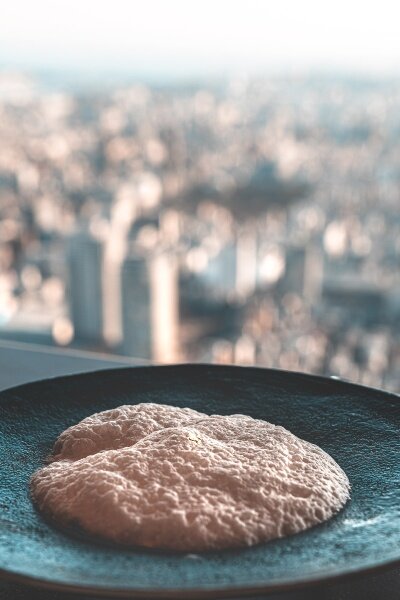 An airy Blanc-Mange, 634 Musashi's signature dessert


If you're looking to impress a date or celebrate a special occasion, 634 Musashi is a wonderful place to have a memorable meal. It may be a little pricier as far as lunchtime fine dining is concerned, but the set menus provide reasonable options to experience a luxurious meal without the usual evening dinner price tag. After all, it isn't everyday that you get to dine with the backdrop of the most amazing views of this world-class metropolis.
Sky Restaurant 634 (Musashi)
Address: 1-1-2 Oshiage, Sumida-ku, Tokyo
Tel: 03-3623-0634