Social media has become a major part of our daily lives, whether we admit it or not. Each platform showcases different specialities and functions, and because of that, we're bound to prefer one over the other. If we're being honest, our top choice in socials does say a lot about our own personality since it is undeniably an extension of who we are in reality. And in this aspect, it shares a lot in common with our personal style. This is why we figured that we can definitely look into these platforms to inform our outfit choices. Curious? We've come up with outfit ideas based on your favourite social media.
Facebook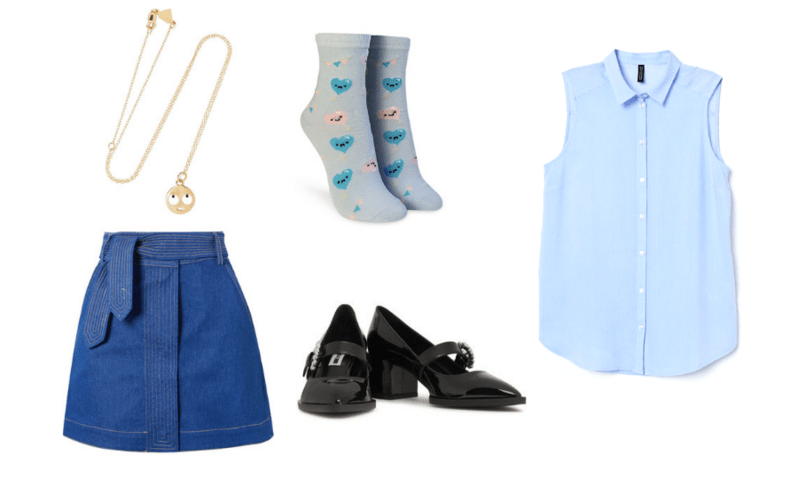 From left to right: ALISON LOU Medium Eye Roll 14-karat gold, diamond and enamel necklace, USD962 (net-a-porter.com); PAPER London Belted denim mini skirt, USD331 (net-a-porter.com); FOREVER21 Heart Balloon Print crew socks, USD2.90; MCQ ALEXANDER MCQUEEN Crystal-embellished Mary Jane pumps, USD 201 (theoutnet.com); H&M Sleeveless blouse, PHP599/~USD11.45 (hm.com)
Practical and preppy, those who love good ol' FB know how to balance the then and now since the platform has come a long way since its inception. For this look, we're giving a nod to the platform's colour scheme through the top and bottom pieces and decided to balance the simplicity by decorating with an emoji necklace. To top it off, other pieces we threw in the mix show elements of redesigned classics. We're talking about incorporating funky socks and bejewelled Mary Janes into the mix, making the entire ensemble truly worthy of a heart-react.
Instagram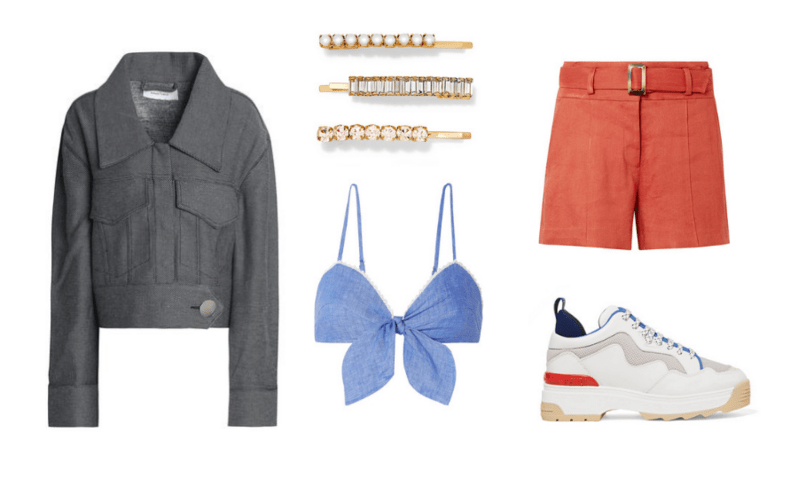 From left to right: MARQUES' ALMEIDA Oversized cotton-twill jacket, USD 287 (theoutnet.com); LELET NY Set of three Lili gold-plated, crystal and faux pearl hair slides, USD142 (net-a-porter.com); MIGUELINA Tilly crochet-trimmed linen bralette, USD383 (net-a-porter.com); VERONICA BEARD Makayla belted linen-blend shorts, USD405 (net-a-porter.com); FENDI T-Rex mesh and rubber-trimmed leather sneakers, USD839 (net-a-porter.com)
The home of today's biggest trends, they say something's not famous if it's not 'Instagram-famous'. Our chosen look inspired by this thriving platform combines pieces and trends it helped popularise. We're talking bralettes as tops paired with high-waisted shorts, chunky white sneakers that spell retro-chic, an oversized jacket to wear off-shoulder for that perfect Instagram pose, and of course, the resurging barrettes as a finishing accent.