Just like how we should care for the environment against pollution, we should also adjust our routine to include a veil of protection to keep pollutants off our skin. The skincare we use can effectively influence our skin's function as we go about our day exposing our skin to the elements. Without the right kind of protection, we're subjecting our skin to free radicals that can result in irreversible consequences, like premature ageing.
The best solution to combat that is a good dose of active anti-oxidant ingredients, or as the beauty industry now likes to call it, anti-pollution beauty. "Anti-pollution" may just very well be another new beauty buzz word, but we are here for it.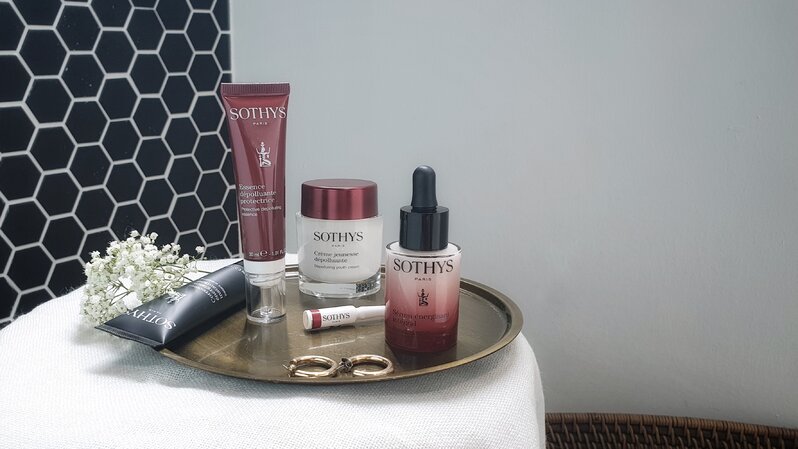 Comprising of an Energizing Serum, Depolluting Youth Cream, Protective Depolluting Essence, Energizing Radiance Ampoules and Instant Energizing Corrector, the new premium
Detox Energie
line (which we
shared
about earlier last month) by French skincare brand
Sothys
is created specifically to fight pollution. How? By using an exclusive cocktail of active ingredients: patent-pending Organic Elderberry Extract, detoxifying peptides derived from Green Tea, and Organic Siberian Ginseng Root Extract.
To complement the new premium Detox Energie homecare range by Sothys, we were invited to try the
Sothys Detox Energie Treatment
in Singapore to power up our skin-saving efforts. Priced at SGD340 for a 75-minute facial, this intensive treatment is designed to further protect, detoxify and give your complexion a visible boost of energy and radiance. It is suitable for all skin types.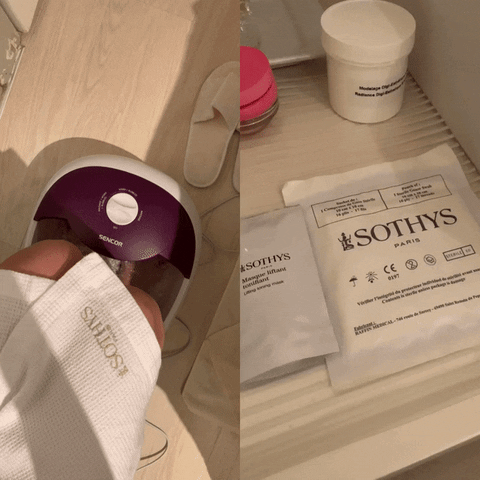 We started off with a skin scope to help the therapist understand my skin concerns before recommending the right treatment or, in my case, making the necessary adjustments to my Detox Energie Treatment. I was then whisked off to the treatment room to change before getting a five-minute scented foot bath — out-of-the-norm but very much appreciated.
The treatment consisted of the following steps — a detoxifying cleanse, a series of anti-pollution serums and creams, a mask system and a protective finish — most executed with the facial massage movements that are unique to Sothys called the "Digi-esthetique". Created in partnership with a qualified osteopath, this massage technique works on the acupressure points on the face to improve blood circulation and enhance skin radiance. Like a revitalising full body massage but for the face, obviously. Coupled with the professional skincare, I stepped out of the treatment room feeling and looking brighter, more recharged — and with a complimentary sample tube of the Sothys Detox Energie Energizing Serum to help me supercharge my game face for the days to come. Want to keep your (skin) energy high for pollution season? You know what to do.
Find out more about the Sothys Detox Energie line here.