For their latest sartorial affair, Manila Fashion Festival kicked-off an elegant display of the Spring/Summer 2016 collections from thirty-one Filipino designers in five distinct shows, scheduled over four days. It was a fashion festival that placed Philippine artistry front-and-centre as the fashion industry gathered to watch established designers alongside up-and-coming young designers. Each designer selected for the festival brought their fresh and distinct voice into modern and contemporary setting.
Presented by
Art Personas
and co-presented by luxury Swiss watchmaking brand,
BOMBERG
, the S/S 2016 season did not disappoint as each show featured a line-up of designers with differing aesthetics, textures, and vision--with each collection aptly accompanied by a visual and auditory display that enveloped
The Eye at Green Sun, Makati
.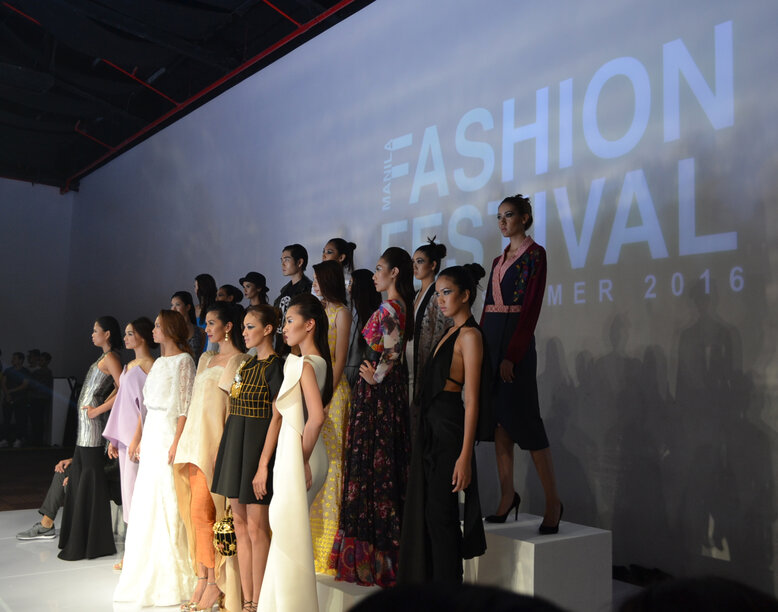 At the root of the festival was the need to further bridge the gap between brands, designers, and consumers without taking away the artistry and visual feast that fashion demands from its industry. It's this merger of art, business, and vision that has made Manila Fashion Festival a stand-out amongst other fashion events in the region.
And of course, at the heart of every fashion event is the line-up of designers and the collections displayed down the runway. So for a peek into what's in store for Spring/Summer 2016 in the Philippines, here are
13 stand-out collections
we spotted on the runway from some of our favourite designers.
--------------------------
Pablo Cabahug: A modern take on the old Manila
Manila Circa 1920 by Pablo Cabahug
goes beyond just modernising the Filipiniana. It's about bringing the old-Manila sophistication of the 1920s into 2016, with flattering and modern silhouettes that still assume the essence of the Filipiniana, all displayed in a palette that is fresh yet loosely-rooted in history. It's like flipping through old-yet-familiar photographs framed in an aura of glam and sophistication.
Chris Diaz: Life is bright, airy, and carefree

STOKED by Chris Diaz
is all about revival, texture, and movement with a pop of colour. Light and airy, the collection streamed down the runway in a haze as each piece moved seamlessly from fluffed and structured jackets, to a swish of air across the hem. It feels calm, organic, and features marine elements and a colour palette that gently transitions Fall/Winter into Spring/Summer--reminding us of young, summer sleepovers, but this time, a little bit more grown up with champagne and caviar.
Esme Palaganas: A broody girl's best friend

Mana by Esme Palaganas
is essentially a play on silhouette, mood, and colour--dressing the perpetually broody girl in exaggerated shapes and contrasting colours to play-up the juxtaposition of mood. Darkly styled in contrast to the light, pastel-based colour palette, the collection has a distinct Esme vibe about it, making it an easy stand-out in the runway.
Mark Bumgarner: It's all about the glamour

The Lady Ophelia by Mark Bumgarner
is all about glamour and enchantment as the collection weaved through the runway, bringing an added layer of texture as the pieces glide alongside each other. From soft silhouettes to embellished gowns, Mark is all about enhancing the women and presenting her as intoxicating, ethereal, and sensual.
Tony Evan: A sheer play on curves

The New Romantic by Tony Evan
still has his signature panelled cut-outs in his designs; but this time, made a little more subtle and softer, aiming instead to create a collection that reveals as much as it conceals. The collection somehow makes cut-outs seem a lot more wearable and less intimidating, with the focus on enhancing the female form with the play on fabric and cut, rather than simply being revealing.
Jaz Cerezo: A dash of softness in the form

Cielo by Jaz Cerezo
is all about grace and the soft curves of women. Pastel hued and inspired by the 60s mod silhouette, the collection showcases her eye for creating structure and shape, especially when juxtaposed against the softness of the fabric. It's less about texture but more about emphasising the smooth curves of a woman.
ARIN: Something for every personality

Multiplicity by ARIN
is essentially a collision of different elements of a woman's personality as each piece represented varying facets of the contemporary woman--someone who can go from chilling on her couch, to being all glammed-up in an instant.
Milka Quin: The new monochrome

Paradox of the Silent Circus by Milka Quin
is our new monochrome palette for Spring/Summer 2016. It's aesthetically muted in its clean simplicity, yet still retains a "nouveau cirque" quirkiness in the cuts and silhouettes, even down to the styling of the models.
Happy Andrada: A reinvention of the classic

Barong Reinvented by Happy Andrada
is all about redefining the classic Barong, making it a wearable piece for the modern woman looking to express her nationalism and love for the Philippine classic in everyday wear. The collection is all about allowing the Barong to move with the whims of life, keeping each piece flowy and refined while retaining the essential structure and feel of the classic Barong.
AZUCAR: Life deserves to be bundled in romance

Le Fleur by AZUCAR
is all about romance, presenting a collection that embraced women's desire to feel enveloped in the beauty and aura of luxurious creations. The gowns were opulent but without being over-the-top in its grandeur, with each piece celebrating the feminine silhouette in a statuesque display of flow and form.
Odelon Simpao: Urban, chic, and bold

Linear Forms by Odelon Simpao
is urban chic with a pop of colour, giving the runway a colourful feel ready for Spring/Summer. The collection is a blend of 3D lines, cubes, cutouts, and colours all rooted in a sleek, linear design. Each piece moved together, for a wholistic display that felt complete and well thought-out in its street-ready casual vibe.
Randy Ortiz: Relatable luxury in an androgynous form

An Homage To Randolph by Randy Ortiz
is structured, androgynous, and sleek--a collection you would take with you on a European holiday when Spring still feels cool enough for wine and champagne while bundled up. While the collection is rooted in tailored suits, coats, and padded shoulders, it somehow found a great balance between tailored cuts while still complementing the silhouette of women.
Banggo Niu: A balance of movement and structure

Sea Siren by Banggo Niu
is about movement, going from delicate to airy and quickly transitioning to structured and strong. With a palette that moves seamlessly between pieces, it celebrated transformation--whether it be through seasons, colour, texture, or form--a vision perfect for that Spring/Summer transition.
--------------------------
Who are your favourite designers from the Philippines? Share it with us in the comments below and we may feature more of their designs and the personalities behind the name.