Samsung Fashion Steps Out 2015 kicked-off to a grand start over the past weekend as Orchard Road transformed into a runway, with 176 models strutting down with looks from fashion designers such as Aimer, max.tan, Ashley Isham, Moiselle, DEPRESSION, PAUL, FOX Kids, PAULINE.NING, Francis Cheong, Pleatation, Germain, Sean & Sheila, and Mary Katrantzou.
We witnessed the fashion extravaganza together with our Clozette Ambassadors and were absolutely enthralled by the designs that truly showcase the vibrancy and talent of Singapore and International fashion designers. Here are 5 pieces that truly stood out for their stunning take on Spring/Summer.
--------------------------

Mary Katrantzou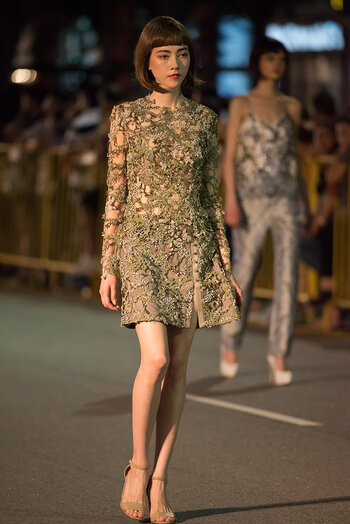 When the weather warms up for Spring/Summer, we're all about A-line short dresses. This piece from Mary Katrantzou showcased a muted take on the vibrant hues of the season, choosing instead to stick with a dark green palette that makes for an effortless transition from from Fall/Winter. The intricate lace woven all throughout the dress also adds a spin to the predictable floral trend of the season, presenting instead a texture reminiscent of vines.