Gone are the days where you declare "she's my girl" or "he's my boy" on your matching couple tees. Now there are so many other ways you can call him yours without compromising style as more and more couples are displaying their love and their love for fashion through couple-outfits,
Since Valentine's Day is not too far away now, we've put together a few couple-fashion looks you may want to give a try!
--------------------------

Unisex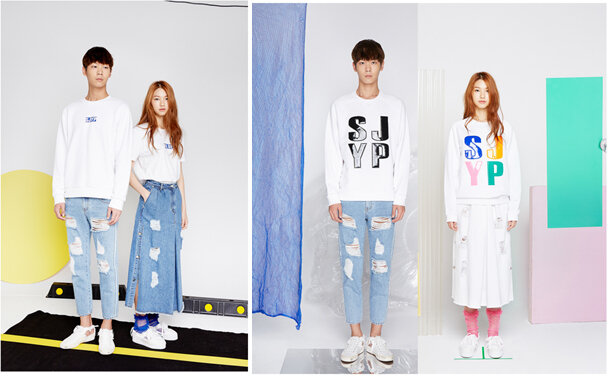 Get the look: Steve J & Yoni P Net-A-Porter Denim Bottoms & (Korea only) SJYP SHOP Tops
The unisex trend has been very in and there are many brands offering unisex outfits you can easily match with your partner. It's probably the easiest and the more common trend to work with. It could be a sweater (a hot item now amongst couples in Korea), with the girl sporting the bright playful tones while the guy goes for toughed, classic colours. Another way to style the trend is by taking a plain coloured tee or sweater and styling it in a mister and missus version.

Get Similar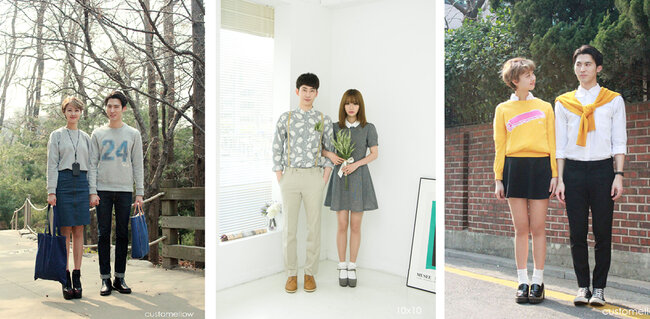 Get the Look: Customellow

Here's another easy way to go fashionista lovey-dovey! The Similar Look trend is not only popular amongst couples; it can also be worn with your BFFs! It can be easily achieved by wearing a piece of the same colour as your partner or by wearing a similar item in a different colour, cut, style, or silhouette.

Channel your inner Justin and Veronika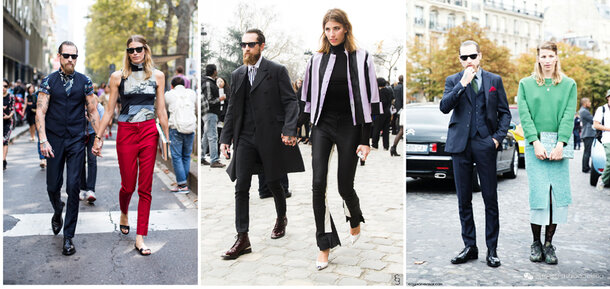 Justin O'Shea, buying director of Munich-based site MyTheresa.com, and his girlfriend Veronika Heilbrunner prove that you can still be hip and trendy and fashionable even while running a top online brand. Justin, often in three-piece suits, subtly and sweetly coordinates with Veronika's outfits as they go about in their daily tasks. This couple proves that even if you've got different styles, there's still a way to pull-off that well-coordinated coupley look.
For Him and For Her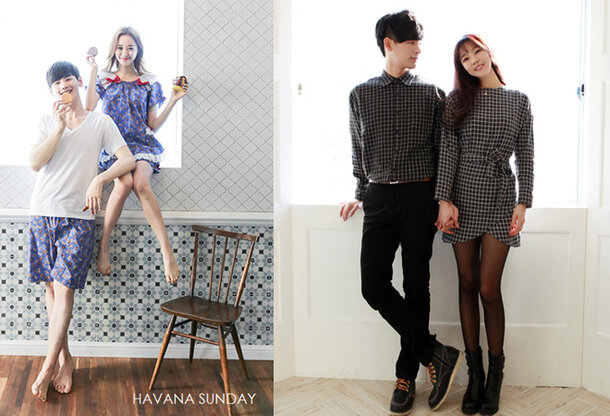 If you're not in the mood to crack your brains for an outfit, ready-made couple wear is no longer what it was before! Korea being big on all the lovey-dovey stuff has many on-line shopping sites made just to sell trendy couple items! Sites like Funhancouple and Stylestoker provide international delivery and these sites sell everything from beach wear to sleepwear to coats and even different outfits classified for different events.

So how do you pull-off a coupley-OOTD? Snap a photo and share it with our Fashion Commmunity!