Gone are the days where you declare "she's my girl" or "he's my boy" on your matching couple tees. Now there are so many other ways you can call him yours without compromising style as more and more couples are displaying their love and their love for fashion through couple-outfits,
Since Valentine's Day is not too far away now, we've put together a few couple-fashion looks you may want to give a try!
--------------------------

Unisex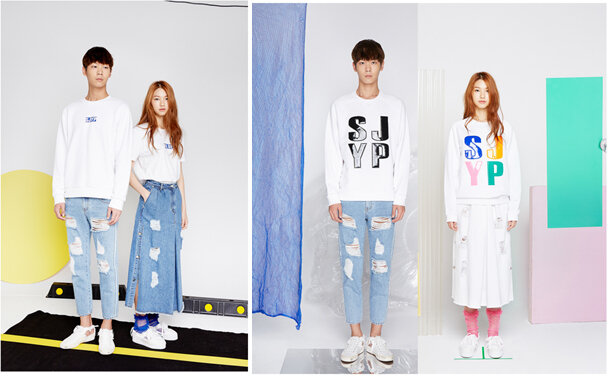 Get the look: Steve J & Yoni P Net-A-Porter Denim Bottoms & (Korea only) SJYP SHOP Tops
The unisex trend has been very in and there are many brands offering unisex outfits you can easily match with your partner. It's probably the easiest and the more common trend to work with. It could be a sweater (a hot item now amongst couples in Korea), with the girl sporting the bright playful tones while the guy goes for toughed, classic colours. Another way to style the trend is by taking a plain coloured tee or sweater and styling it in a mister and missus version.