Many iconic style trends come from the big screen. Regardless of the genre or era the film has been released in, we're sure that just like us, you've also fawned over a movie character's look. But don't you also wish to steal some of their most iconic pieces? Don't worry, we got you! We lined up some of the most covetable — and maybe a bit eccentric — style pieces from movies old and new that are available for you to add to your shopping cart.
Cher Horowitz' bright yellow ensemble
Left: pinterest.com; Right: SARA BATTAGLIA Cape-effect checked wool blazer, USD1,796 (net-a-porter.com); SARA BATTAGLIA Checked wool shorts, USD536 (net-a-porter.com)
A fashion listicle inspired by movies is not complete without Clueless. And when it comes to the co-ord trend that's been making rounds in today's fashion scene, we can't help but give a nod to Cher Horowitz's iconic yellow outfit. It may have looked a bit weird and campy during the '90s, but we believe it perfectly fits the bold girl boss vibes that we are all gunning for today. P.S. If you're want to copy Cher's other iconic looks, here's a story we did on how to steal her style.

Wednesday Addams's little black dress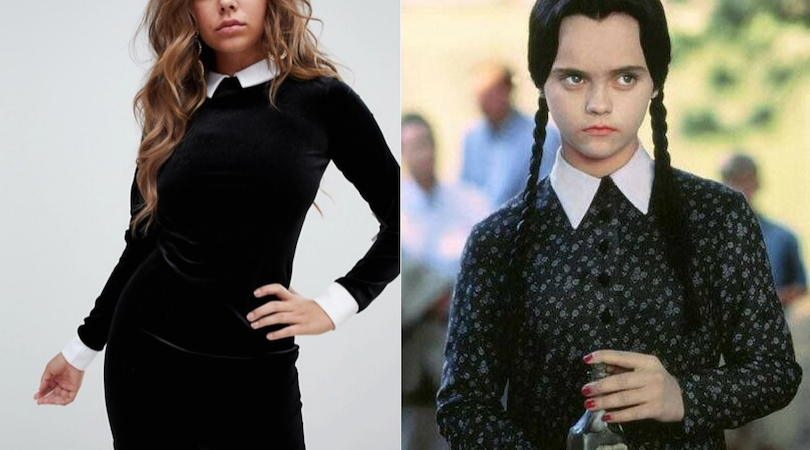 Left: MISSGUIDED Halloween Wednesday Adams velvet bodycon dress in black, USG34.74 (asos.com); Right: pinterest.com
It's no secret that Wednesday Addams's style is iconic. Her couldn't-care-less scowl, signature thin neat braids, and sharp white collar (to match her pointy widow's peak) have become a Halloween favourite and even a style inspiration to those who lean towards a goth-meets-preppy aesthetic. But if we're only copping one piece from her entire look, it's definitely her signature LBD. The bodycon fit and contrasting trimmings are so identified with Wednesday's signature look that many brands who have this dress cut and style have actually named it after her.



Nine Ball's hexagonal sunglasses
2018 has had the most game-changing movies so far when it comes to Hollywood diversity and inclusivity. One that fits in the list is the all-female-led movie Ocean's 8. The film had the most outstanding looks from Anne Hathaway's celebrity bombshell dresses to Cate Blanchett's edgy-chic outfits, but if we were to pick a favourite piece from the bunch, it would probably be Nine Ball's (Rihanna) hexagonal sunglasses. It's casual, playful and has a hint of uniqueness that definitely made it memorable in our book.
Louisa Clark's green Mary Janes
If you have seen Me Before You, then you would know that besides its tearjerker storyline, there was also a lot of focus on the wardrobe of Emilia Clarke's character Louisa. Her style in the film was a direct reflection of her character's persona, and even the way they referenced fashion pieces in the plot (remember those bumblebee tights?) plays a huge role in the narrative.
But the unconventional green Mary Janes she wore in the scene where Sam Claflin's character Will told her to live her life the way she wants to definitely stood out to us. It reminded us that shoes are not just fashion pieces but are tools that take us to places far and wide and we should never waste their — and our own — potential by staying in our comfort zone. While the exact shoes she wore in the film are not in stock anymore, we did find a similar-looking pair from the same store.
The Whitman brothers' iconic luggage

This may seem like a random addition to the list until you realise that we're talking about Wes Anderson's The Darjeeling Limited. It might not be a typical movie to get fashion inspiration from, but those who have seen it know that the fantastically designed luggage of the three off-kilter brothers in the movie has become a must-get item amongst its fans and even fashion enthusiasts, mainly because it was originally designed by Marc Jacobs when he was Louis Vuitton's creative director.
A couple of years ago, a company called Very Troubled Child created a replica of the bags they used in the film, complete with a palm tree design, animal motifs and a customisation option, inspired by Anderson's film and the fascination that surrounded the bag itself. Whether you have seen the movie or not, you have to admit that the design is not too shabby and will definitely get you on a jet-setting mood.

Marty McFly's plaid and suspenders combo
Taking style tips from men is a growing trend right now, which gives us more reasons to bring back this paperboy look from Back To The Future. Combining the nostalgic appeal of the '80s with an androgynous vibe that's been popping up here and there since the beginning of the 20th century, we're channelling our inner time traveller with these tried and tested pieces. We mean, who could ever go wrong with plaid in any time period, right?
(Cover photo from: pinterest.com/ Warner Bros. Pictures)