Have you ever looked at a thrift find and immediately thought, "Oh no. I should
not
have bought this," or saw potential in a piece of fabric but didn't know where to start sewing? With this week's Style Savvy interview, you'll discover that all thrift finds can be turned into something first for your wardrobe. Get to know the tricks behind thrift flipping and upcycled clothing with YouTuber
Rachel Gania.
Rachel has amassed an intimate community of over 1,600 subscribers on YouTube and over 1,200 followers on Instagram. She posts about thrifting, thrift flipping, makeup tutorials, photography and watercolour painting on her platforms. This creative gal knows what to look for in a thrift flip contender and she's here to share it all with you.
First, please introduce yourself. What's your name and your day-time profession?
"Hi! I'm Rachel Gania from Pampanga, Philippines and I am currently an employed Medical Technologist working in a laboratory in Makati. Thrifting and thrift flipping is my way of relieving stress."
When did you first get into repurposing your clothing and what was that experience like for you? What made you decide to start flipping clothes to really fit your needs instead of shopping for new ones?
"It all started way back in 2015 when I was a college student in Manila. Being a college student living in a dorm made me want to be more responsible so I liked finding creative ways to still feel like I had new clothes but not spend as much money. Flipping clothes made me realise that cheap old clothes can still be styled into looking new and trendy. I got to be stylish and still save money at the same time."
Where did you learn the skill of thrift flipping? Did you already know how to sew beforehand?
"I learned it through YouTube and blogs. I remember I would search for 'DIY' clothes. I would use old clothes from my dad or mum and transform them. My dad taught me how to use an old Singer sewing machine from my grandmother. But I always knew how to sew by hand since my elementary days."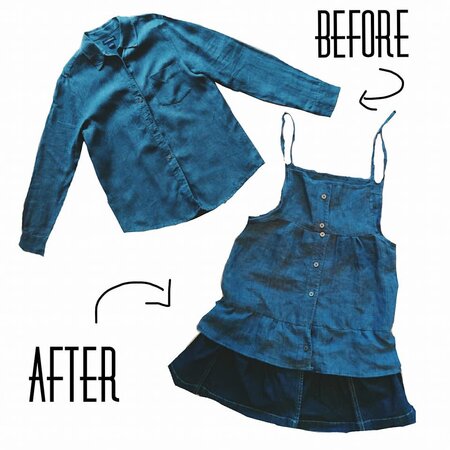 Do you have a process that you follow before you start flipping? Do you sketch out a design you have in mind or do you just make it as it goes?
"The first thing to remember before flipping is that you should already visualise or sketch out your ideal design. I love the idea of having this vision in my head and then having it come to life.
If I would give it a new look or turn it into a new piece I would always sketch out the design first before cutting it. But I will only do simple transformations like cropping or just altering tiny bits of pieces in the clothes."
Where do you get the clothing you tailor? Do you go to thrift shops/go through your closet/etc?
"I get the clothes that I flip or upcycle from thrift shops basically or sometimes if I'm too lazy to go out I would go through my parents' closet or from my closet and will upcycle pieces into something trendy or unique."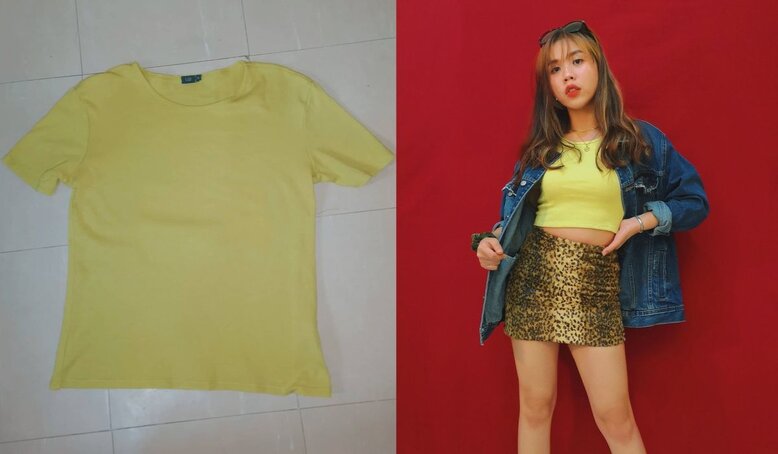 How often do you "shop" for clothes to flip?
"Every time that I feel that my wardrobe is getting boring or repetitive I would always look for vintage pieces of clothes from thrift shops near our apartment."
What are your go-to thrift shops/consignment stores that you frequently go to look for new projects?
"My go-to thrift shops are in Anonas Mall with its four floors of thrift shops, Makati Cinema Square, and Hidalgo St. in Quiapo. But Libertad is my most favourite place to thrift!"
Was there any instance in the past that you experienced "tailor's regret" (like buyer's regret)? Can you tell us what you were trying to do and how it went haywire?
"There are always instances wherein your outcome will not be the same as the way you envision it. My recent fail thrift flip was from my
Makati Cinema Square vlog
. I bought this very vintage-looking pastel orange button-down top that had shoulder pads. I was so excited to flip it into a square neck top. However. after I had cut it to my desired length and started sewing the hems for the square neck, I saw that it wasn't going the way I planned. The fabric itself was very hard to sew. Now I regret cutting it and transforming it."
On the opposite side of that, what was the best thrift flip project you've made?
"The best thrift flip that I've done was my very first piece because I sewed it by hand. It was a triple extra-large, long-sleeved button-down top from my cousin from America. It was a white and blue checkered polo and I turned it into a dress. I was really proud of how it looked even though it was only done by hand. The first thing that I did was cut off the sleeves. Then I created two pieces from the fabric, a top and a skirt, and using the sleeves I added an inch of fabric in the waist and created a ribbon at the back to cinched my waist."
Based on your experience, what are the basic skills/traits that a person interested in thrift flipping their clothes should definitely have?
"Be creative and artistic.
An innate sense of creativity is important in thrift flipping. Artistry and an imaginative mind can give you the instinct necessary to turn ugly thrift clothing into an entirely new piece.
Be patient.
It is not that easy to flip clothes and it takes time or days to do one project.
Technical skills.
Cutting and sewing clothes are the most important skills that you must possess. You must know how to stitch clothes even if its basic hand sewing. IT IS A MUST!
Problem-solving skills.
Problems can arise when you are flipping old clothes, you must be quick at thinking and finding a solution."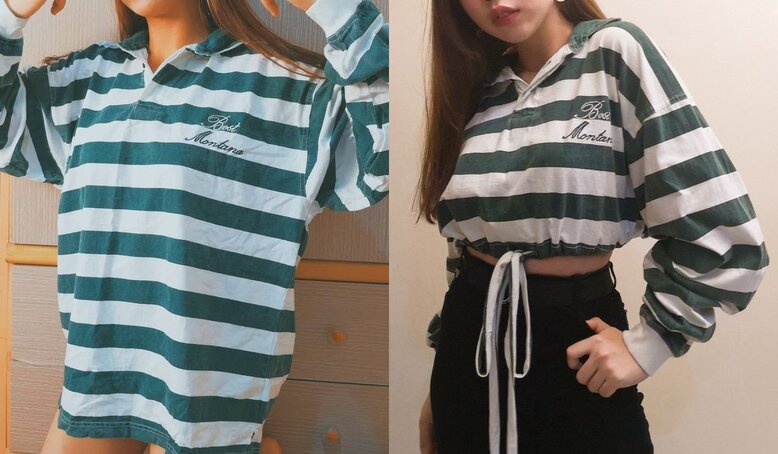 What are the top tips you can give to somebody on how to repurpose clothing as you do?
"Keep an open mind. Take time to see how you can make thrift clothes into something better.
Look for clothing inspirations. They will help you visualise the design you want.
You should have a good eye for details. For example, how do you envision making the pleats or ruffles fit into your design? Things like that. I will always look for interesting detail in every piece of clothing because I think details can make a boring piece of clothing into a unique upcycled piece.
Research. You should be able to understand fabrics, colours, and pattern of clothes.
Do not be afraid to make mistakes. Through those mistakes, you will learn.
You need to buy your own sewing machine. Nothing fancy required. I'm using this mini sewing machine my sister owns and I think it is the cheapest option for a good sewing machine for sewing beginners like me. You just need a sewing machine that can do a straight stitch without giving you a hard time."
(Cover photo from: @chelgania)
Check out these thrifting tips from our previous Style Savvy story!