Valentine's Day is all about spending quality time with people you love. Your celebration could include simple activities such as staying at home and enjoying a movie together, or a fancy dinner at a cool new restaurant. No matter where you're spending the occasion, dressing up for the celebration is what makes the day extra special.
If you're not sure what to wear to your date, we share five outfit and
PANDORA
jewellery pairings for celebrating love with your special someone.
--------------------------
Casual Rendezvous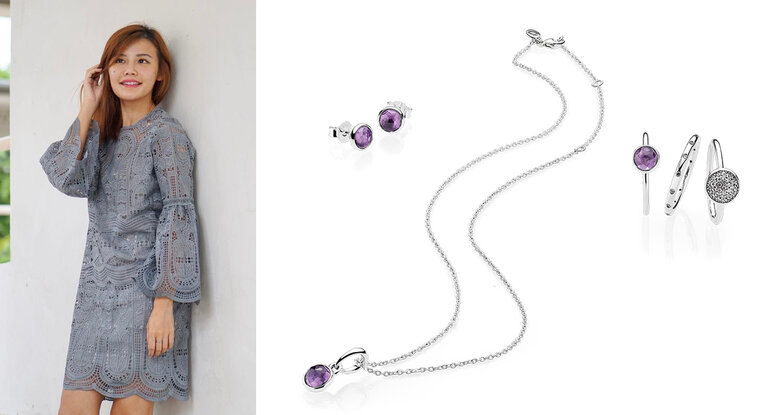 (Photo from: maybellinesim); Pictured from left to right: February Droplet earrings, SGD89; Silver necklace, SGD59, February Droplet pendant, SGD69; February Droplet ring, SGD89; Droplets ring, SGD89; Dazzling Droplet ring, SGD89
Going for a picnic at the park or catching a movie? A day dress in your favourite colour is the way to go. Top your look off with jewellery that's playful and casual but still elegant, such as the
PANDORA Stones of Colour
collection. The flower dome-cut stones that come in different hues allow you to go minimalist or colourful depending on your sartorial mood. You can choose a ring that bears your birth month's colour for personalisation or stack a few to complement the colour of your dress.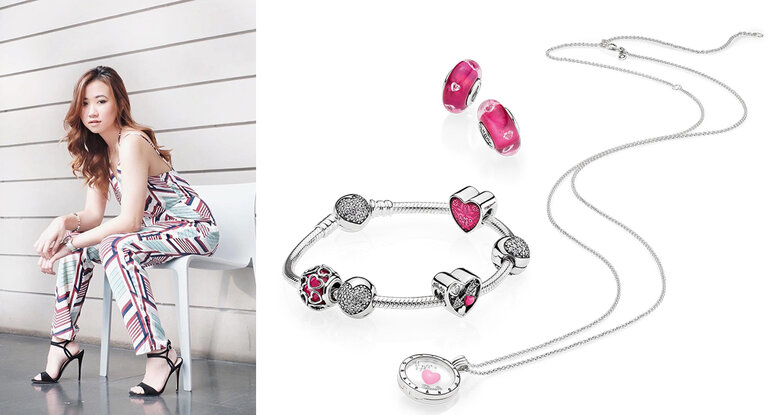 (Photo from: RochelleAbella); Pictured from left to right: Moments Silver Bracelet with Sparkling Heart, SGD149, with various charms from SGD99; Cerise Heart Glass charms, SGD69 each; PANDORA Floating Locket necklace, SGD179, with Love Feelings Petites, SGD69
Enjoying art is a fun way to spend the day with your significant other. Instead of a dress, opt for a jumpsuit or your trusted chic slacks to stroll the halls of a museum, catch a play or see an orchestra. Pair it with a set of jewellery that's as tastefully made as the art you'll be enjoying. Inspired by pop art, the
PANDORA Love Struck
series is perfect for the occasion. Make the new
Moments Silver Bracelet with Sparkling Heart clasp
your base, and add on charms that best represent your relationship. The
Struck by Love charm
in particular, is a great reminder of your love story. Its design – a big heart which contains arrows and tiny hearts – symbolises being in love.