One would think that a person who has lived in a region where the only seasons are hot, hotter, and hottest would be used to it by now. But in my 24 years of existence, I must say that I — and my skin — still can't tolerate the scorching weather. For the longest time, summer has always been my skin's enemy. My skin gets twice as flaky and oily at the same time (hey, it happens!); it looks extremely dull and dehydrated no matter how many gallons of water I consume, and acne that I thought I already left in puberty comes back to say hello.
Now, if there's one thing I learned through years of experimenting and falling in love with skincare, it's that routine length and using a wide range of products in one go don't necessarily translate to perfect results. Sometimes, a select few applied strategically is enough to deliver what you're looking for. And with summer's peak bringing in sweat, oil, and dirt heavily to your skin on the daily (more so than 'regular' days of the year), you wouldn't want to cause more harm by packing on a bajillion layers of product under or on top of it.
My tried and tested solution? Finding just a handful of skincare picks that pack a punch when it comes to keeping my skin calm, clean, and healthy even when the season is out to get me. After testing who knows how many, I narrowed down my newest summer-friendly arsenal to four products.
ThisWorks Morning Expert Vitamin C Power Mask
When I first got this product, I was really amused by it since ThisWorks' brand name is really committing to saying that this pick (along with everything else they're selling), well, works. Quite a bold move, don't you think? The Morning Expert Vitamin C Power Mask claims to have '10% Vitamin C and jojoba oil to smooth and brighten dull, tired looking skin' which is exactly what my skin is like especially in this weather. Given this, I immediately gave it a whirl.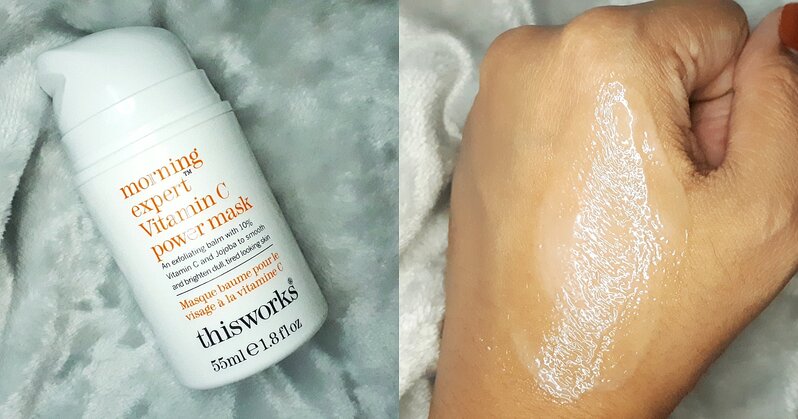 One thing to note for first timers is that even if it claims to be a mask, it is actually an exfoliating balm that doubles up as a cleanser. For those who would love more intensive action, that's when you can leave it on for 10 minutes. Now, what surprised me the most when I used it for the first time is how gentle it is to the skin and how it literally is a one-step morning routine on its own. The entire day my skin was just bright and glowy and did not end up shiny at all even until I had to re-wash my face at night to retire for the day. My skin looks nicely hydrated even with its excellent oil control. I've been using this every other two days for I think a month or so (Mondays, Thursdays and Sundays) and it definitely replaced everything on my morning skincare routine except for sunscreen. I highly recommend giving this a try. You can start looking via Sephora Singapore.