Everyone's favourite season has finally come and I for one am very excited to spend summer with my friends and family. While everyone is busy planning what to do or where to go this summer, there's a burning question on everyone's mind: what to bring to your summer trip.
So for my first article on ClozetteINSIDER, I have decided to share my summer travel essentials and the top things that I pack for trips this summer!
--------------------------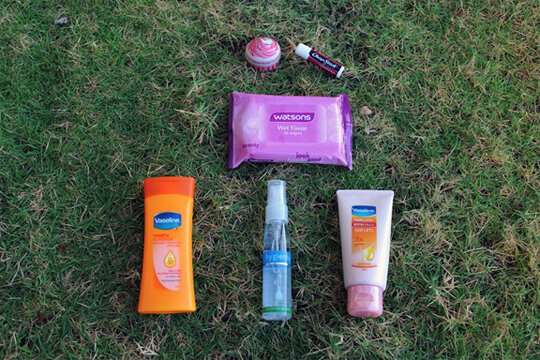 At the top of my list are toiletries and beauty essentials. Whenever I go on my summer trips, I always pack my sunscreen and lotion first. These two are the most common essentials to protect our skin from the harsh rays of the sun. As for me, I always try my best to take care of my skin and just have the right amount of tan that I need for summer.
Next are my trusty sanitizer and wet tissue, just in case I need to clean up any messes during the trip and keep my hands clean before meals on the road. Another on my list is lip balm. When you are on the beach it is not necessary to have your lipstick around. So why not try a more natural look and protect your lips with a lightly tinted lip balm to soothe your dry lips.