They say having an anti-ageing regimen should start during your mid or late 20s. Well, I hit 30 this year, and I'm only getting started. I'd like to think that using sunscreen on those five or so years that I didn't slather on creams will make up for it. If that fails, I hope using the Sunday Riley A+ High Dose Retinoid Serum can at least help lessen the blow (and by blow, I mean fine lines and wrinkles).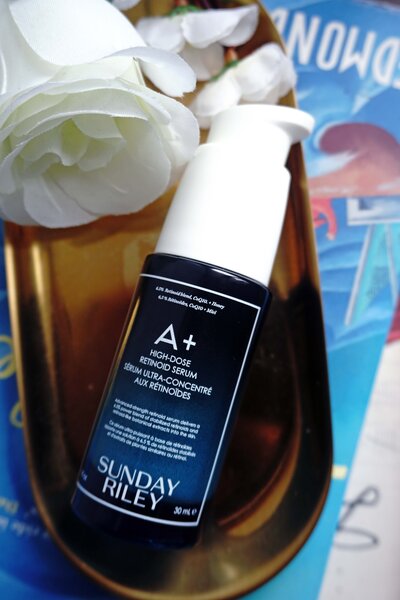 Retinol, they say, is the creme de la creme of anti-ageing. From dermatologists to women in their 50s who look like they're in their late 30s, this ingredient is said to be the top pick if you're looking to maintain a youthful look. Is it true? With 5 per cent retinol ester and one per cent Liposome-encapsulated retinol in each bottle of this new Sunday Riley crowd-favourite, will it be my holy-grail for retinol?
Packaging, appearance and texture
Before we get to that, let's start dissecting it from the outside-in. The Sunday Riley A+ High Dose Retinoid Serum comes in a royal blue glass bottle that evokes a feeling of luxury. The bottle, as one might assume, has a good heft (even though it only contains 30ml of product). It looks pretty on the vanity. The downside? The opacity of the bottle makes it hard to know how much of the product you've already used.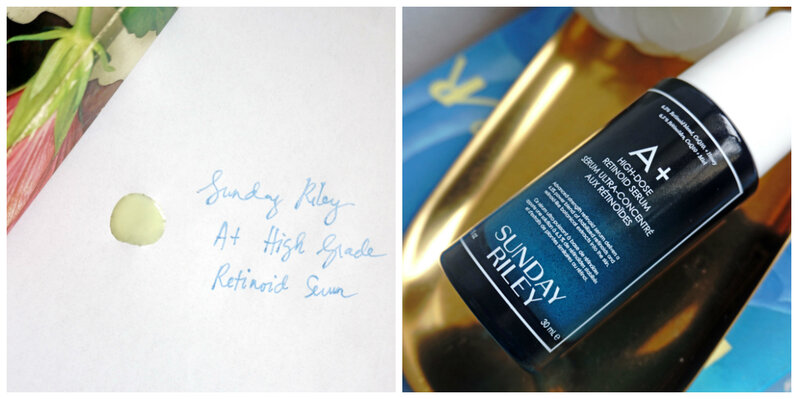 The product itself is not as photogenic. It also has a fragrance that has a mixture of botanical and medical, which can be off-putting to some. Both of these, however, are salvaged by the fact that the serum's texture is divine. It glides on smoothly and doesn't leave an oily feeling on the skin despite the product being oil-based.
Application
I started incorporating the serum into my routine a couple of months ago. During the first week, I started applying a pump's worth of the product after my toner at night every two nights. At this stage, my skin was drier than ever. But after easing into the routine, I was finally able to enjoy the moisturising effect of the Hawaiian White Honey (a pro-skin humectant) in the serum. I then moved on to using it every other night. They say you can start using it nightly after a couple of weeks. But I still use acids and don't want to over-exfoliate my skin so I keep it to just every other night. And since retinoid makes the skin more prone to sun damage, I make sure to continue putting sunscreen diligently.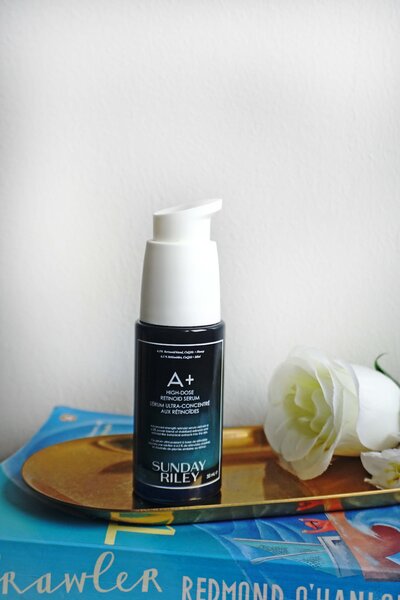 Results and overall thoughts
After two months, I've noticed that my skin's texture has become better. The lesions from past acne are still there but no longer as pronounced. The redness on my skin has also subsided. Although I wish the serum could help with my pores, too, because they continue to make their presence known. As far as wrinkles go, however, I'd wait a couple more months to see results. Do I look like I'm a decade younger? Not really, and I honestly don't wish it. But my skin is calmer and noticeably clearer now, which I am delighted with.
So that leaves us to the golden question: Do I plan on buying the Sunday Riley A+ High Dose Retinoid Serum when I finish what I currently have? With a price tag of SGD128/~USD85 for 30ml of product, I'm still on the fence. I'll only really get to see the results when I'm old (since this is anti-ageing after all). But I can't deny that the current changes in my skin are pleasant. That said, I'd probably settle for a more inexpensive version until I can muster up the courage to swipe my card for it. But if you have the budget for it, I suggest you keep this on your to-buy list.
The serum is available at Sephora Singapore.