Back in the 2000s, I remember visiting Genki Sushi, the first kaiten-zushi (restaurants that use conveyor belts to serve sushi and other offerings) in Singapore. It subsequently exited the market and returned a few years ago.
Judging by recent developments, the conveyor belt sushi is making a resurgence, with Sushiro — the largest kaiten sushi restaurant chain in Japan — joining the foray alongside other chains like Sushi Express, Sakae Sushi, Nihon Mura Express and its compatriot Chojiro from Osaka that also made its debut here last year.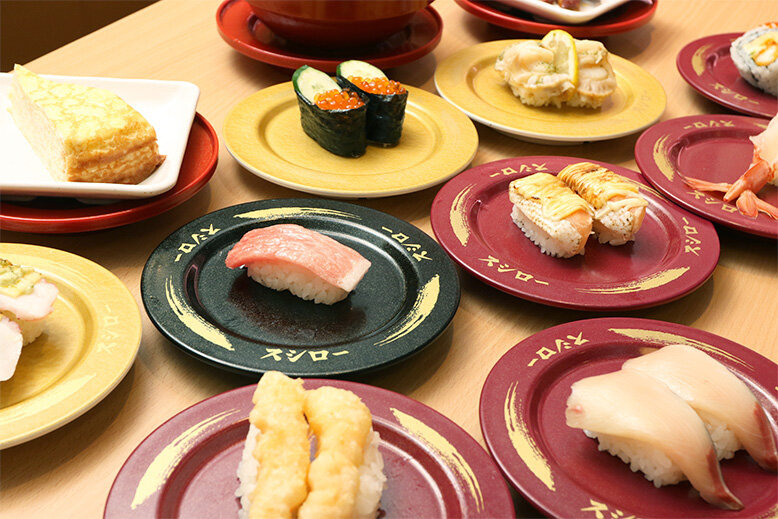 An assortment of sushi from Sushiro (Photo from: Sushiro)
Sushiro debuted in Southeast Asia a few months ago with an outlet at Tiong Bahru Plaza in Singapore. The subsequent long queues had been a deterrent for me to patronise it, so I was delighted to accept a media tasting at its 124-seater second outlet at Level 3 of Isetan Scotts in Orchard Road.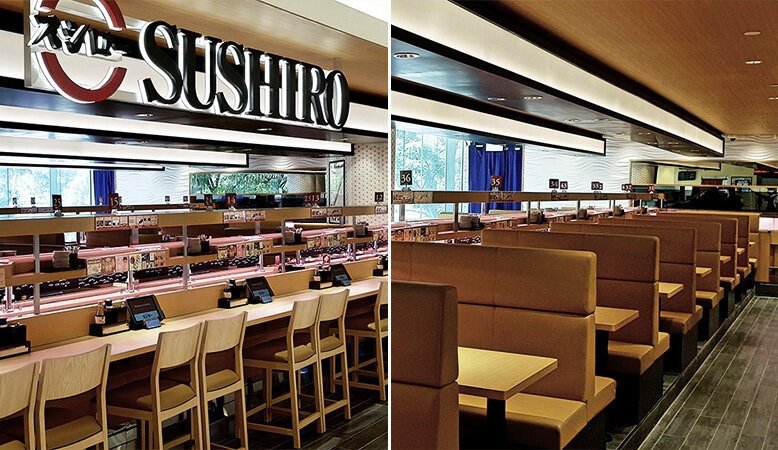 Interior of Sushiro at Isetan Scotts

Sushiro comes with impressive credentials: founded over 30 years ago, in 1984 to be exact, its network spans more than 530 outlets globally and serves over 150 million customers every year. A signature feature is its two-tiered system conveyor belts that deliver side orders as well as both rotating and à la carte sushi placed via a touch-panel ordering system. To ensure optimal freshness, each plate is electronically tagged to allow the restaurant to monitor, remove and discard unclaimed dishes after they have travelled 350m on the belt.

How do all these credentials translate to the experience? First off, the prices are attractive — popular items such as the East-meets-West Salmon with Basil Cheese sushi and Triple Salmon, as well as various sashimi sushi creations like the Otoro Fatty Tuna and Roast Beef sushi only retail for SGD2.20-4.80++/~USD1.59/3.47.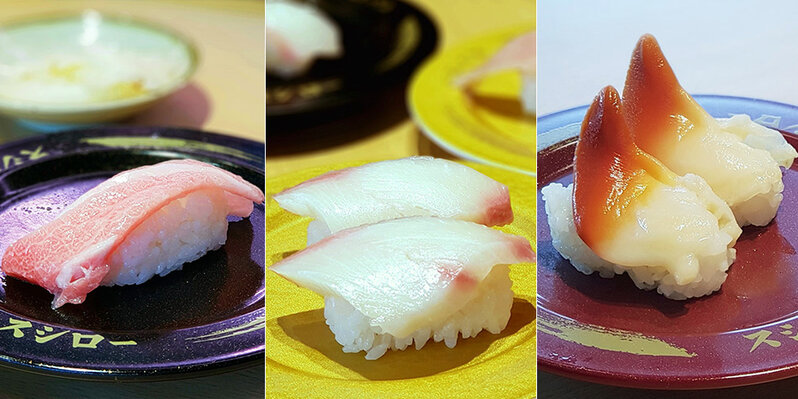 Otoro sushi, Albacore sushi and Surf Clam sushi
I especially love the Otoro Fatty Tuna — fresh and glistening with fat — and the Albacore, a type of small tuna that's often referred to as "white" tuna because of its light colour which is sweet and equally fresh. As a matter of fact, the various sushi we sampled were fresh and of decent quality. Even the rice is moist and palatable, which is not often the case at most cheaper sushi chains.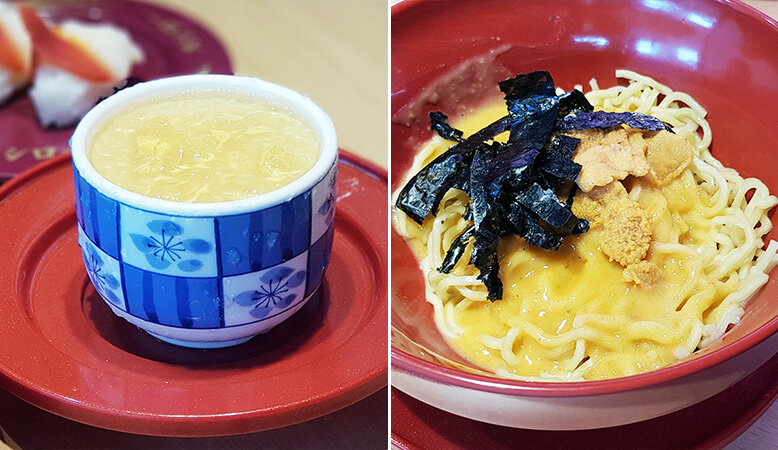 Uni Ramen and Cold Chawanmushi

The hands-down value-for-money item is the Uni Ramen. Its al dente noodles topped with a generous dollop of creamy, golden sea urchin, for only SGD8.50/~USD6.14++, was a delight. It's definitely a steal! Likewise, the Chawanmushi with Scallop is good value, too, at SGD3.50/~USD2.53++. There's even an unusual jelly-like Cold Chawanmushi.
For desserts, Sushiro has struck a collaboration with Hattendo for its puddings and fluffy cream buns, delicacies from a bakery founded in 1933 in Hiroshima that once opened in Singapore but has since shuttered.
My verdict on Sushiro? It's one of the best affordable kaiten sushis in Singapore, justifying the long queues. A couple of days after this tasting, I passed by the same outlet late at night and the queues were still there, notwithstanding the coronavirus situation.
While the jury is still out on who the king is, one thing is for sure: the entry of Sushiro into the local dining scene will heat up the race for the kaiten sushi crown, and it seems that Sushiro will fire new salvos with the opening of its third outlet at Causeway Point in March and a fourth outlet in the east in the first half of 2020.