There's no denying that sustainable brands are gaining traction right now more than ever. In Singapore, more and more eco-conscious labels are emerging. Two of the most promising ones are modest fashion brand Lully Selb and swimwear label PINKSALT. Keep on reading to meet the women behind these up-and-coming sustainable fashion brands in Singapore and know more about what goes behind the process of building their labels.
Lully Selb
Founded by Nurulhuda (Lully) and Selma Bamadhaj (Selb) in 2015, the fashion brand is becoming a go-to place for women who love modest fashion. "I wanted to create a brand to be the voice for women who want to break stereotypes of how Muslim girls should look," Selb shares. Even as a young label, their stylish shawls featuring unique hand-drawn prints exclusive to each piece are already gaining international attention and have been receiving rave reviews across South East Asia and the Middle East. "The VIP prints collectors club is a hit, and we're continuously growing our community of print lovers," Selb says.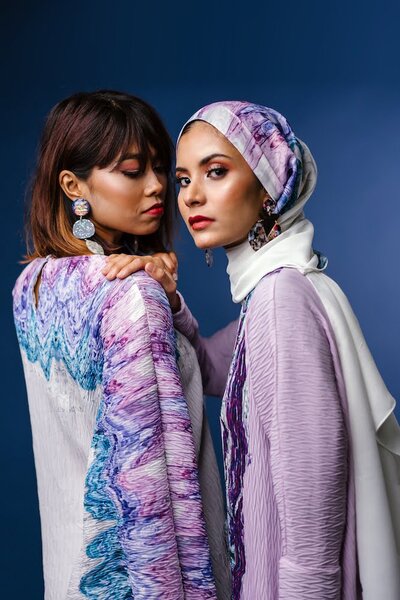 Designs by Lully Selb
As fashion graduates, their work process is very intuitive. "We begin with gathering inspiration and visuals for each collection. From there, the process is fluid. We experiment a lot with tactile materials and tools as both my partner and I believe in creating with our hands," Selb shares.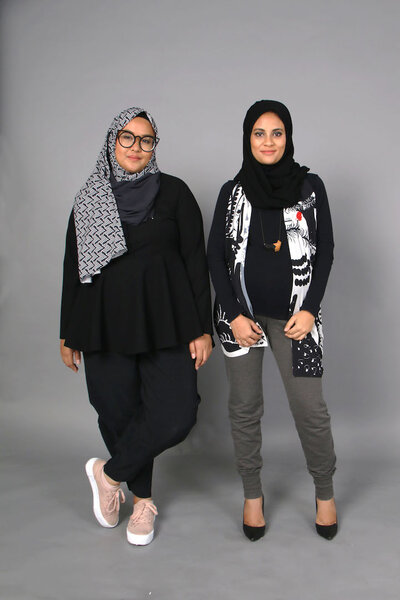 Founders Nurulhuda (Lully) and Selma Bamadhaj (Selb)

The duo has always been an advocate of sustainable fashion and their label is one of the more popular sustainable fashion brands in Singapore. Their most recent campaign is called #DreamwithLS, which aims to support local and regional artists by featuring their work as prints for the next collection. When asked what's next for the sustainable brand, Selb shares that they are collaborating with Batik Art from Yogyakarta in Indonesia. "We are currently collaborating with them to produce some unique pieces to showcase their talent and support their traditional craft, eventually helping them become entrepreneurs themselves."
PINKSALT
A result of a coincidental meeting and shared passion for fashion, PINKSALT is a sustainable fashion brand in Singapore that offers modern swimwear and resort wear label that continues to make waves regionally. Both founders had to step out of their comfort zones to build the brand from scratch. Co-founder Belinda Lee went against the grain and pursued a career in fashion in her 40s. "I attended the Apparel Design and Product Development diploma course in Fashion at the Textile and Fashion Industry Training Centre (TaF.tc) and was excited at the prospect of producing my designs as a business," she shares. Meanwhile, co-founder Su May furthered her studies to eventually get a Diploma in Merchandising and Marketing. As business partners, they've become unbeatable.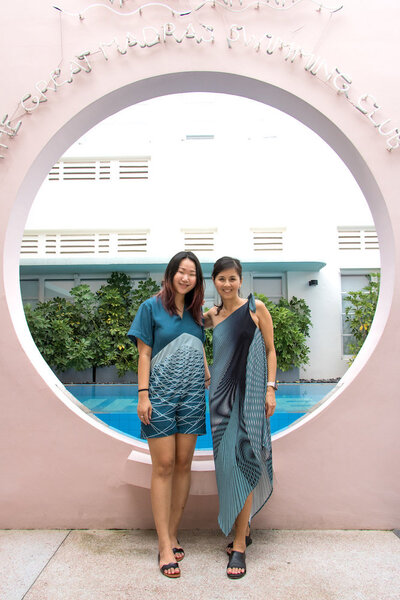 PINKSALT founders Belinda Lee and Ng Su May
The brand's trademark of providing swimwear designs that are feminine, stylish and classy became a hit with modern fashionistas. And two years into their business, PINKSALT is moving towards becoming one of the promising sustainable fashion brands in Singapore. "After entering the industry and learning more about how the manufacturing process works, we realised how wasteful the fashion industry is and wanted to do something different starting with our new sustainable collection, which will be launched soon," Belinda shares.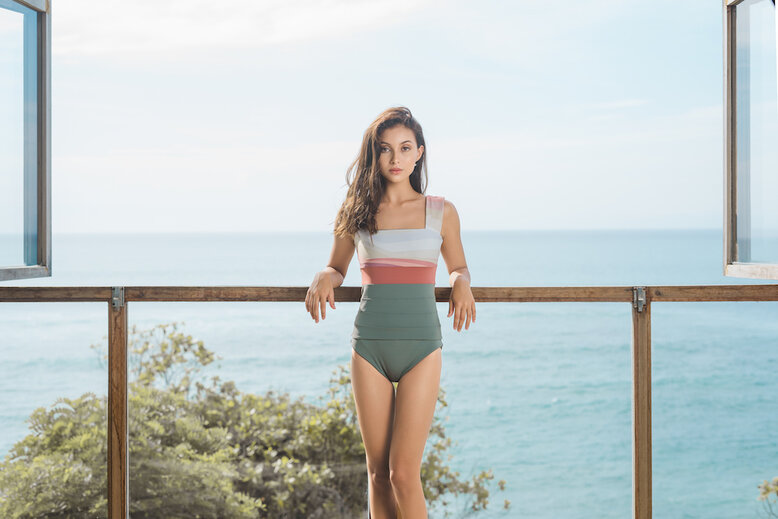 PINKSALT Penn Tankini
What's in store for us? Belinda gives us a hint: "We are working on some interesting designs in cotton jersey material for our next capsule collection and plan to start an activewear line featuring our unique digital prints in interesting silhouettes."
We don't know about you but these sustainable fashion brands in Singapore definitely make us want to purchase with a little bit more mindfulness.
Find out more about TaF.tc's inaugural TencelTM Fashion Design Competition 2019 — a 5-day workshop held from March to July here.