Covering most of the Shiretoko Peninsula, a remote northeastern corner of Hokkaido, Shiretoko National Park is a wonderland heaving with flora and fauna. This UNESCO World Heritage Site has thriving wildlife and is home to various species including the Hokkaido brown bear and the killer whale. Here you can witness the gorgeous scenery of Kamuiwakka Falls and the Shiretoko Five Lakes.
To preserve this area, the website Shiretoko Sustainable was made available in 2019 to promote and improve sustainable tourism in Shiretoko National Park. We spoke to Mr. Gen Terayama, the Secretary-General of Shiretoko Shari Tourism Association to find out how to get the most out of your visit to this beautiful sanctuary.
What are some of the best things to do at Shiretoko National Park?
Summer is probably the most popular time of the year to visit the national park. Although many of the hotels in the area are still closed due to COVID-19, they will slowly resume business in June. The trails and the visitor centre have been open since 16 May. During the summer months, going on a sightseeing boat cruise is a great way to appreciate the peninsula's varied coastline, from its tall cliffs and waterfalls to the spectacular ocean views.
In Spring, we recommend going on guided forest walks. The terrain is pretty flat, making it easy even for beginners, and the air is very fresh. One of the most popular walks is the leisurely 90-minute trek around Shiretoko Five Lakes, which offers many photo opportunities. No matter which forest walk you take, we recommend going with a guide — not only can they point out the various sights, they are also trained to keep a lookout for brown bears, which roam freely in the area.
In Autumn, large schools of salmon start to return to the peninsula, making it a popular time for fishing. While fishing is not allowed in the rivers itself, it is permitted at the river mouth.

When winter comes along, the national park transforms into a snowy playground with activities like ice walking and skiing being the most popular. Walking on drift ice requires wearing a special dry suit and going with a seasoned guide but it's worth it as the experience is absolutely magical.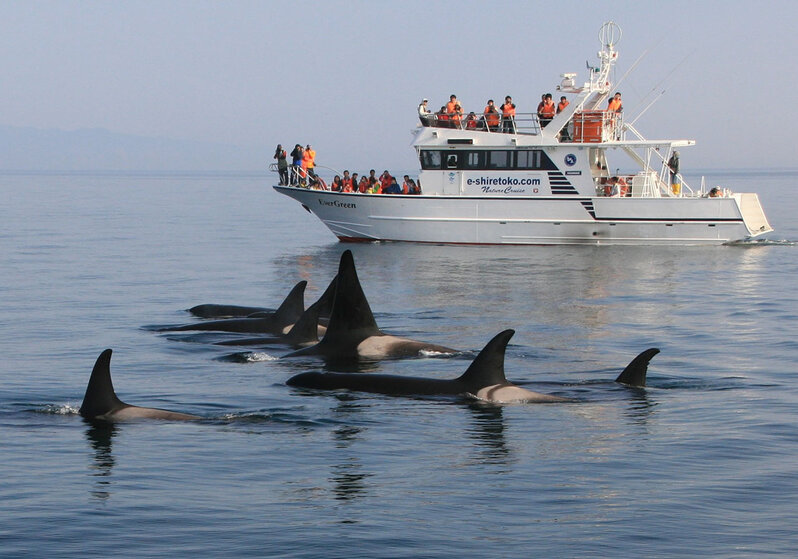 Tell us about whale watching in Shiretoko National Park.
The waters surrounding the peninsula are teeming with marine life, including whales, which is what many visitors come to see. From April to July, you are likely to spot killer whales and minke whales, and from August to October, that's when you'll see the sperm whales and Baird's beaked whales, which are usually seen on the Rausu-cho side of the peninsula. To me, this is the best place in the world to admire these magnificent creatures in their natural environment.
How can we practise responsible tourism when visiting Shiretoko National Park?
When surrounded by such vastness and wild beauty, it's hard not to be humbled by how small and insignificant we really are. It reminds us to respect nature, and not take anything for granted. This is why we always recommend travellers to visit the visitor centre and get equipped with essential information before taking part in any activity.
Tell us — what is one must-try dish in the area?
We have an abundance of good food in this region but salmon is especially good as it's so fresh here. Enjoy it the way the locals do — chanchan yaki-style. This is a simple but delicious cooking method where fresh salmon is marinated with soy sauce, miso paste and some sake before being grilled with plenty of fresh vegetables.
This interview has been edited for clarity and brevity.
(Cover photo from: Shiretoko Nature Cruise)