One of the videos I enjoy watching on Youtube are those "What's In My Bag" type of video where the vlogger basically shows every single item she keeps in her daily handbag. Very riveting stuff; and it's clearly something that resonates with most girls based on the number of views such videos receive.
I would boil it down to our immense love for bags and our over-packing resourcefulness when it comes to filling our favourite bag with our daily essentials. Whether, you're a small bag kind of girl or prefer a huge hobo-bag, there's just no denying the lure of wanting to find out what other girls carry in their bags.
So naturally, I turned to our Featured Fashionista for October, Adele, and asked her, "So, what's in your bag?"

Click next to read Adele's response to my request to take a peek into her bag >>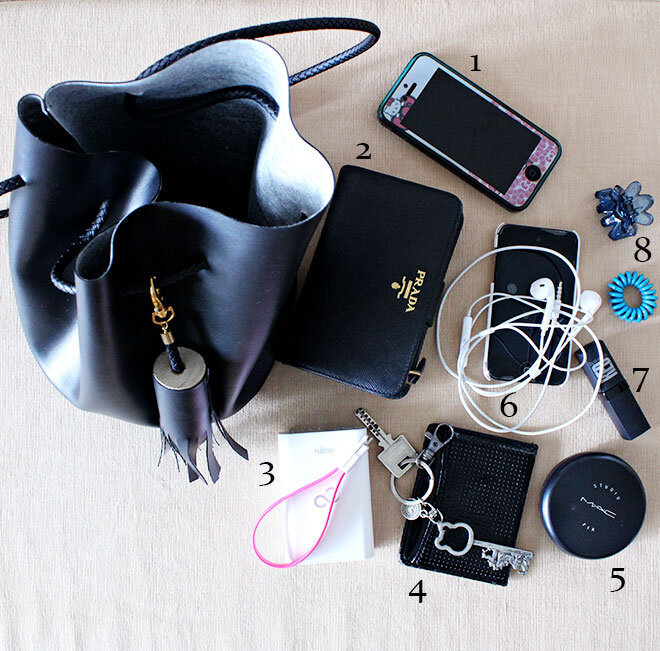 With small bags, I have to prioritise the important things that I know I would definitely need. So these following items are my must-have every time I am heading out.
1: iPhone -- Definitely cannot leave the house without this!
2: Prada Walet -- Love this wallet because it has enough space for all my cards and cash.
3: Charger -- Portable charger and usb cable that I desperately need every single day without fail!
4: EZ-Link Holder -- Can't go around Singapore without this!
5: MAC Studio Fix -- For quick makeup touchup through the day.
6: iPod & Earphones -- I love plugging in to music through the day, so I always need this with me.
7: Lipstick -- The lipstick choice changes depends on my mood or what I'm wearing.
8: Hair tie/clip -- For when I need to get my hair out of the way when the weather gets too warm or when I am eating.
So what's in your bag, Clozetters?
Snap a photo and share it with our Fashion Community!