These days, everybody wants their social media presence to look pristine. Even if you're not a blogger and have no aspiration to be one, we're sure that you'd still love to capture great images to share with your peers. Phone cameras are a practical choice, but if you want to take the quality of your photos to the next level then you can get a DSLR or a mirrorless camera.
Read on as we narrow down our picks for the best cameras that you can use to up your social media game. We promise that we'll spare you the tedious technical details and just give the lowdown on the great features.
For All-Around Daily Snaps: Canon PowerShot SX730 HS


If you want something that's really portable and handy enough to fit in your handbag then go for the Canon PowerShot SX730 HS. For a camera with a small body, it packs an impressive 20.3 megapixel and a long zoom feature. It's got a built-in flash, an LCD screen that you can flip up (great for vlogging) and most importantly, it can connect to wifi for instant image sharing.
For Travel Snaps: FUJIFILM X-E3
X-E3 is a newly launched camera under the X series, which is a line of premium mirrorless cameras that use X-Processor Pro for the best image reproduction. It now comes with 24.3 megapixels, enhanced handling, upgraded touchscreen operation, an ultra-compact design — all perfect for when you're travelling. It's the first camera in the X series to have a Bluetooth function, so you can easily transfer images from the camera to your smartphone.
For Fashion Photos: Nikon D5500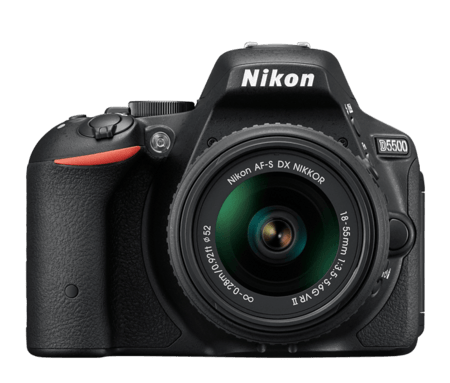 (Photo from: nikonusa.com)
Looking for an all-around camera that gives you an extraordinary user-experience? The Nikon D5500 is for you. It's equipped with 24.2 megapixels, can record videos up to 1080p, an LCD screen with vari-angle display and of course, wifi connectivity. Another feature you can enjoy is the touchscreen, which can help you accurately review your photos. You just have to pinch and zoom in so you can spot any blurs and reshoot if necessary.
For Candid Shots: Sony α6000
There's nothing more Insta-worthy than a beautiful candid shot. The challenge, however, lies in capturing these moments into sharp images. You can set your DSLR to a high aperture and you'll get a good focus on the subject. But if you lack the skills of manning a DSLR then you'll have a hard time taking candid photos. So, you can opt to have this Sony alpha 6000 camera, which has a fast hybrid auto-focus, superior focus and 24.3 megapixels for ultra-sharp photos. Share your images right away with its WiFi connectivity feature.
Which of these great cameras would you get?
(Cover photo from: @fujifilmnz)
Check out what cameras our Clozette Ambassadors are using, too!