(cover photo from dollarphotoclub/Liv Friis-Larsen)

Did you know that while you may think you're removing your makeup thoroughly at the end of the day with your range of balms, cleansing oils, foaming cleansers, and whatnot…there are still pore-clogging residue that remain on your skin?
So if you find yourself breaking out often, it's most likely because you haven't properly removed your makeup at the end of day, leaving minute traces of it trapped within your pores.
To get a clearer complexion and say goodbye to breakouts for good, a powerful makeup remover is needed – one that will remove every last bit of makeup and grime in your pores, but still gentle enough that it won't strip your skin of its moisture. For this, we turn to the
Eucerin DermoPURIFYER Acne and Makeup Cleansing Water
as our go-to cleansing water.
This ultra light cleansing fluid acts as a makeup remover, acne reducer, and pore-tightener with its micellar technology removing all impurities and allowing your skin to breathe better.
So if you want to get soft, hydrated, and blemish-free skin, keep reading below for our reasons on why you should add the Eucerin DermoPURIFYER Acne and Makeup Cleansing Water to your beauty routine!
--------------------------
It removes makeup deeply and effectively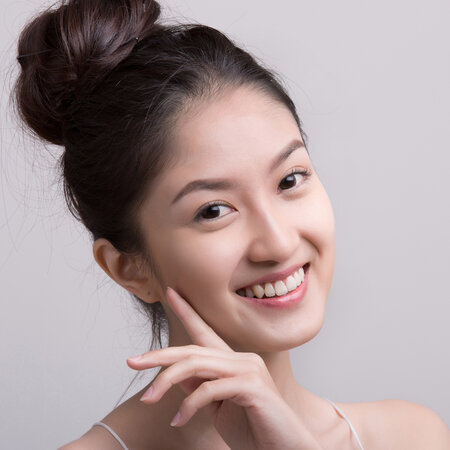 (photo from dollarphotoclub)
By now, we all know the power of micellar water and how it effectively removes makeup (even stubborn waterproof mascara!) that cannot be seen with the naked eye, and thoroughly cleanses your skin; but the
Eucerin DermoPURIFYER Acne and Makeup Cleansing Water
does more than that as it also tones and moisturises your skin, leaving it softer and more hydrated. So if you're always worried about cleansers stripping your skin and leaving it tight and dry, you won't have to worry with this one!
It unclogs and tightens pores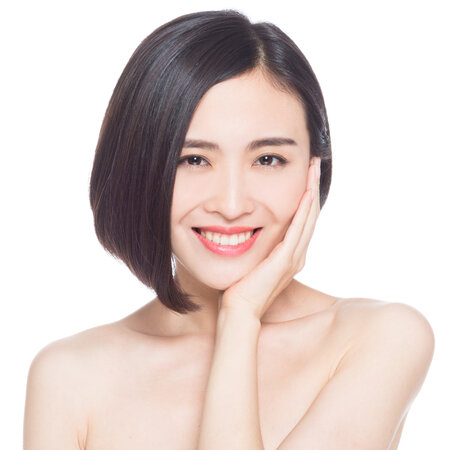 (photo from dollarphotoclub/xin wang)
One of the main causes of large pores is deep-seated dirt that makes pores look more visible. But once they're squeaky clean of impurities, pores actually revert to their smaller, invisible selves! This cleansing water, formulated with Alkyl Polyglucoside Complex, will remove dust and grime from your pores, while still being gentle on sensitive skin. With continued use, your clogged pores will be reduced in as fast as 4 weeks, and you'll notice that your pores look less visible and your skin feeling more cleansed and clear.
It helps prevent acne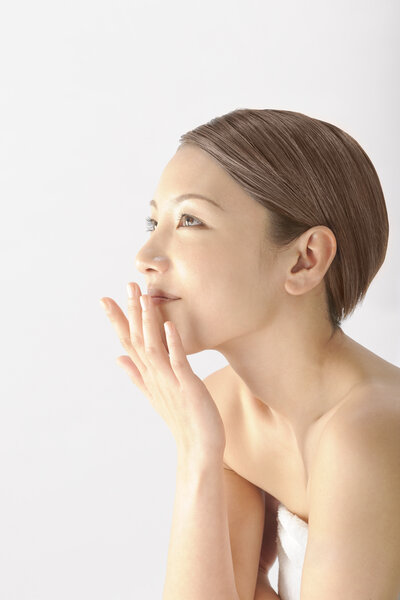 (photo from dollarphotoclub)
Since this cleansing water thoroughly removes the makeup and dirt accumulated on your face throughout the day, there won't be any bacteria left to cause unwanted blemishes to pop-up!
It's great for double-cleansing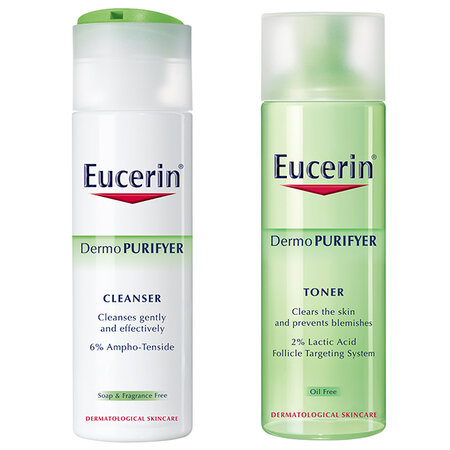 Double-cleansing is a great way to ensure your skin is clean and prepped for the rest of your skincare routine. As such, the Eucerin Cleansing Water is the perfect double-cleansing product to use as part of a "cleanse, clear, and care" routine!
To double cleanse at the end of the day, first take a few drops of the Eucerin Cleansing Water on a cotton pad to remove your makeup and thoroughly remove any deep-seated dirt. Next, use the
Eucerin DermoPURIFYER Cleansing Gel
to wash your face. It's formulated to help reduce bacteria growth in your pores and remove excess oil. This is perfect for all skin types as it's soap-free and fragrance-free!
As the final step, care for your skin by gently toning it with a few drops of the
Eucerin DermoPURIFYER Toner
on a cotton pad. Gently wipe it all over your face, concentrating more on the areas which are more prone to acne such as the T-zone. This anti-bacterial formula, which contains 2% Lactic Acid, gently unclogs pores and prevents spots from appearing!
It works great with other skincare products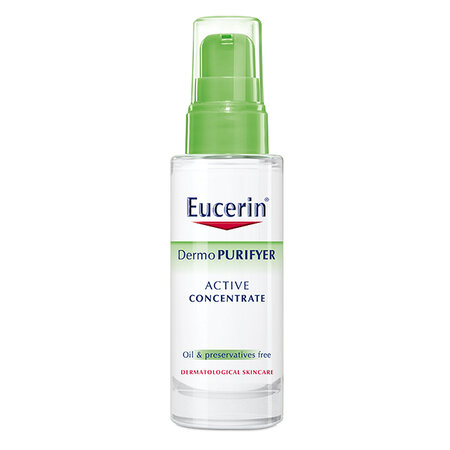 Cleansing waters are so versatile and easy to pair with other skincare products. So for a full acne-care routine, use the
Eucerin DermoPURIFYER Active Concentrate
after you've double-cleansed.
After thoroughly cleansing your face, finish off your skincare routine with this emulsion that's formulated to care for acne-prone skin. Its lightweight texture makes it super absorbent, refines the skin's appearance, improves the flow of sebum to prevent clogged pores, and regulates the skin's functions – you won't ever have to worry about a single pimple anymore!
--------------------------
Now you can easily be on your way to great skin because when you purchase the whole Eucerin DermoPURIFYER range at any Watsons SG drugstore, you get to take 50% off your 2nd DermoPURIFYER purchase!
Why do you love cleansing waters? Share with us your reasons in the comment section below!