We're giddy just by looking at the colours in the Urban Decay x Kristen Leanne collection — a colourful palette, a neutral one with pops of colour, a blinding highlight trio, and lip products galore — so imagine our excitement when we finally met the woman behind the collection in the flesh. We've heard loads about Kristen's fun personality, so we decided to challenge her to a rapid-fire interview. Check out the video above to hear her quick answers to our quick questions, and read below for more of our conversation.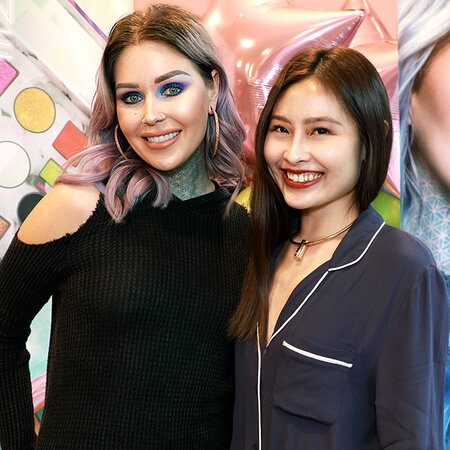 Only contour or only highlight?
"Highlight. 'Cause I wanna glow. You gotta glow. I feel like that's just the easiest way to look bright and refreshed, so definitely highlight."
Terrible makeup or terrible hair dye job?
"Terrible hair dye job. I'd have to choose that because when you look at someone [and they're looking at you], they're looking at your makeup. So that should be on point. I feel like makeup's more important than the hair."
Chop all of your hair off or never cut it again?
"Never cut it again because my hair only grows like a half an inch a year anyway with all the dyeing that I do to it and all the bleaching that I do to it. So I would rather just never cut my hair."
You answer really fast, and you really know exactly what you want.
"I usually do. I'm a pretty fast decision-maker. Shopping with my husband at the grocery store is so annoying 'cause he takes forever. He reads everything. He's very specific about what he wants, which I admire, but it's also like, "Okay, it's taking forever."
Wear one hair colour for the rest of your life or one lip colour?
"One hair colour for the rest of my life because I have had purple hair for five years before and I liked that. When I choose a hair colour, I love it through and through. But with lip colour, that's gotta change with your makeup look."
Leo or Brixton?
"You can't make me choose one of my pets! I'll assume you're talking about the shades [in one of my eyeshadow palettes] only. I'm gonna pick Leo; I find myself using that one a lot over everything. I just really like that duochromatic green. I think it's beautiful. It matches my neck tattoo, and it just kinda goes with my favourite colours."
The Kaleidoscope Dream palette, which features the shades Leo and Brixton, named after Kristen's pets
Do you have a tip for using Leo on looks?
"You can use Leo or Brixton by themselves. For Leo, you can use it as a highlight if you like. You can use it on your brow bone, on your inner corner or just lay it on top of other shades to completely transform them."
If you had to choose one item from your collaboration with Urban Decay, which will you pick and why?
"It would have to be the Kaleidoscope Dream Palette because you can use it so many different ways. You can actually use Tajin, the shade, as a blush if you'd like. And you can also use Brixton, Leo, and Spitfire as a highlight. So there are multiple uses [for the shades]; [the palette] is so versatile."
The Urban Decay x Kristen Leanne collection is now available in all Sephora and Urban Decay freestanding stores in Singapore.