We're giddy just by looking at the colours in the Urban Decay x Kristen Leanne collection — a colourful palette, a neutral one with pops of colour, a blinding highlight trio, and lip products galore — so imagine our excitement when we finally met the woman behind the collection in the flesh. We've heard loads about Kristen's fun personality, so we decided to challenge her to a rapid-fire interview. Check out the video above to hear her quick answers to our quick questions, and read below for more of our conversation.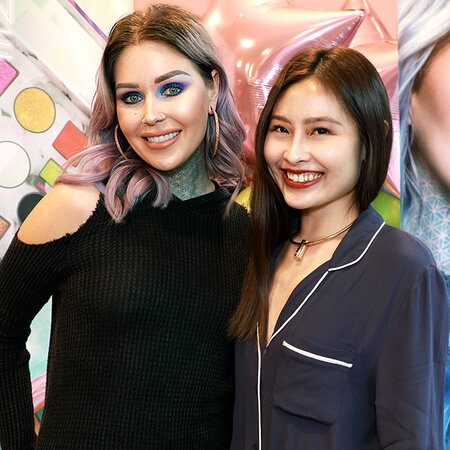 Only contour or only highlight?
"Highlight. 'Cause I wanna glow. You gotta glow. I feel like that's just the easiest way to look bright and refreshed, so definitely highlight."
Terrible makeup or terrible hair dye job?
"Terrible hair dye job. I'd have to choose that because when you look at someone [and they're looking at you], they're looking at your makeup. So that should be on point. I feel like makeup's more important than the hair."
Chop all of your hair off or never cut it again?
"Never cut it again because my hair only grows like a half an inch a year anyway with all the dyeing that I do to it and all the bleaching that I do to it. So I would rather just never cut my hair."