If you've been using the best moisturisers and serums, but your skin doesn't seem to get any better, it's not because they're ineffective. It's simply because they aren't able to penetrate your skin.

Over time, the skin loses its ability to slough off dead skin and it accumulates on the surface. This is also the reason your complexion looks dull and lacks radiance. The CNP Laboratory Invisible Peeling Booster helps tackle dead skin at the surface gently and effectively.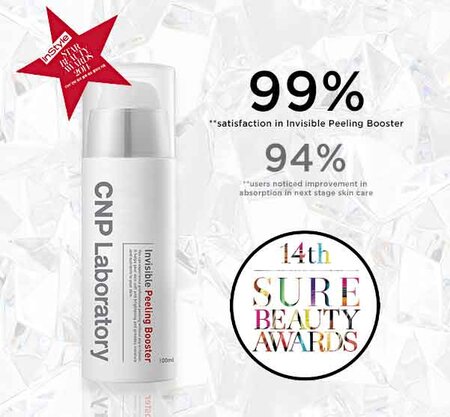 Unlike other exfoliators that contain Alpha Hydroxy Acids and Beta Hydroxy Acids, this product features Polyhydroxy Acids (PHA) that was specially formulated at CNP Laboratories. PHAs are hypoallergenic, less irritating and gentler on the skin, making it safe even for those with sensitive skin. The Peeling Booser also includes ingredients that help calm and soothe as well as a Natural Moisturising Factor Complex that keeps skin hydrated and healthy.
Another thing that sets this apart from other exfoliators is that you don't have to rinse it off. Use it after you cleanse, before your toner, and it helps your serums and creams penetrate better for even better results. Over time it promises to refine and brighten skin tone, regulate sebum production and reduce inflammation so your skin is radiant and glowing like a Swarovski crystal.
The CNP Laboratory Invisible Peeling Booster is now available at select Guardian Health & Beauty stores in Singapore.