With 'Infinite Styles' as its theme, the Panasonic Manila Fashion Fest champions boldness and innovation. This season, we saw vivid colours, playful patterns and the glamorous revamp of retro trends. It's all about keeping it fresh and cutting-edge to keep up with the dynamic taste of the modern fashionista. With that in mind, here are the beautiful designs that captivated us.
Marmalade orange top and houndstooth skirt combo from Yong Davalos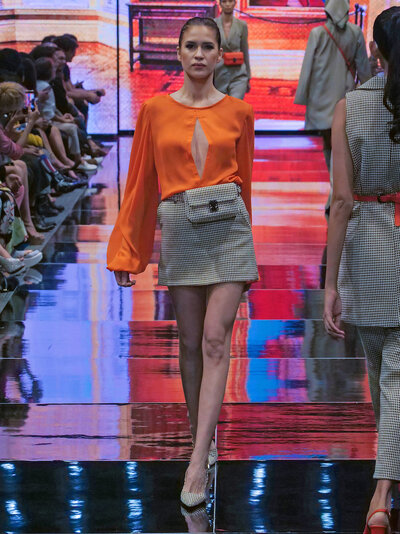 Signature trends from different decades merge seamlessly in this look. There's the block-coloured top with billowy sleeves which is a trademark of mod fashion. You can also spy a fanny pack — a trend that's big during the '80s — only this time it was fashioned to have a classier, updated look. Finally, the ensemble was unified by the retro houndstooth pattern. It's impressive how taking inspiration from the past created a look that's nothing short of fashion-forward.
Playful prints and fringes from Harvic Dominguez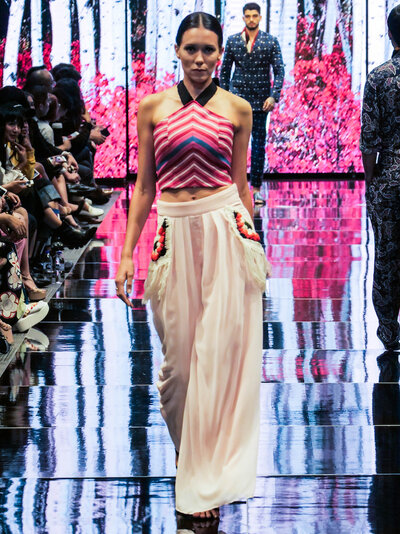 A play of prints and patterns is evident in Harvic's latest collection. The designs are reminiscent of the hot, summer weather that reigns in the tropics for most of the year, and this one, in particular, caught our eye because of the careful balance in the colours and elements. The bold chevron top was matched with pale pink palazzo pants, but the playful, sartorial element remained intact throughout the look by the addition of the fringes and flower patches on the sides.
Two-piece houndstooth dress from Rica Rico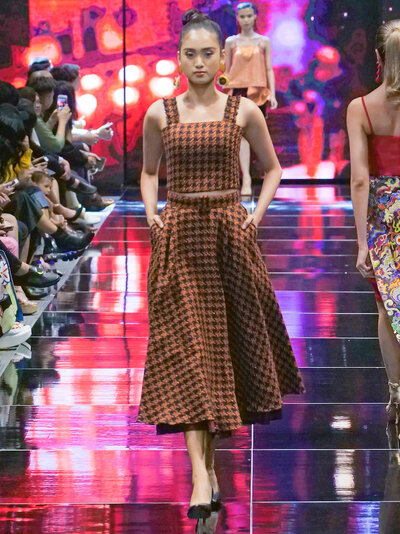 This chic two-piece outfit called the 'Reese dress' is from the Rica Rico's Destination collection. The best thing about the design is its versatility, it can be worn in more ways than one. This is especially helpful if you're travelling and trying to save luggage space. Aside from wearing it as it is, you can also pair these separates with other clothing to create a new look. With this piece, you can mix, match and unleash your styling creativity.
Pleated and ruffled dress from NAOKI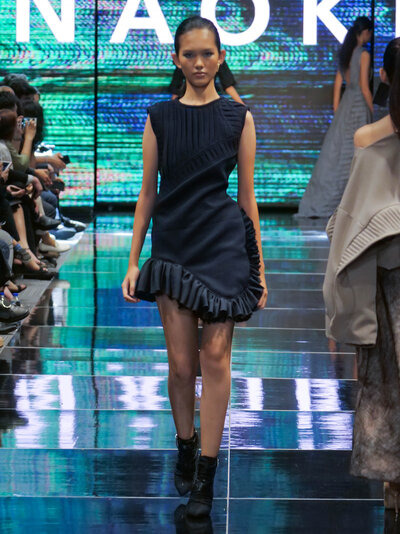 NAOKI's collection for this season featured structured clothes that are contrasted by soft elements. In this particular piece, the pleats and ruffles blended well together in a way that's not ostentatious. On the contrary, even with the addition of these icings, it managed to remain sophisticated-looking. It's unconventionally elegant.
Pastel-coloured clothing from Jun Escario
One thing that we appreciate about clothing designs is its wearability factor. Dramatic bell sleeves aside, we can definitely see this pastel-toned ensemble being worn in a day-to-day setting without looking out of place, yet still retaining that extraordinary look. We also love the intricate eyelet design of the top, which paired nicely with the blush pants.
Next, check out the looks that we love from last season.