What is fashion but an expression of personal taste, conceptual thought, and the creative desire to put on a show. It's less about glamour and more about the artistic notion that mere fabric can be a form of expression. This is the spirit embodied by the designers who showcased at Kuala Lumpur Fashion Week, as they focused on not just presenting a collection but to also consciously put on a visual display of movement, colour, and attitude.

Conceptualized to be bigger than ever, KL Fashion Week Ready-To-Wear returned in full-force at the Pavilion Kuala Lumpur from 17 - 21st August 2016. Touted as one of the biggest fashion runway event in Asia, #KLFWRTW2016 featured collections from almost 100 designers across 5 days, with designers hailing from Malaysia and throughout South-East Asia.


From trendy streetwear, menswear, couture, and the avant-garde, KL Fashion Week was truly a celebration of fashion in Asia. As the Official Fashion Social Network of the event, CLOZETTE was on-ground and front row throughout fashion week, taking notes of our favourite designs that came down the runway. These are the designers to keep your eyes on.
See if your favourite designer made our list as we round-up the designers you need to know from #KLFWRTW2016!
--------------------------
Zero To Ten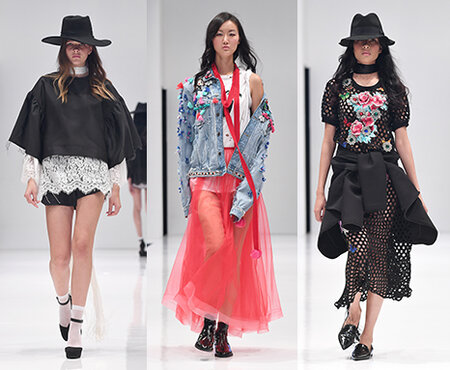 Attitude was one of the big arching themes on the runway, and ZERO TO TEN certainly did not shy away from that: literally going from zero-to-ten as each piece made its way down the runway. Starting off slow with basic black pieces, the collection eventually found its stride as texture and modern street-style silhouettes charged onto the runway with bright pops of colour and attitude.
THAVIA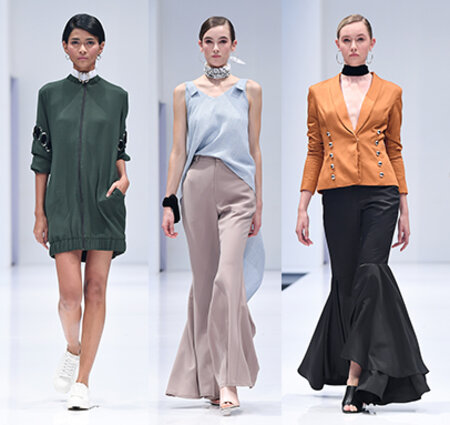 When asked to describe their upcoming collection, the women behind THAVIA encapsulated it perfectly in the phrase "Feminine Strength." That was exactly what Tengku Chanela Jamidah from THAVIA delivered on the runway: a collection of modern pieces perfect for the self-driven women of today. Featuring clean cuts, sleek silhouettes, and muted colours of Fall, this was a collection we could totally see ourselves wearing in every aspect of our lives -- from chic-sportswear inspired dresses to tailored cuts mixed with flared bottoms.
MIMPIKITA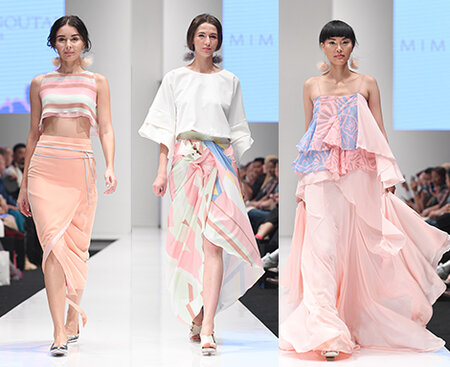 With a brand name that translates to "our dreams," MIMPIKITA showcased a beautiful, flowy, pastel dream that brought a sense of lightness and air back onto the runway. Together with wearable pieces such as its A-Line skirts paired with collared tops, the collection thankfully strayed away from its predictable every day silhouettes with a dreamy play on flow and balance -- blending structured cuts with soft layers.
AERE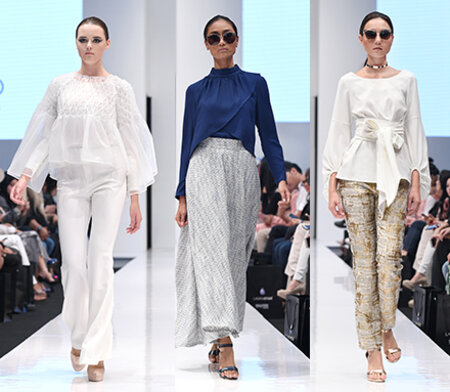 Inspired by optimism and with a colour palette that matched its branding, the HOPE Collection by AERE welcomed a bolder perspective that deviated from the brand's usual touch of simplicity and elegance. Centred on its vision to display its assertive and confident side, the collection showcased the brand's stronger personality formally muted in its previous collections. With its use of luxurious fabrics, new techniques, and the departure from flowy silhouettes, #aereHOPE embraced the idea that one should always be open for change and re-birth into something bold and new.
Sazzy Falak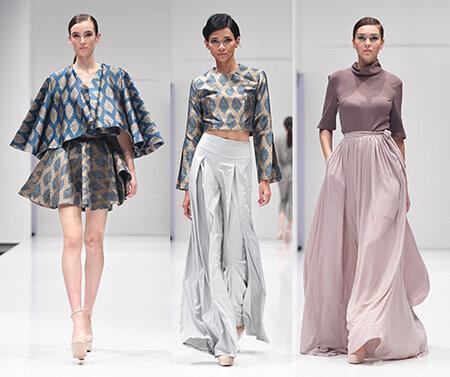 Celebrating every beautiful thing that women can be, Sazzy Falak took to the runway with a collection that blended cuts, textures, and prints in a visual expression of the journey of womanhood -- with pieces that went from soft to edgy in a heartbeat. Inspired by Malay traditional prints and the confident stride of the modern women, the collection was sophisticated and well edited in its styling, creative direction, and colour palette.
ZSAY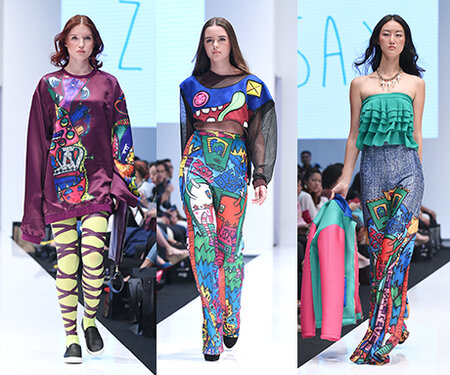 One of the bolder and more in-your-face collections to hit the runway, ZSAY was all about loud animated prints, bold colours, and street-ready silhouettes. Going beyond its individual pieces, the runway show itself was a treat as the models embraced the bright and bold attitude as demanded by the collection. When clothes are this bold and this fun, the attitude has to match; and ZSAY's visual display succeeded in showcasing how runway street-style should be done.
Maatin Shakir
(www.instagram.com/maatinshakirofficial)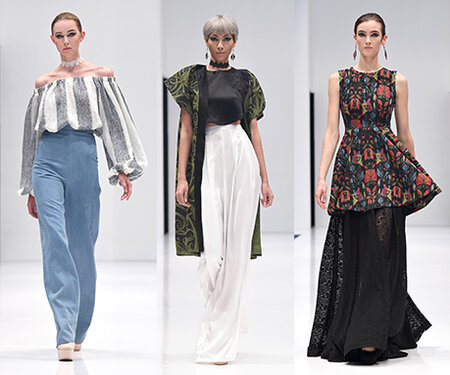 Inspired by the music of the 60s from acts such as Led Zeppelin and Stevie Nicks, the Spring/Summer 2017 collection from Maatin Shakir was a re-telling of the height of the Bohemian era, with a dash of Rock'n'Roll. In line with its branding of creating classy, elegant pieces for the modern women, the collection seemed to be in response to the question: what would a grown-up bohemian woman of today wear?
Melinda Looi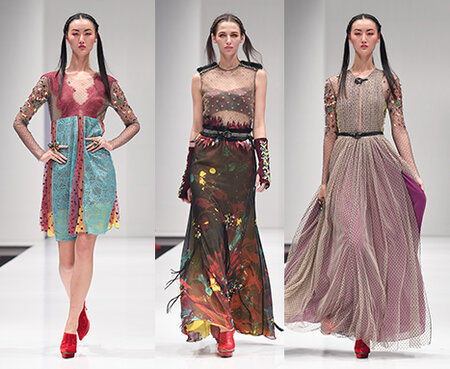 With her Autumn/Winter 2016 collection, Melinda Looi took to the runway with Life Is A Maze -- a visual display rooted in the concept of wandering, being lost, and self-discovery. While not as dramatic as her usual couture shows, her ready-to-wear collection still brought drama and intrigue to the runway with pieces that told an almost Alice-In-Wonderland-like story through edgy cuts, prints, tulle, and embellished detailing.
Nigel Chia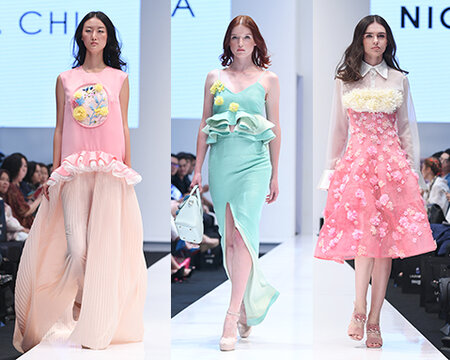 Hinting that this would be his most colourful collection ever, Nigel Chia showcased a brightly-hued collection that did not hold back on details and variety of forms. Known for his pops of details and love for playing with silhouettes and cuts, the collection showcased his knack for whimsical design that echoed his high-fashion doll designing days. His was a refreshing take on a good runway edit, with styled looks that flowed seamlessly piece-to-piece.
My Apparel Zoo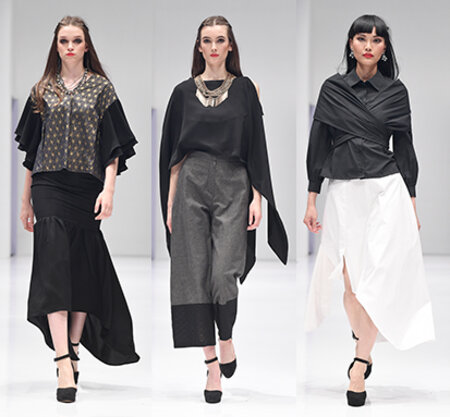 The winner of this year's award for Outstanding Brand at #KLFWRTW2016, My Apparel Zoo went dark and broody with a collection inspired by minimalism, with hints of Japanese Culture in its take on silhouette and form. Giving their usual chic-comfort style an edgy twist, the collection focused on layering and fluidity of motion -- creating a ready-to-wear line that's easy to mix-and-match through varying styles.
--------------------------