As a woman, we live out many roles in a single day -- and a million more throughout our entire lifetime. What's astounding is our ability to juggle through these many roles seamlessly and passionately.
Two of the most common roles that we live through the longest are being a mother and a career woman. Whether we choose one path over the other or simply work our way through both, it is undeniable that it takes strength to commit ourselves to such challenging yet empowering tasks. Yet, as if fate would have it, there would be some of us who are faced with more daunting circumstances, such as in the form of breast cancer.
In
Part One of our #LetsTalkPink series
, we talked about the importance of self-love and the beauty of finding hope in battling against breast cancer. This time, we sat down with
Suriani Kassim
and
Raj Neeta
-- two women whose determination to defy the odds against the sickness defined a new facet of their roles as a mother, a woman, and a survivor.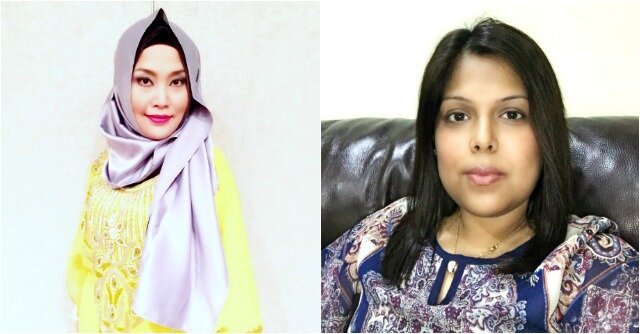 Suriani (left) has been a Radio DJ for 25 years, is happily married and blessed with two wonderful children. She is currently celebrating her 8th year of freedom from breast cancer. Neeta (right), on the other hand, stayed in Korea for 3 years for her husband's work before coming back to Singapore with plans to expand their family. Their plans to try for another child was put aside when she was diagnosed, but 2016 proved to be an amazing year for her after she concluded her treatment last May.
Keep on scrolling to find out more about their story of courage, strength, and beating the odds below!
How were you like before breast cancer? And how did it change when you were diagnosed?
Suriani:
I was busy raising my two young kids and balancing my career. We didn't have a domestic helper so I had to juggle all these responsibilities with my hubby's help. After I completed my chemotherapy and radiotherapy, I returned to work after 8 months of hospitalisation leave. I returned with a changed mindset -- to take things in moderation.
Neeta:
A down-to-earth woman who loved dressing and dolling up-- I was very vain by nature. I was also a dedicated stay-at-home-mum who wanted to spend the early years of her son with her. This changed when I was diagnosed because I felt very lousy and less confident about myself.
--------------------------
What was the first thing that came to mind when you were diagnosed? Did you have difficulty accepting the situation?
Suriani:
I was shocked when I heard I had breast cancer! I didn't have any family members who had it [so I was] clueless. But my husband was with me and that was comforting. He was my pillar of strength and positivity. My family also helped me manage my kids [and they] accompanied me to my chemotherapy sessions when my husband was busy with work.
Neeta:
The first thing that came to my mind was my son because I thought I was going to die! Also, my Aunt who died from breast cancer came to mind as I remembered her cancer journey. Unfortunately, she lost the battle so I felt the same was going to happen to me.
It was definitely not easy accepting the situation as I started to question myself a lot. Every single day I just cried to myself and remained in my shell. It took me a few weeks to digest that I had cancer before informing close relatives and friends. After that, I thought all I could do was trust God and pay attention to what the doctors were saying.
My son was too young to understand anything except that he knew mummy was sick and can't breastfeed him anymore. And my son prayed for me every single night saying "Jesus, please don't take my mummy. I need and love her. Please cure her." Witnessing that really broke my heart but made me realise that I had to fight for him. My husband and mother were shattered. My husband spent days and nights doing research and getting more knowledge so that we have a better understanding and able to make a wise decision about the situation. My husband was my biggest pillar of support without whom I would not have made it. He gave me the best of everything that I needed to help me go through this journey positively.
What was the most harrowing thing about going through this part of your life? And what made you say "This is enough. I have to fight"?
Suriani:
I cried for half an hour in one of the rooms at the KKH Breast Clinic because I was so shocked. Once I had drained my last teardrop, it was time to discuss my options with nurse manager. That was the time I declared war against breast cancer. I chose to get well and to live to see my kids grow up.
Neeta:
Chemotherapy was a living hell. When everything started, I really felt dead inside. The medication made me feel so physically and psychologically bad that it made me wonder what hell could be like. I lived through what I thought was hell for 4 months. The side effects and all the needles being pricked on me was horrible. The worst side effect for me was hair loss and weight gain!
But I have a very supportive family and friends who journeyed with me during my treatment and I'm very grateful to them for this. My son was the turning point in my life [and he was the reason why] I told myself that I have to fight and win this battle as I want to live for the next 30 years to see him grow and be a part of his life.
I remembered very clearly how my husband and mum broke down terribly after receiving the news. These moments were and are very fresh in my mind so after witnessing them, I told myself I am never going to give up. I have to fight for them. It's all in the mind.
Sometimes, all it takes is a simple shift in perspective to change a life. Yes, I'm ill. Yes, I have cancer. Yes, chemo sucks. Yes, treatment is tough. Both tested my life and my patience. So be it! It seems unfair but now that cancer is here, I prefer to keep my energy for fighting it instead of trying to understand the 'why' and 'how' without any chance of ever getting an answer.
What were the things you discovered about breast cancer that you didn't know until you've actually experienced it?
Suriani:
The cyst I had removed 10 years earlier was actually an indicator that I should be more alert to do self breast examination diligently. I got complacent when I discovered another lump 10 years later on my right breast. I thought it would just be another cyst but I was in for a surprise.
Neeta:
I always thought that breast cancer is a death sentence. After being through it, I believe that breast cancer is not a death sentence but rather a life sentence as it teaches you to live. Breast cancer is highly curable if detected early.
--------------------------
How long did it take before the doctors said that the cancer is completely gone? How did you feel upon hearing the news that you have survived cancer?
Suriani:
This year is my 8th year surviving breast cancer. When I crossed the 5th year mark, my yearly appointment was transferred to the Survival Clinic. I'm grateful that I'm able to go this far and return to my normal routine.
Neeta:
My treatment lasted 1 whole year (1 year of targeted treatment, 4 months of 6 cycles of chemotherapy, and 25 days of radiation) and just ended last May 2016. It feels good to be bouncing back to normal now, though I am on hormonal pills for the next 5 years. I am glad that this nightmare is over and looking forward to a healthy fresh start. From now on, being healthy and taking care of myself is the top priority for me.
How did this experience change you as woman or as a person?
Suriani:
My maternal instinct got the better of me to survive this ordeal for my kids' sake. With purpose, determination, support, and knowledge of the illness, my journey got easier as time passed by. Whatever knowledge I gained from my experience, I'm sharing it with new breast cancer patients who approach me usually via my Facebook account.
Neeta:
This experience has taught me never to take life or anyone for granted as life is fragile. This experience has made me a stronger and more confident as a woman. If you are strong and stand by what you believe in, miracles will happen! The strongest tool I found in my cancer battle was the will – the will to live, the will to love, the will to believe. You either have to choose faith in yourself and push through or fear and allow it to control your situation. I'm so glad that I chose faith!
Today, I have never felt so alive. I'm far from being defeated – I am ready to take on whatever challenges await me and build my future.
--------------------------
Last but not the least, what is your message to every woman who will read about your story this Breast Cancer Awareness Month? Do you think that there is a need for women to talk openly about breast cancer?
Suriani:
Yes! Women need to talk openly about breast cancer. They should know how to manage their breast health and get the facts right and know all options available in treating breast cancer. Breast cancer is not a death sentence -- it's a challenge for a woman to overcome the odds with positivity. There's always a silver lining.
Neeta:
All women have to be aware that there is a need to take our own health in our own hands, get our mammograms, and stay on top of any types of changes in our breasts. If you suspect anything suspicious at all, go get them checked and never procrastinate.
And yes, I strongly believe that women should openly talk about breast cancer as a lot of knowledge could be shared to one another. By sharing, this makes the journey of the cancer patient less stressful and much easier and helpful. We must change our collective attitude towards women's health and breast cancer, and encourage awareness.
--------------------------

Any motherly-love, empowering roles, and survival stories to share? Let's talk it out in the comments below!
Plus, don't forget to keep your eyes peeled for the last part of our #LetsTalkPink series here on ClozetteINSIDER.