Whether or not you have a signature look, there's always room to explore, experiment, and empower yourself more through makeup. Its playful and bold nature never fails to inspire us to create countless looks both within and way outside our comfort zone. And it is in this same principle that THEFACESHOP launched VDIVOV — a professional makeup brand housed under LG Household and Health Care — in their recent Beauty Central pop-up event.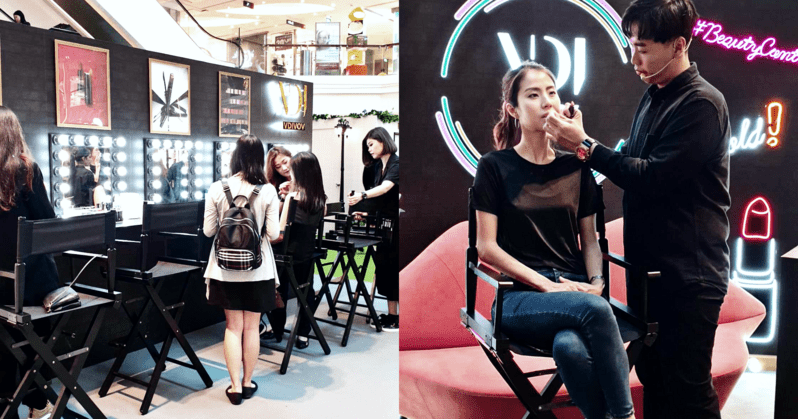 Left: Beauty stations are present in the pop-up event for us to try VDIVOV's most exciting picks; Right: a makeup demo was also held by one of THEFACESHOP's official makeup artists to demonstrate fun looks one can create with VDIVOV's stellar lippies
Following a "Beauty Contrast" philosophy, VDIVOV's aim is to deliver a beauty line that offers versatile products to match contrasting looks — from simple and casual daily makeup to however bold and glamorous you can imagine. This is to help every woman maximise their makeup experience depending on their mood, preference and perspective on beauty. Plus, they stray away from the usual subtleties (like soft pigment and more natural colours) associated with K-beauty, so you'll definitely get flashier options in their range.