A woman is the ultimate multi-tasker and it's no wonder that we've come to expect the same from our skincare. After all, if we can do at least four things at once, why can't our skincare do the same? So we're absolutely thrilled when Clinique recently announced their latest eye treatment, the new
Clinique Smart Custom-Repair Eye Treatment
. It's an advanced eye treatment that is a lightweight, oil free gel-cream perfect for all skin types.
It is formulated to visibly brighten, lift, smoothen the creases around the eyes, and diminish fine lines to crow's feet--while also offering offers a boost of hydration that helps repair dehydrated skin. Utilizing "smart" technology, NEW Clinique Smart Custom-Repair Eye Treatment is fortified with a cocktail of potent ingredients that help to keep skin calm, comfortable, and receptive to ingredient benefits.
Want to know more? Here are 4 reasons why this may be our new favourite eye treatment!
--------------------------

No one likes inflamed skin, especially when it's around the eyes (one of the more sensitive parts of our face). This eye treatment is formulated with Cladosiphon Okamuranus Extract (native to Okinawa, Japan), which make for a potent anti-irritant agent perfect for soothing skin around the delicate eye area. The addition of Algae Extract also provides exceptional anti-irritant benefits, helping keep skin soothed and calm so that it is more receptive to repair.
Plumps and repairs damage
The key to keeping your eye looking brighter, younger, and fresher is by repairing damage while plumping the skin around the delicate eye area. Clinique's Smart Custom-Repair Eye Treatment offers a potent cocktail of ingredients that is able to support the skin's natural repair process while helping to eradicate the appearance of damage caused by stress, UV, and other harmful assaults. Best thing about it: the presence of Acetyl Hexapeptide-8 and Palmitoyl Hexapeptide-12 in its formula help stimulate natural collagen production, which plumps skin, helping to diminish lines and wrinkles. So skin looks and feels firmer and more resilient.
Offers brightening radiance
We all love that brightening boost on the skin. The eye treatment features Plum Extract that brighten dull and fatigued looking skin, so eyes appear more awake and youthful. It's also chock-full of brightening botanicals that help restore radiance and luminosity, for a more even-toned appearance. The result: eyes that looks bright-eyed and awake.
Gives a boost of hydration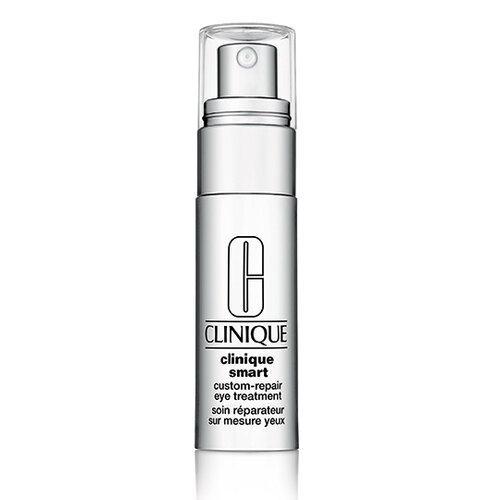 One of the key reasons why the skin around your eye may look dull and sallow is due to dehydration. When your skin is dehydrated, it pulls moisture from your skin. This stretching out your skin, emphasizing fine lines and dark circles. Clinique's Smart Custom-Repair Eye Treatment features Hyaluronic Acid that attracts and binds moisture to thirsty skin; while its combination of Cucumber Extract, Sunflower Extract, and Barley Extract provides a complex of super-moisturizing fatty acid based-ingredients to help keep skin perfectly hydrated.
The NEW Clinique Smart Custom-Repair Eye Treatment is available at Clinique counters in Singapore and retails for SGD $79 for 15ml.