The Met Gala, officially known as the Metropolitan Museum of Art Costume Institute Benefit, supposedly holds the purpose to be a black-tie extravaganza to raise money for the Costume Institute. The significance lies in the Institute housing over 35,000 costumes and accessories that represent seven centuries of 'fashion meeting art' and basically retells parts of history through fashion's perspective.
A couple of the few celebs who followed last year's theme were Rihanna and Zendaya
However, through the years, the essence of the event itself started to take the backseat — and even a fine print to every story — as it has become a brag-show of its own, from the 'exclusive' guest list to the most buzz-worthy outfits that have nothing to do with the year's theme. Even "Queen of Met Gala" and one of this year's hosts Rihanna had a lot to say about it last year, shading those who seemed to have forgotten that the annual event actually has a theme and a message. The multi-hyphenated superstar shared her thoughts by liking a now deleted post that summarises the looks showcased at the event.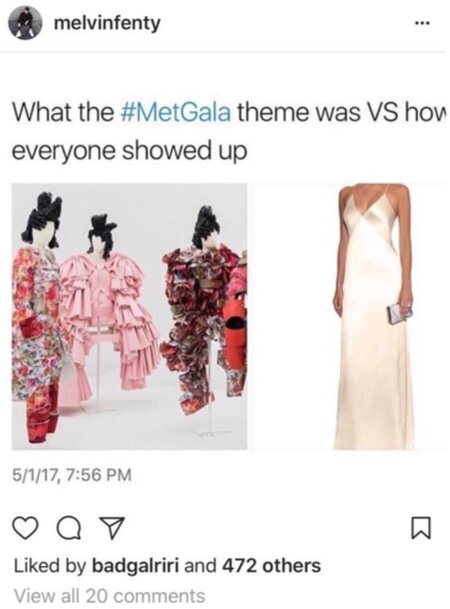 Celebrities and designers go neck-in-neck in producing what seemed to be glammed up Coachella outfits that aim to be the most viral on social media. Even personalities like Tina Fey and Demi Lovato openly expressed how they find the event snooty and clique-ish at the very least, making us think that the supposed benefit is nothing more than a 'high horse' affair.




And needless to say that even antics in the event's closed doors — like certain celebs being called out by the donors last year for turning the bathroom into just a few beer bottles shy of a spring break party — made the event earn its namesake of being one of the grandest yet probably the most scandalous events of all, too.
This year is no exception. Knowing how touchy the subject of religion is, this year's event features the theme 'Heavenly Bodies: Fashion And The Catholic Imagination'.
To be fair, the theme was consulted and created in consideration of ecclesiastical pieces inspired by religion and liturgy, like pieces by Coco Chanel, who was educated by nuns, and so on. But this cross between faith and fashion is definitely a much-anticipated gathering not just for Anna Wintour's select invitees but also for curious minds and prying eyes that will look closely for any brow-raising scenarios given such a sensitive theme.
Anna Wintour's co-hosts this year are Amal Clooney, Rihanna and Donatella Versace
Given some celebrities' risque choices for pieces in the past, the culmination of the term 'Heavenly Bodies' in contrast with the overarching presence of 'Catholic Imagination' in the same sentence may prove to be just the kind of 'technicality' we need to expect some of the most notable looks from the event.
Looking at the bigger picture, it might just be an attempt to actually bring back the dialogue of what the event truly is about, making the guests more cautious of their actions and fashion choices given such a powerful idea to work with. And we'd like to think it worked! Ahead, our favourite looks.
Blake Lively
Blake Lively looks ethereal in this Versace number, which — get this — took 600 hours to make. It's definitely worth it, though! She looks amazing.
Zendaya
Zendaya was like a modern-day Joan of Arc in this gunmetal ensemble. She was armed and ready for a fashion battle and arose victoriously.
Rihanna


We always expect Rihanna to deliver an outstanding look and she definitely did with this papal-ensemble-inspired outfit.
(Cover photo from: @voguemagazine)
Next, more of the freshest news right here.