The Met Gala, officially known as the Metropolitan Museum of Art Costume Institute Benefit, supposedly holds the purpose to be a black-tie extravaganza to raise money for the Costume Institute. The significance lies in the Institute housing over 35,000 costumes and accessories that represent seven centuries of 'fashion meeting art' and basically retells parts of history through fashion's perspective.
A couple of the few celebs who followed last year's theme were Rihanna and Zendaya
However, through the years, the essence of the event itself started to take the backseat — and even a fine print to every story — as it has become a brag-show of its own, from the 'exclusive' guest list to the most buzz-worthy outfits that have nothing to do with the year's theme. Even "Queen of Met Gala" and one of this year's hosts Rihanna had a lot to say about it last year, shading those who seemed to have forgotten that the annual event actually has a theme and a message. The multi-hyphenated superstar shared her thoughts by liking a now deleted post that summarises the looks showcased at the event.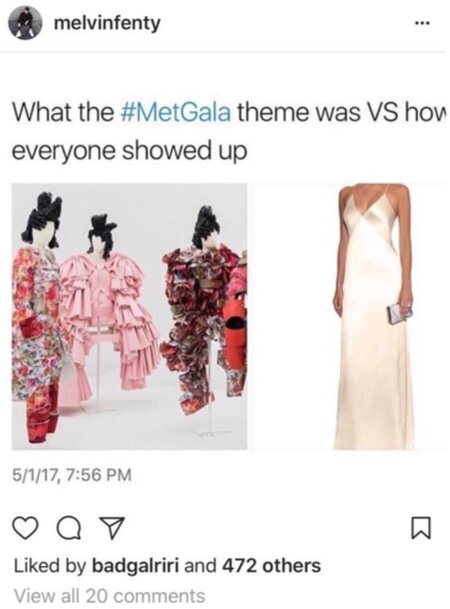 Celebrities and designers go neck-in-neck in producing what seemed to be glammed up Coachella outfits that aim to be the most viral on social media. Even personalities like Tina Fey and Demi Lovato openly expressed how they find the event snooty and clique-ish at the very least, making us think that the supposed benefit is nothing more than a 'high horse' affair.