In this day and age, it's sadly become quite a norm to have an irregular lifestyle. From lack of sleep to unbalanced meals to the harsh UV rays and the worsening pollution — all these take a toll on our well-being. Their negative effects have also started manifesting themselves physically — more noticeably on our skin. Thankfully, with the help of skincare, we're still able to fight damages. For one, there's the new and improved THREE Balancing R Series to help us restore balance and find true beauty.
Last 7 November, THREE relaunched their organic Balancing Line in Singapore. Held at Japanese-inspired café Hvala, THREE's Balancing Relaunch unveiled the revamped products that could balance the rhythm of your mind, body, and skin. So what's new with THREE Balancing R Series? Read on to find out.
They're now COSMOS-certified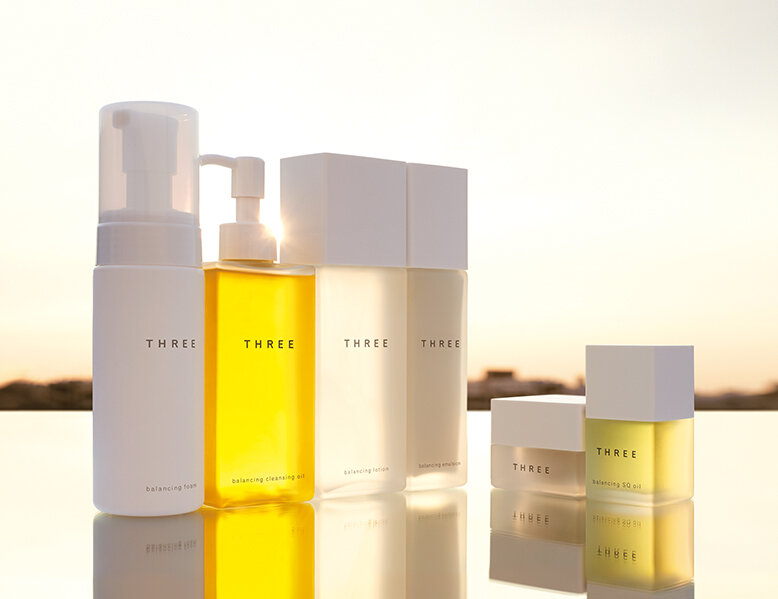 THREE Balancing R Series
The Japanese beauty brand celebrates a momentous milestone with the THREE Balancing R Series now being officially COSMOS-certified organic. The COSMOS standard is a collaborative effort between five European organic certification bodies. Complying with the strict regulations set is a huge step towards THREE's sustainability efforts. Though only one range is certified for now, the brand aims to have all of their products meet the regulations by 2025, and they promise to deliver eco-conscious clean beauty and share the benefits of organic products.
There's a new hero ingredient
Aside from being internationally recognised, the relaunched THREE Balancing line comes with a newly improved blend of essential oils featuring up to 100 per cent naturally derived ingredients across the range. After years of research and development, THREE introduces a new key ingredient in the Balancing range. At the heart of the improved line, you'll also now find Tea Flower Extract. Harvested from tea flower buds grown by the brand's trusted farmers, this organic ingredient effectively calms and tighten the skin. To restore the balance of your skin, it works in sync with Tea Seed Oil, an ingredient that has been in many of THREE's products since their conception in 2009.
Left: The all-new THREE Balancing R Series; Right: A demo using the range during the re-launch event at Hvala.
Intrigued? The newly improved THREE Balancing R features seven skincare products you can easily incorporate into your clean beauty routine. Start it off with the Balancing Point Makeup Remover R that minimises damage to your skin by quickly removing waterproof makeup. Follow it up and double cleanse with Balancing Cleansing Oil R and Balancing Foam R to thoroughly remove dirt deep from your pores. Next, quench your skin with the Balancing Lotion R to even out and clarify the surface. Keep your skin resilient to everyday stress with Balancing Emulsion R that replenishes the water and oil your skin needs. For a radiant and supple look, moisturise with Balancing Cream R. And finally, at night, apply a few drops of the Balancing Conditioning Oil R to lock in all the moisture while calming your mind for better sleep efficiency.
Experience the holistic and harmonising beauty of THREE's all-new Balancing R Series at TANGS at Tang Plaza and Takashimaya SC. With all these, you'll surely be able to face modern-day challenges with peace of mind brought about by relaxed body and skin.