Valentine's day may be over, but we don't need a reason to wear the look of love on the daily, do we? So to help us pack on some extra romance for the month of February, we enlisted the help of
THREE's
Global Make-Up Artist,
Yuta-Sato
, to create three beauty looks of attraction using the Japanese beauty brand's newly launched
Spring/Summer 2018 Make-Up collection
that is inspired by Chakra. "We believe that make-up has some sort of energy. It gives a sort of meaning and power to women," said Yuta. "We put that thought into that with the intention of uplifting their minds." Indeed, make-up can be an empowering tool.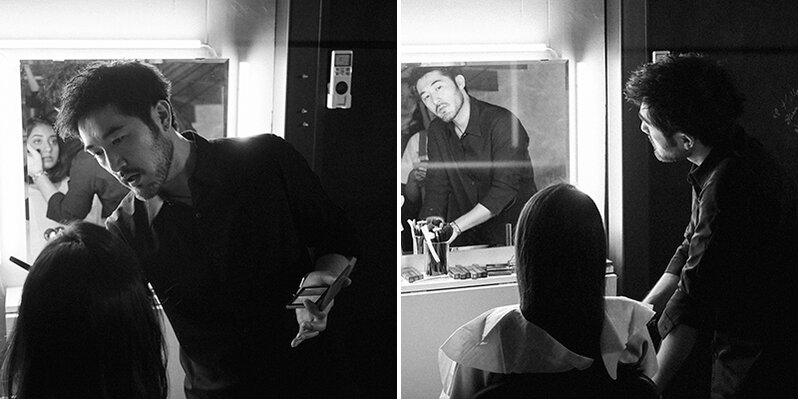 From dreamy romantic to fun and flirty, discover the products that will help you achieve your favourite look and read as we talk "three" with the make-up maestro. Spoiler alert: these looks are so easy and wearable, you'll want to wear them every day.
Dreamy Romantic



Azleena is wearing: Whisper Gloss #19 for eyes, SGD45; Epic Mini Dash #12 for cheeks, SGD43; Lyrical Lip Bloom #4 and #7 for lips, SGD48 each
The look:
The dreamy romantic look has a feminine connotation to it, so according to Yuta, "it's good to have some softness or a bit of a cute element."
For eyes,
tight-line instead of opting for a bold liner. Add a reddish or pinkish eyeshadow hue to up the softness, then layer on with burgundy (
Whisper Gloss
#19) for definition.
For cheeks,
get blushing by brushing on a natural flush (
Epic Mini Dash
#12) horizontally rather than upwards in a sharp, contouring angle.
For lips,
start with a delicate pink tone (
Lyrical Lip Bloom
#7) and add on a healthy pink glow (Lyrical Lip Bloom #4) to achieve a lusciously soft pout.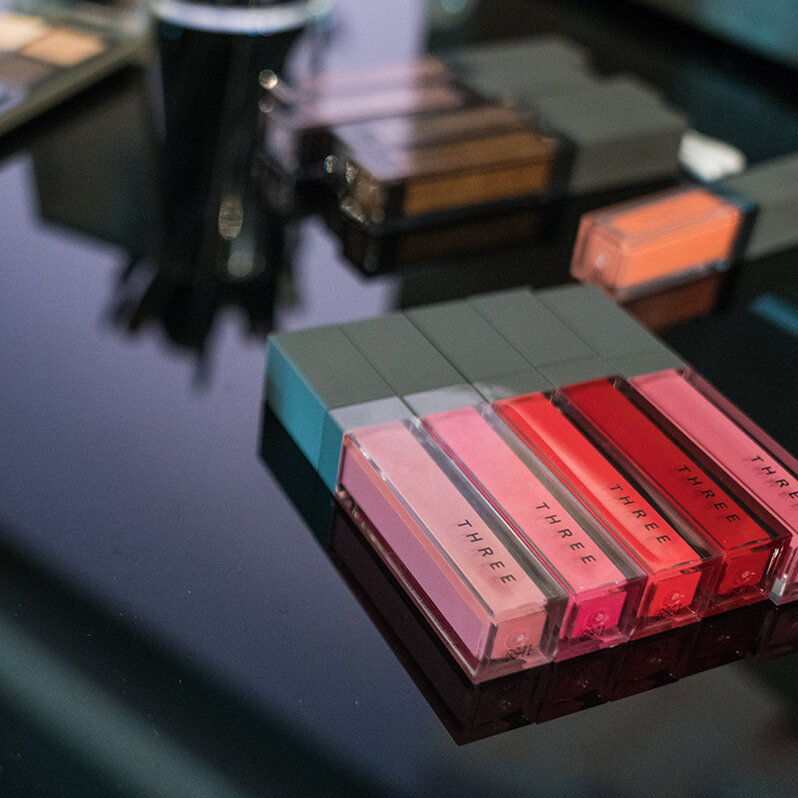 THREE big no-nos when it comes to make-up.
"Don't do your make-up without any thought. Think about what you'll want to achieve by creating a look. How do you want to look overall? Why do you want that look?
In terms of colours and tones, always choose what's best for you. Don't choose anything that won't suit you. Even though you're not putting much on, the wrong colour or tone can look heavy on you.
Don't just go for any make-up product. Look for texture in a product and determine how it feels. Does it blend well? Is it translucent? You don't need a lot of tools; just your fingers will do. If you are aware of this, and you choose your makeup that way, your overall look will improve."
Sexy Chic



Dhivya is wearing: Whisper Gloss #17 for eyes, SGD45; Epic Mini Dash #12, SGD43, and Shimmering Glow Duo, SGD68, for cheeks; Lyrical Lip Bloom #5 and #6 for lips, SGD48 each
The look:
You may be gunning for a sexy chic look, but Yuta says you should still "strive to enhance your natural features without making your make-up too overpowering."
For eyes,
instead of black, create more defined lines using a dark grey eyeliner and a brown mascara that is closer to the colour of your eyes. Black "kind of masks your best feature, then it looks like it's not effortless anymore." A stronger definition is key, but don't go the Kardashian route.
For cheeks,
aim for higher cheekbones (Epic Mini Dash #12) using an angled direction. Then, mask the colour with a pearly finish (
Shimmering Glow Duo
) for a 3D effect to accentuate the cheekbones.
For lips,
to go for a dual colour lip look that lasts, press on a blotting paper between your lips after applying a base colour (Lyrical Lip Bloom #5). Finish up with a swipe of plum (Lyrical Lip Bloom #6) in the middle and inner parts of your lips for a gradient look.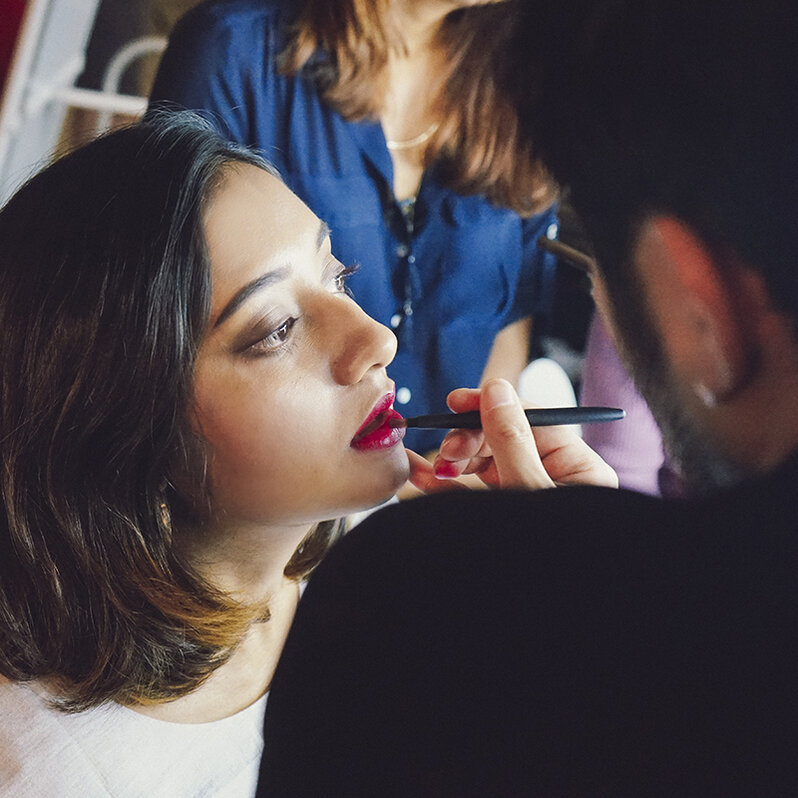 THREE Lip Bloom shades every woman should own.
"
No. 2
is a universal colour and it's popular everywhere in the world. It's a very natural pink — the one colour that you should have.
No.4
and
No.6
are a healthy red and plum that stay true to our brand image. We are very good with dark colours and fans are always waiting for them. Dark colours are quite popular right now because they give you that elegance and that instant cool."
Fun & Flirty




Becks is wearing: Whisper Gloss #21 for eyes, SGD 45; Epic Mini Dash #11 for cheeks, SGD43; Lyrical Lip Bloom #1 and #4, SGD48 each
The look:
For a fun and flirty make-up look, it's all about the coral tones for instant uplifting effects. "Being fun and energetic, it's all about having that healthy tone — that's the important part." Start by working on the underlying tones.
For cheeks,
place your cheek colour (Epic Mini Dash #11) at a slightly higher position to create a rosy complexion.
For eyes,
blend in an uplifting coral (Whisper Gloss #21) shadow. For that effortless look, forget a defined eye line. Add texture to the undereye contours using mascara for your lower lashes. Put a few dots of coral under the eyes, then smooth out using your little finger to add a healthy-like glow that will brighten up your face instantly.
For lips,
choose a tone (Lyrical Lip Bloom #1) that is near to your actual lip colour as the base before blending in a highlight tone (Lyrical Lip Bloom #4) to enhance the shape of your lips even further.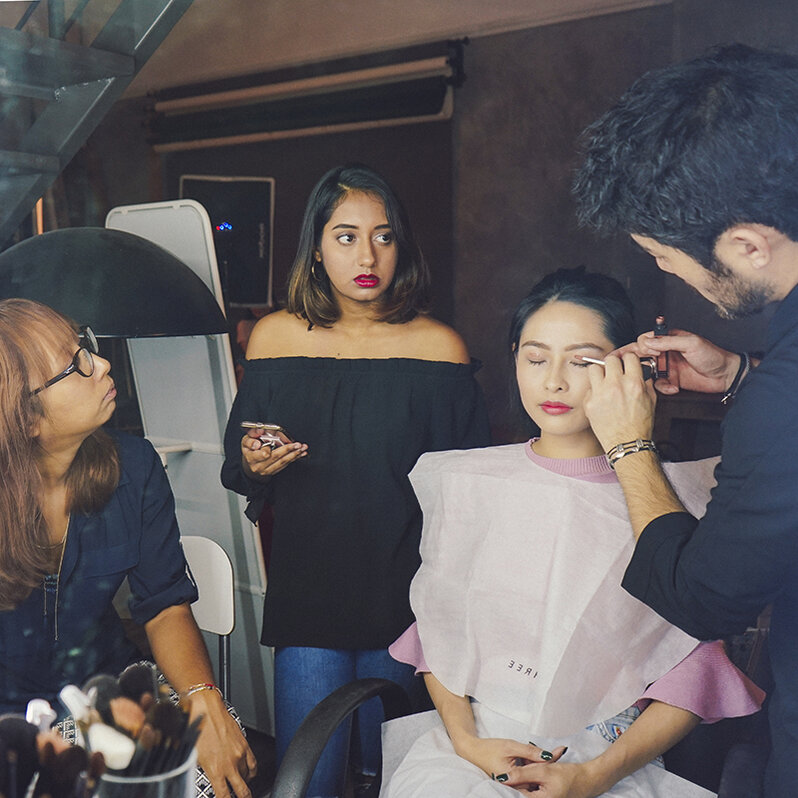 THREE Japanese makeup trends right now.
"The first trend is to create a dewy skin effect that looks like you just did your skincare regimen. Secondly, giving your lip make-up look more depth for a 3D effect. Lastly, contouring. We get a lot of response when we say contouring. Everybody imagines the Kim Kardashian effect, but it's important to think about why we do contouring from the Japanese's standpoint. The Japanese feel that their facial features lack depth and they want to make their faces look smaller. What you want to convey will also change the way you contour as well."
THREE'S Spring/Summer 2018 Makeup Collection is available at THREE's boutique (TANGS at Tangs Plaza, Level 4) and THREE's counter (Takashimaya Departmental Store).