Fall is almost here and it's a wonderful time of the year because Net-A-Porter.com has just released its Fall collection. For this batch, the purveyor of luxury added a whole new edit of contemporary brands that are kinder to our wallets. Which means, our dream wardrobes for Fall are now more attainable!
Celebrate with us as we grace through brands such as Harris Wharf, Vanessa Seward, Sam Edelman, Theory and whole lot more for our top picks this Fall.
--------------------------

F.R.S Printed Silk-Twill Wide-Leg Pants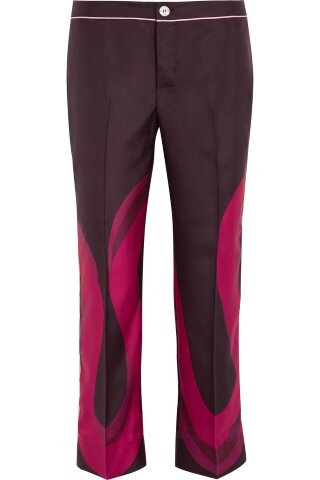 F.R.S. or For Restless Sleepers is a brand that caters to those women who work double time but still want to look stunning and sophisticated the next day. And yes, this pair of pajama-inspired pants is one of those pieces that you'd love to wear on a chilly and hectic work day. It's crafted using lush silk-twill and classic white piping finish that you can pair with a classic blouse, tailored jacket, and heels for a chic look from 9-5.