"The secret to a great makeup routine is the right skincare." If you're into all things beauty, chances are you've heard of this line many times and in many ways before. And we can't say we disagree because having well cared for skin undeniably makes a difference when it comes to makeup application. But it's not just us as consumers who put these words into value. Many makeup brands have also tried and succeeded in venturing into skincare because of the knowledge that the two go hand in hand and Too Faced Cosmetics is the newest contender in the arena.
The brand, best known for its global bestselling eyeshadow palettes, primers and mascaras, has teased their upcoming skincare line through their co-founder and CCO Jerrod Blandino's Instagram account. Reminiscent of the styling of their Hangover primers, the photo shows an SPF 25 sun-protect moisturiser infused with coconut water that claims to be "formulated to make your makeup better" (not that we didn't expect the last part, to be honest). Blandino did not elaborate on the exact date of the launch or if there are any other products arriving along with the moisturiser but with the brand inching towards skincare before with their Peach Lip Scrub and Mascara Melt-Off cleansing oil, we just can't help but get excited.
But since the deets are still a bit unclear on when Too Faced's skincare line will hit the shelves, here's a look at other makeup brands that also have a skincare line under their wing.
Urban Decay Rehab Makeup Prep line
We all know UD for its Naked palettes and cult-favourite setting sprays but remember the time when their skincare line was also hyped up? No? Well, you're not the only one. Announced back in 2017, the brand welcomed the Rehab Makeup Prep line to their roster which composes of scrubs, cleansers, masks, and more. And while it seemed to be much anticipated at the time, it suddenly melted off into the shadows after a while. It's also not clear where it can be seen in the UD website as they don't have 'Skincare' listed as a category, but searching for 'Rehab Prep' on the search bar shows that the line is still available and maybe even worth hitting that 'checkout' button for.

Benefit Cosmetics B.right! Skin Care line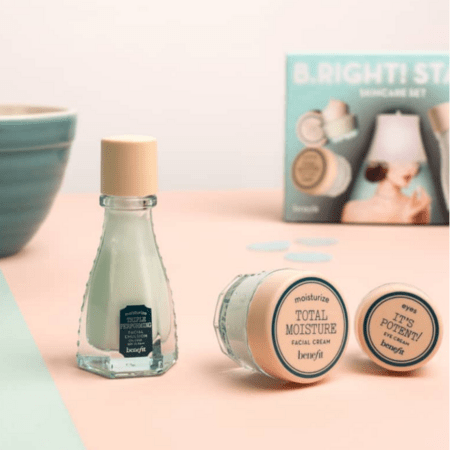 Making 'on fleek' more popular than it already is, Benefit is known as one of today's go-to brow authorities. But we bet you've already forgotten about their sleek-looking skincare line. Going for an artisanal vibe with their glass bottles and cork stoppers, if you're looking to make your vanity as on fleek as your arches, then their skincare line may be just up your alley.
Tarte Cosmetics skincare line
A favourite among beauty gurus and enthusiasts alike, it's undeniable that Tarte has delivered some of the best base products and eyeshadow palettes to date, championed by their signature use of Amazonian clay. And after being under fire for shade range issues last year, the brand proved that they have learned from their mistakes by launching a more extensive colour assortment recently. But besides their ups and downs, one thing that's not so talked about is their skincare line which is surprisingly vast. We're talking hair care, face oils and serums, eye treatments and more, dressed in their usual mystical-themed packaging and colour palette. It's definitely a wonder why their skincare line seemed to be hush-hush, don't you think?
MAC Lightful C line
The next time you grab a tube of Ruby Woo or Velvet Teddy, make sure you ask around for MAC's Lightful C skincare line, too. You read it right. MAC isn't just here to deliver some makeup goodies for all our moods and needs but they also have a skincare line that focuses on making sure your skin is at its top shape even if you've already stripped off your MAC makeup faves. From face masks to oil control lotions and moisturisers to lip care and cleansers, spot the white and holo packaging of the Lightful C line among the sea of matte blacks in your favourite MAC counter.

(Cover photo from: @jerrodblandino)