Embracing our mutual love for stylish travels, we reach out to our Community's digital wanderers to learn their top tips and must-haves when they're jet-setting around the world.


The most common item on the bucket list of a tropical dweller is to experience winter. We dream of ice skating on a frozen pond, frolicking in the snow and drinking a cuppa while bundled up beside the fireplace in a cosy cabin. But let's face it, most of us will be caught off-guard on how piercingly cold winter can be. If unprepared, we might find ourselves very uncomfortable and unable to enjoy winter attractions.
However, don't despair. The good news is, there are some preparations we can do to help ourselves adjust to the cold. For this, we turned to Star Clozetter Christabelle. From Hokkaido and Seoul to Reykjavík and London, she has travelled to various destinations during the winter season. For each trip, she managed to stay chic and stylish, was able to take some awesome photos along the way, and made some cherished memories. What's her secret? Keep reading to know her top tips for an enjoyable winter trip.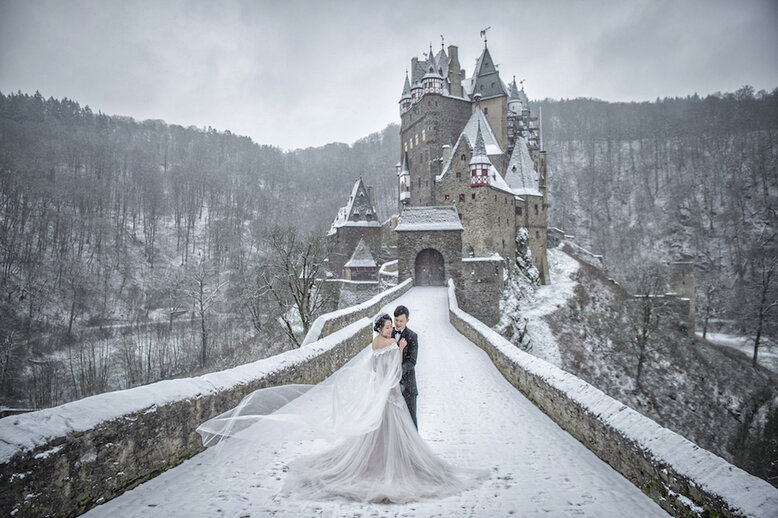 Christabelle and her husband in Germany for their pre-wedding photoshoot last February 2018
When was the last time you went on a winter trip? Where did you go and why did you choose that place?
"I love winter! It's my fave season. And so far, all my trips to Europe are during the winter. My last winter trip was to Iceland and London back in February 2019 for my honeymoon. I chose Iceland because I heard that it's even more beautiful than New Zealand (and NZ is already one of the most stunning countries I've been to) so I was curious and wanted to explore.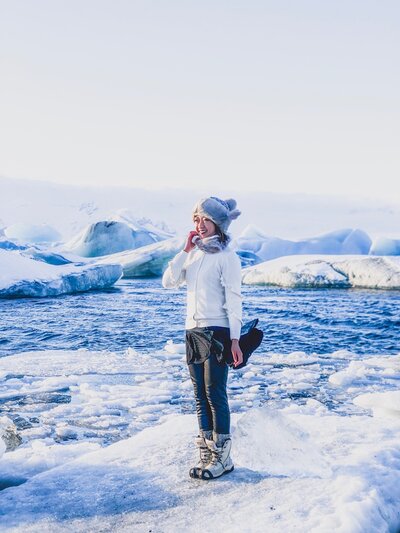 Christabelle at Jokulsarlon, Iceland
During that same trip, we made a quick stop to London to visit a long-lost friend. Since we're scheduled to have a transit stopover in the United Kingdom on the way back to Singapore, we thought it would be nice to also stay in the British capital for a few days."
What was your favourite memory from the trip?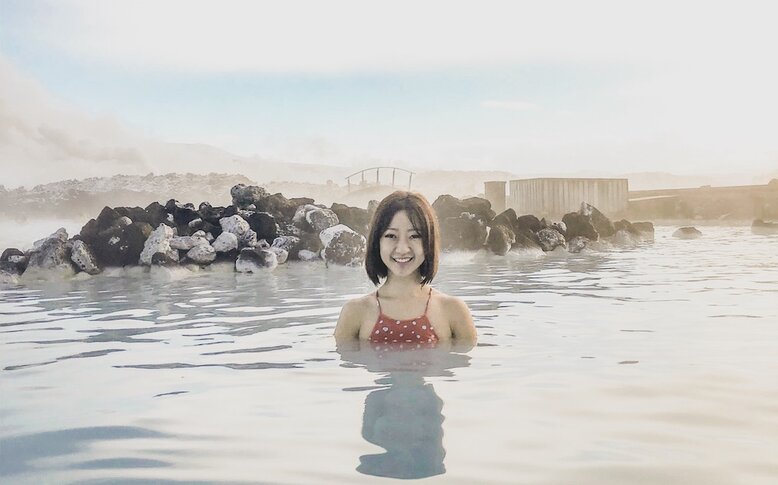 Christabelle at the Blue Lagoon


"For Iceland, it was seeing the magnificent sights in the sky such as the aurora, meteors and more. It was like a desktop wallpaper come to life. I also loved the adventures we experienced — good or bad — during the trip. We did a glacier hike, visited ice caves, had the chance to dip at the blue lagoon thermal pool and even experienced a snowstorm while on a road trip."
Based on your past travels, which destinations or spots are perfect for a winter trip?
"If you like city life, I'd say Japan and South Korea are the best winter spots. The scenery is just so vibrant and jolly during this time of the year. But if you love the countryside and doing some adventurous sightseeing, I recommend going to Switzerland, New Zealand, Hokkaido and of course, Iceland.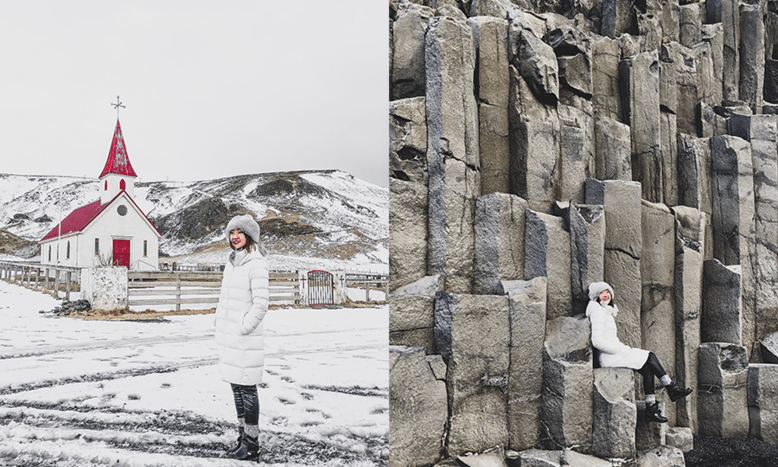 Left - Christabelle beside Reyniskirkja Church; Right - Christabelle at the Black Sand Beach
In Iceland, some of the must-visit spots are the Blue Lagoon, Reyniskirkja Church, Black Sand Beach, Vik Village, Skaftafellsjokull Glacier and Jokulsarlon."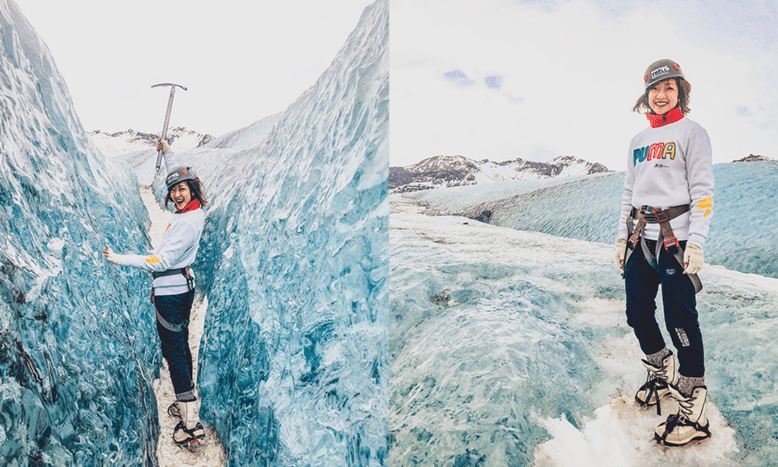 Christabelle at Skaftafellsjokull Glacier
What's one thing you should keep in mind when planning a winter trip?
"Bring enough clothes to keep yourself warm. It's a must."
Share with us five must-haves for a winter trip and how these items can help make your travel easier.
"First, I recommend bringing a thermal flask so you can have access to hot water anytime. Second, get some HEATTECH clothes from Uniqlo. They are comfortable, soft and light yet very effective in keeping your body warm. Third, buy some hand warmers — even the cheap ones from Daiso will do. Next is to pack some lip balm and heavy-duty face and hand moisturiser to prevent your skin from drying out. I swear, it can be very painful to have dry skin especially when it starts to crack and tear. Lastly, get lightweight luggage. Your suitcase will definitely be heavy and stuffed with thicker clothing so lightweight luggage will make it easier for you to move around."
What's the key to travelling light and stylish with all your essentials?
"Don't bring too many inner layers, you can just bring a few pieces and wear them again a couple of times. Believe me, nobody will notice. If you're staying in an Airbnb, just wash your clothes with the washing machine provided. For a stylish look, prioritise bringing different outerwear and accessories like scarves, hats, shoes, and shades to create different ensembles."
Any tips for other ladies planning to go on a winter trip?
"Bring an umbrella just in case there's a snowstorm and if you're of legal age then drink some wine from time to time to keep your body warm."
Do you have specific tips on how tropical dwellers like us could adjust to the winter climate?

"Once you've prepared everything, sometimes you just have to be like Elsa — let it go, don't let the cold bother you and enjoy."
Next, know the must-haves for a worry-free nature adventure.