Before UNIQLO came into the picture, finding good quality anime-inspired fashion pieces was definitely a bit of a challenge. Thankfully, when the Japanese lifestyle brand launched their Japanese pop culture collaborations, fans of the genre — along with casual J-culture enthusiasts — finally had a go-to when it comes to these types of fashion finds.
Based on the collections now in their range, we present our favourite Japanese pop culture collabs from UNIQLO, from the manga hit Demon Slayer: Kimetsu No Yaiba to the ever-classic Hello Kitty.


Demon Slayer: Kimetsu No Yaiba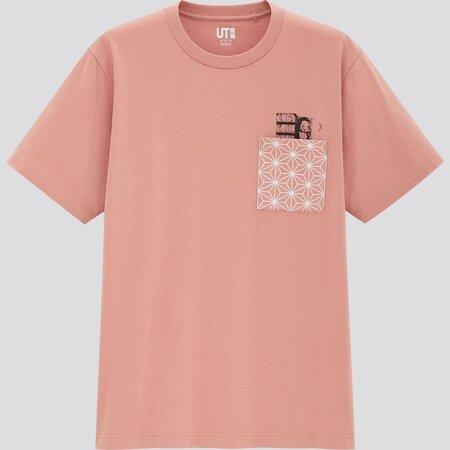 As soon as it hit the airwaves back in 2019,
Demon Slayer: Kimetsu No Yaiba
has been breaking both anime and manga records set by fellow globally renowned titles like
One Piece
and
Shingeki No Kyojin
. By July 2020, it has over 80 million manga copies in circulation worldwide and has been one of the most talked-about anime of the year. It's no wonder why it graced the racks of UNIQLO so soon, much to the delight of the franchise's local and international fans. The first set of the designs are launching this August and more are coming our way this September.
Our favourite piece from this collab:
While the graphic Tanjiro x Nezuko design and the edgy-looking Muzan Kibutsuji motif look equally interesting, we have to go with the pink Nezuko-inspired piece. Even non-
Demon Slayer
fans would recognise the signature colour story and character design featured in this pick.

Hello Kitty T-Market by Yuni Yoshida
Can we really talk about Japanese fashion without mentioning Hello Kitty? We've seen many
Sanrio-inspired collaborations
before, but nothing beats this combo. UNIQLO's accessible price point and great product quality are great to pair with Hello Kitty's style. This latest Japanese pop culture collaboration, created with art director
Yuni Yoshida
, also adds a touch of edginess to the usually sweet Hello Kitty prints, making it perfect even for those who steer clear of cutesy stuff.
Our favourite piece from this collab:
The one featuring a Hello Kitty flower arrangement graphic. It can pass off as both sweet and cute or quirky and unconventional, making the styling possibilities for it endless. It comes in both white and black (but, TBH, we're getting both).
Ribon 65th Anniversary collection
UNIQLO may have a lot of popular collaborations with more recent and globally recognisable titles, but that isn't to say that you should sleep on their more niche collabs.
Ribon
, a well-known girl's comic in Japan, also partnered with the brand recently for its 65th anniversary and the pieces in the collection are simply oh-so-cute. Even those unfamiliar with its headlining works like
Chibi Maruko-chan
,
Tenshi Nanka Ja Nai
, and
Gokinjo Monogatari
will surely be allured by the line's vivid and artistic graphics.
Our favourite piece from this collab:
The
Chibi Maruko-chan
blowing bubbles design (fourth featured tee). Aside from the retro-like vibe of the image, the scene that it depicts sends a huge wave of nostalgia for anyone who would wear — and see — it, whether you're familiar with the character or not.

Weekly Shounen Jump
Anyone who's a fan of Japanese anime or manga is familiar with Weekly Shounen Jump. As one of Japan's biggest manga anthology subscriptions for over half a century to date — think titles like
Hunter X Hunter
,
One Piece
,
Boku No Hero Academia
,
Tokyo Ghoul, Golden Kamuy
and more — their UNIQLO collab is definitely a treat.
Our favourite piece from this collab:
The salmon
Tokyo Ghoul
piece featuring the stages of Kaneki Ken's character transformation (lower left of the image). Fans of this franchise would know how much this character went through ever since he was transformed into a half-ghoul at the beginning of the story, so being able to wear a piece of that experience can be truly special.
Gunpla 40th Anniversary UT
We're sure you've seen or heard of a Japanese mecha anime once in your life. Be it Voltes V, Daimos, Ultraman or Gundam, it's just inevitable to see them. Where you were once a fan, still are or just a UNIQLO patron, this Gunpla 40th Anniversary UT collaboration, which launched just last month, is not one to skip over.


Our favourite piece from this collab: The striking yellow Hyaku-Shiki silhouette graphic tee (upper left of the image). You don't need to know the whole Gundam universe to be able to appreciate the stunning casual wear versatility of this street-style ready piece.
Speaking of collabs to check out, make sure you don't miss out on these Animal Crossing x beauty brand launches.