(cover photo from PANDORA magazine)

Off-shoulder tops, floppy hats, floral dresses, and bohemian skirts – these are pieces that are always worn during summer for their stylish-yet-comfortable qualities. Wear them on their own and they're already gorgeous; but pair them with the right accessories, and it goes from a typical OOTD to a fashion-forward ensemble.
After all, one should never underestimate the power of a great accessory. A simple choker can instantly give your look a more 90's vibe, while a flower crown can add a touch of innocence to your bohemian look. And while those accessories are amazing, if you're looking for a subtle and elegant way to accessorise, then rings are the way to go!
So give your summer look a chic and subtle update. Scroll down for a list of stylish rings that will take your wardrobe to the next level!
--------------------------
Flower Power

Florals are huge during summer and we've got the perfect piece to complete all your flowery ensembles! PANDORA's floral rings are made of different flowers such as white primrose, apple blossoms, and daisies, which will give you options on which you'll want to pair with your outfit for the day!
Mesmerising and understated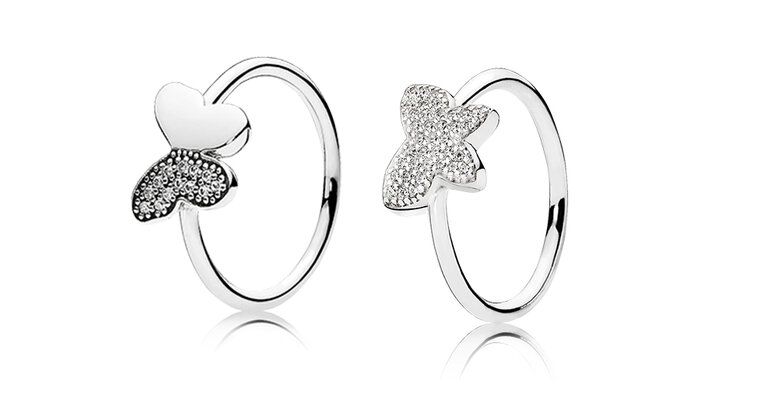 If you like simple accessories that can pack a punch, PANDORA's butterfly rings will be your new summer favourite. Their kaleidoscopic design makes them the right piece to complete minimalist outfits as their soft shine adds an understated elegance when worn alone, but give off a subtle-yet-bold look when stacked together.
Sparkle and shine

For warm summer nights and get-togethers by the beach, complete your look with a radiant glow – and we don't just mean in your makeup! Sport these beautiful PANDORA silver rings for an effervescent luminosity that will make you stand out from the crowd.
Make a statement

Show your creativity this summer by creating your own unique set of accessories! PANDORA's collection of rings feature designs that are purposely exaggerated in a delicate-yet-graphic way; and their designs range from classic, to eclectic, and up to statement pieces. This allows you to easily customise which type of accessories you want; providing endless possibilities and combinations to match with your OOTDs.
Timeless elegance
Style your looks and make it one-of-a-kind to reflect your personal taste by mixing, matching, and stacking rings together! These PANDORA bestsellers strike that perfect balance between delicate and bold, making them suitable any time of the day and for any summer outfit!
--------------------------
Which of these accessories are you excited to pair with your summer outfits? Share your thoughts with us below!
And don't forget to check out how our Clozette Ambassadors paired theirs! Vote for your favourite looks here and you can stand to win over $260 worth of PANDORA vouchers!