This Valentine's Day, I told my significant other not to get me the usual gifts. Flowers? Short-lived and perishable. Chocolates? Delicious yes, but a moment on the lips and a lifetime on the hips. But makeup, and lust-worthy ones at that---now that is something that is worth the keeps!
While it was difficult to curate this because there were just so many amazing choices out there, here are some of my definite top choices:

--------------------------

Ettusais Heart Cheek Colour & Creamy Lip Crayon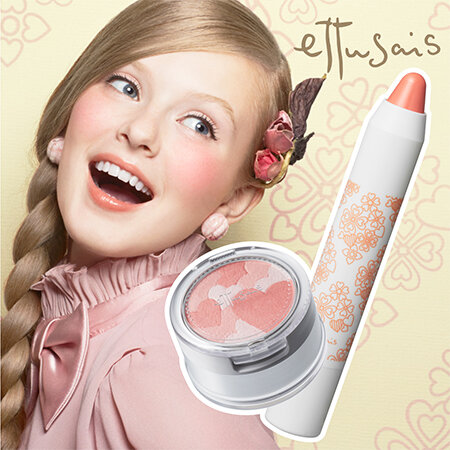 Be still my heart! The new Ettusais Heart Cheek Colour is all sorts of girly sweetness! These beautiful mini-blushers each feature 3 overlapping hearts in shades of Apricot and Pink, containing beaming design crystals for added radiance and gives a natural luminous glow thanks to its advanced fitting powder and frictionless puff.
Complete the look with these pretty floral motif Ettusais creamy lip crayons to keep lips supple with hi-definition colour, without compromising hydration thanks to its infused Rose Hip and Jojoba oils. Perfect for that Valentine's Day pout.
Etude House Dear My Wish Lips-Talk & Lovely Cookie Blusher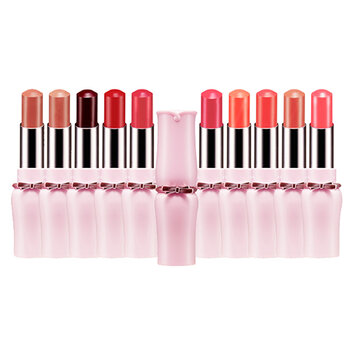 When one thinks of girly style, no one does it better than Etude House. The Dear My Wish Lips-Talk features a moisturising lipstick range of 10 shades from dreamy pinks to vivacious corals. Encapsulated in dainty pink casing, it also features a small ribbon circlet that is actually removable as a wearable accessory!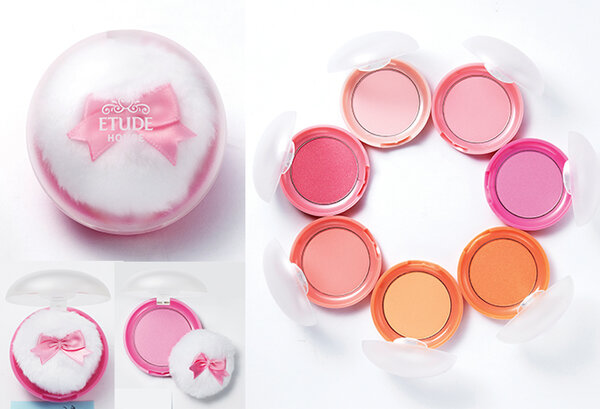 My other pick is the Etude House Lovely Cookie Blusher, which reminds me of the old-world charm of beauty puffs that women once used. A sheer dome opens to reveal a quirky ribbon plush cushion sitting on top the blush. It's not only adorable to boot but its fluffy fibres capture the vivid colour base to create a 'Photoshop-blur' finish that is flattering for every skin-tone.
Laneige 2-Tone Lip Bar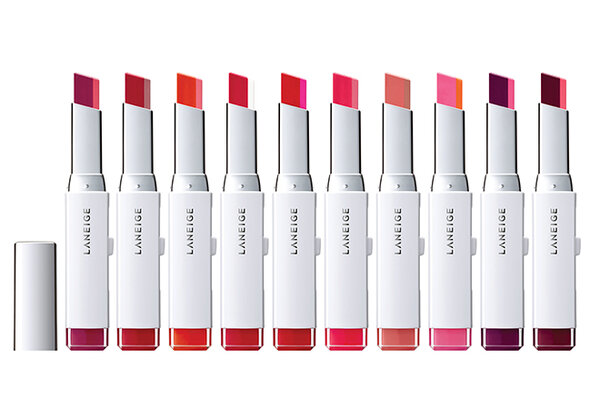 Laneige brings us one of the most wearable Korean beauty trends: the ombre lips. With the new 2-tone lip bar launching in March 2015, you'll never go back to monotone lips once you've tried it. It has an excellent moisturising power and a creamy glide on for oh-so-kissable lips. Interesting to note, it is cut diagonally rather than horizontally for easy blending of colours, and is encased in a slide-up packaging like cake-pops. Now, how fun is that?
Guerlain Météorites Compact Light-Revealing Powder & Perles De Blush Angelic Radiance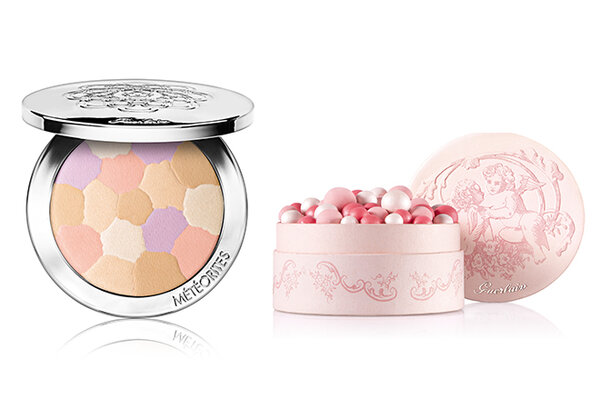 It's like a big beautiful mosaic of multi-colours! The powder adapts to every skin tone to enhance and illuminate the skin. The usual signature Météorites pearls are finely compressed and composed of corrective and enhancing shades to reveal the natural luminosity of every skin tone. Plus, it doesn't hurt to have a sparkly engraved casing and an unbelievable Violet scent.
And it would be almost a travesty not to include the new Meteroites for the season! The Perles De Blush Angelic Radiance is as sweet as its name. Contained in a revamped vintage "toile de Jouy"-style case with delicate embossed cherubs motifs. This Angelic Radiance consists of 3 harmonizing tones: a lively fuchsia for a pop of natural colour, an iridescent champagne for highlighting cheekbone curves, and a rose petal pink that gently refreshes the complexion. Simply blend the colours effortlessly with a brush to achieve that luminous glowing complexion.
Anna Sui's Loose Powder Foundation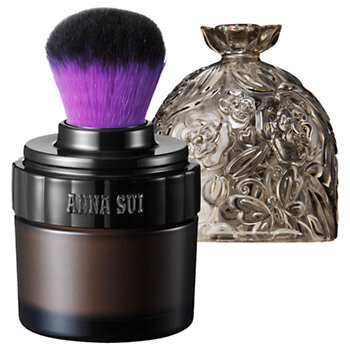 While we've been seeing a lot of incredible eye palettes and blushes, Anna Sui makes it to the list with its Loose Powder. Boasting the mobility of a pressed powder compact, a gloriously soft kabuki brush application rests onto a powder jar and enclosed in a beautifully carved dome. The brush is baby hair-soft and just the right size (we all know the pain of inadequately-sized brushes), while the finely-milled powder provides a luminous, flawless finish.
Les Merveilleuses de Ladurée Face Color Rose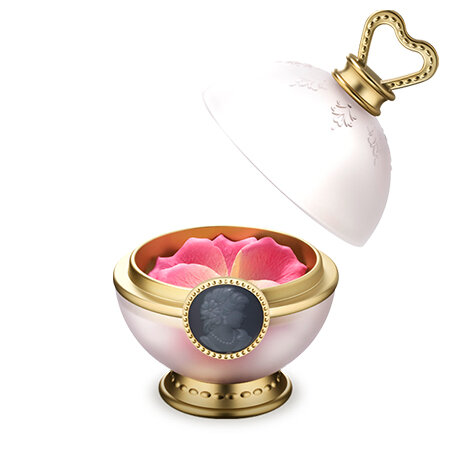 When I first got to know Ladurée, I stood awestruck for a good few minutes. Apart from being too beautiful to be used, it was also the novelty of having cheek colours baked to resembled loose rose petals, all housed in a lovely translucent white and gold glass Faberge egg. Available in 3 natural-looking shades, this light powdery floral scented blusher builds up colour very nicely when buffed in without looking too overdone.
Jil Stuart Ribbon Couture Eyes Palette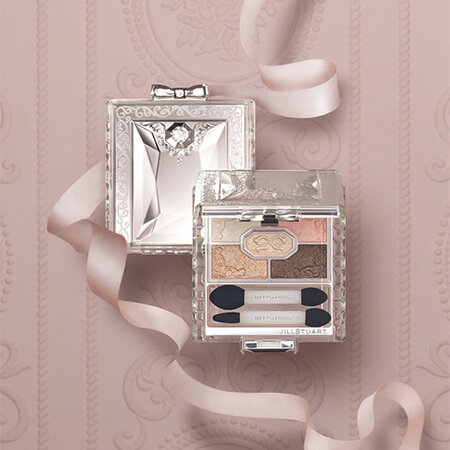 This list would not be complete without the mention of maestro of girl chic. Jil Stuart's 2015 Ribbon Couture Eye Palette. It is every avid makeup collector's dream! It is decked out in an intricately carved silver casing peppered with diamantés that takes the form of a little purse with a ribbon lock. Inside awaits gorgeous eye shadow squares that come in 5 limited edition shimmery hues. Plus, with exquisite palette names like 'Floret Tulle' and 'Vintage Satin', how can anyone resist this? It's so stunning it takes my breath away just by looking at it!
And there you have it---some of my favourite covetables! But of course, I'm sure there are many more that deserve to be on the lust list and I'd love to hear what you think!
Which of these would you like to have on Valentine's Day? Share it with us in the comment box below!
Click Here to see more beauty products from the community.
Want to know more about June? Follow her here!