If you scan your calendars, it would occur to you that despite having many holidays listed for us to celebrate or commemorate, we only dress up majorly for a handful of occasions: Christmas and New Year, with the optional birthdays and Halloween on the side. But now, we can definitely add Valentine's Day to the list regardless of relationship status. Unlike in the previous years where V-Day was often dedicated to couples, these days, family, friend or self dates are now on the 'hip list', making it more exciting and much anticipated by anyone of any age. So no matter how you're celebrating Valentine's Day, we devised a prep plan for you to follow to ensure you feel and look good on the special day.
Step one: start with some self-loving with skin and body prep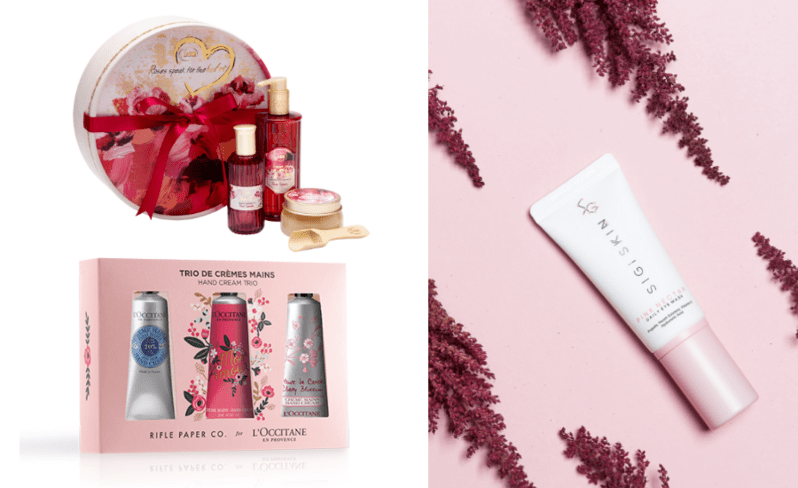 Counter-clockwise: Sabon Roses Speak For The Heart Gift Set, SGD107; L'Occitane X Rifle Paper Co. Hand Cream Trio, SGD45; Sigi Skin Pink Nectar, SGD62
"Love yourself before you love others," says the old adage and we couldn't agree more. That's why we're putting those words to life by starting your Valentine's Day prep with a simple yet soothing skin and body pampering. Not only will it leave you feeling good for the rest of the day but it will also reignite your confidence that will carry your entire look.
Start off with SABON's Roses Speak For The Heart Gift Set that contains a shower oil, a body oil and a body scrub, all in a sensuous limited edition rose-splash scent that will leave your skin renewed and soft like a petal at the comfort of your own home. Next, take care of tired and puffy-looking skin by swiping on the multi-purpose SIGI Skin Pink Nectar, which helps firm and moisturise your under eyes and can also be used to prep your lips for a soft and kissable pout. Last but not the least, don't forget to prepare for a lot of hand-holding, care-filled touching and hugging by also giving your hands some loving with the L'OCCITANE X Rifle Paper Co. Hand Cream Trio collaboration.
Step two: go for a love-filled beauty look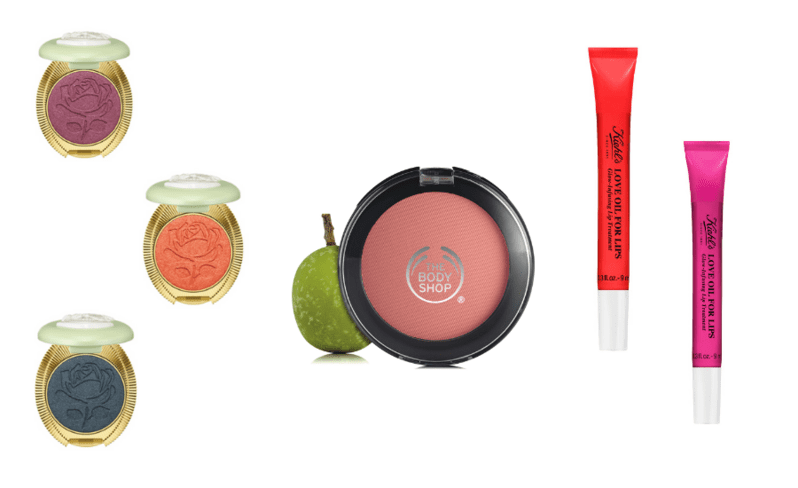 Left to right: Les Merveilleuses Ladurée 2019 Spring Collection Eye Color, SGD37 each; The Body Shop All-in-one Cheek Colour, SGD23, Kiehl's Love Oil for the Lips, SGD28
Channel the aristocrat women of 18th-century France and go for a look of new beginnings and fruitful romances by popping on these spring-inspired colours from the Les Merveilleuses Ladurée 2019 Spring Collection. Choose from softer and dustier rose and brown shades or bolder and edgier oranges and greens and go for a look that aims to both impress and express. Complement your choice of eye colours with The Body Shop All-in-one Cheek Colour in either Bubblegum or Guava for a touch of a natural flushed glow, reminiscent of first meetings and memorable moments. These superfine powder blushers are infused with Vitamin E and Community Trade marula oil from Namibia, making it make-up and skincare in one. Plus, what beauty look would be complete without something for the lips? Get ready to pucker up with Kiehl's new Love Oil for the Lips that helps prep, soften and moisturise before you swipe on your choice of lippie for the occasion.
Step three: unleash your inner romantic through style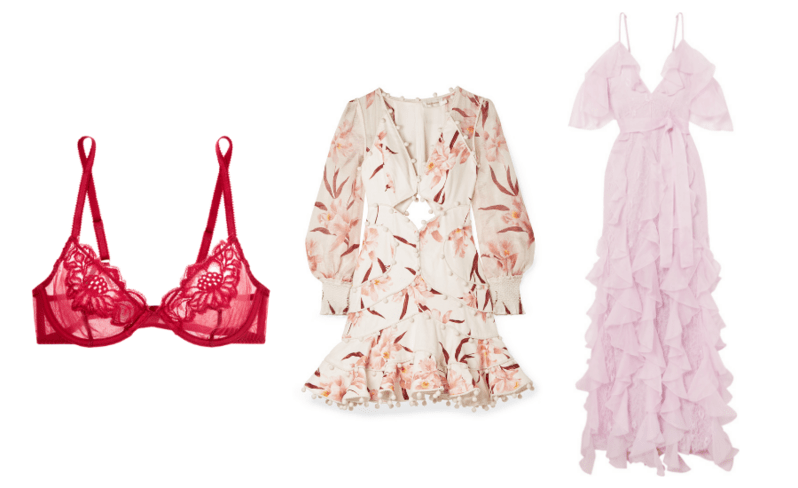 Left to right: Myla Beaty Street Stretch Tulle Lace Bra, USD100, (net-a-porter.com); Zimmermann Corsage Pompom Embellished Cutout Floral Print Mini-Dress, USD1,789.23 (net-a-porter.com); Alice McCall My Baby Love Cold Shoulder Ruffled Silk Organza and Corded Maxi Lace Dress, USD759.34 (net-a-porter.com)
Valentine's is an occasion to unleash a little bit of fantasy and flair so we're challenging you to unleash your inner romantic by going for a couple of interesting pieces. First, if you want to keep the sexier side of you a little more intimate, put on this Myla Tulle Lace Bra under any outfit and discover a spunky 'I've got a secret' spring to your step that will surely pop out. If you want to wow the crowd but still keep it sweet yet subtle, this Zimmermann Corsage Cut-out Mini Dress that flatters the curves and teases a bit of skin without going too much may be the best bet for you. But if you want to go all out and channel an ethereal, Aphrodite-like appeal (which we are all for, to be honest), don't hold back and take this Alice McCall Silk Organza and Corded Maxi Lace Dress out for a spin, which will leave every onlooker, and maybe even Cupid, breathless.
Step four: time to add on the finishing touches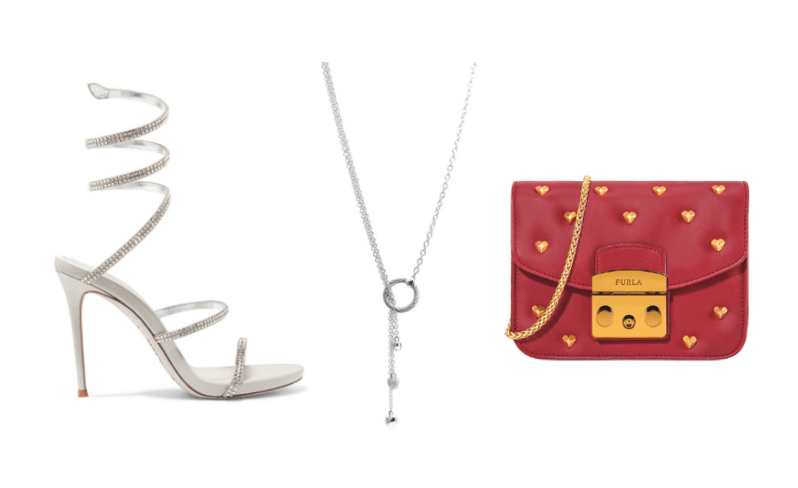 Rene Caovilla Cleo Crystal Embellished Metallic Leather Sandals, price unavailable (net-a-porter.com); Furla Signature Metropolis Bag, SGD795; Charriol Crazy in Love Again necklace, price unavailable
Like putting icing on top of the cake or the big reveal at the end of a movie, the final touches definitely set the tone for the entire look. Our recommendations? First, add a modern twist to your own fairytale by swapping out glass slippers with these eye-catching Crystal Embellished Sandals from Rene Caovilla. Pair it with a hint of sparkle by adding this simple yet elegant Charriol necklace from their Crazy in Love Again collection, the asymmetric fluid silver chains with crimped pendants and Lyriats carefully crafted to exude the romance and commitment the occasion exudes. And on a final note, no outfit would be complete with a bag that will take you throughout the entire day's affairs, and Furla's signature Metropolis bag in bold red makes the best pick when it comes to style, versatility and overall functionality.