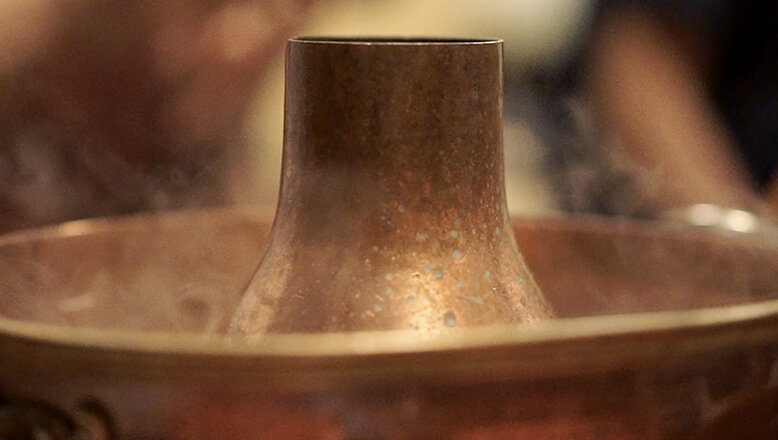 The billowing steam from the hotpot was just the first sign of a taste explosion to come

Ever since we arrived to Tottori, a city three hours away from Osaka and a little less by train, I had been dreaming of dinner. The restaurant on my agenda was Takumi Kappo, a place considered by the Japanese as the birthplace of shabu-shabu, which hides behind a nondescript facade as if to avoid distracting guests from where their focus should be: the beef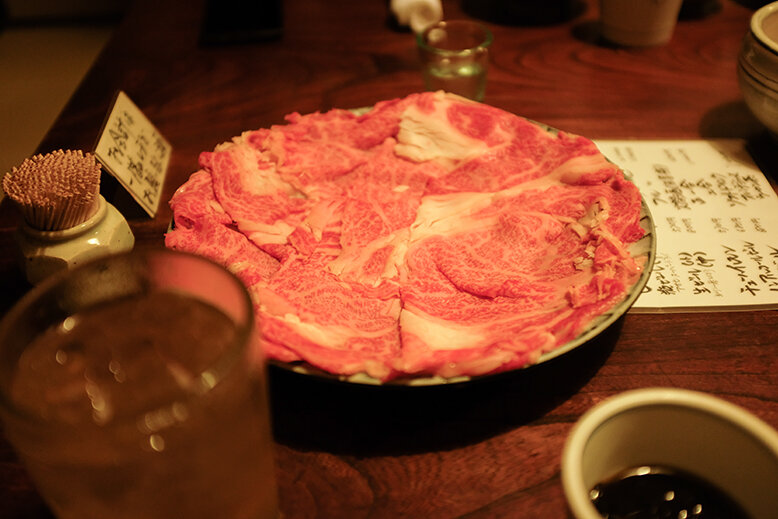 Tottori wagyu, sliced as thinly as possible, melts in your mouth after just a dip in the boiling broth

In 1962, Shoya Yoshida, a doctor who had been dispatched to Beijing, China as an army surgeon during World War II returned with the knowledge of a Beijing hotpot dish called shuan yan rou, which entailed eating thin slices of lamb by plunging them in broth then dipping them in a sauce. In Chinese, shuan means "to rinse."
The Michelin Guide narrates the following story about shuan yan rou: "After returning to Japan, Yoshida lived in Kyoto for about two years, and introduced the dish, shuan yuan rou, to a chef at a restaurant. He also helped the chef develop the dish as a menu item. At that time, it was difficult to find lamb, so beef was used instead. The seasoning was also changed to better suit the Japanese palate. Broth was made from konbu seaweed, and the ingredients and dipping sauce were modified, too. In this way, the prototype of shabu-shabu, "Beef Mizudaki" (literally: cooked in hot water), was complete by the autumn of 1946, right after the end of the war."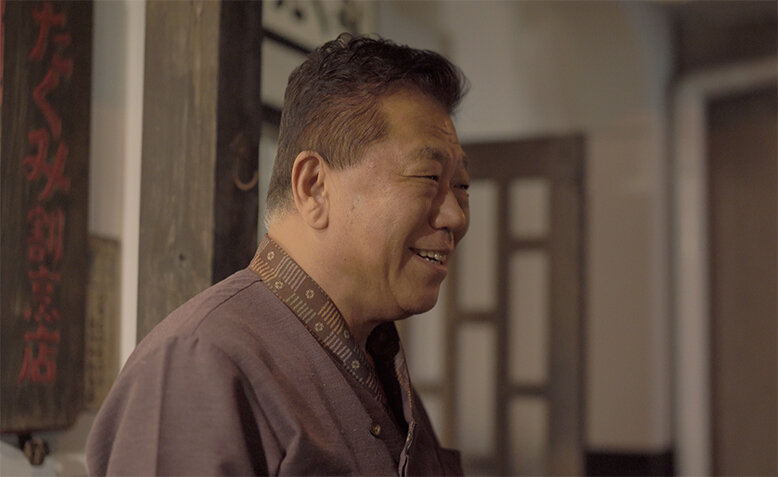 Proud owner of Takumi Restaurant

Although the first restaurant which started to use the word shabu-shabu is Suehiro in Osaka, Mr. Yoshida is the person who started the cuisine in Japan using another name, gyu susugi nabe. I would have passed it without even having a clue of its impressive credentials. Humbly set up, it was consistent with the Japanese culture to focus on what was important and not distract from the focus. In this case, it was the beef.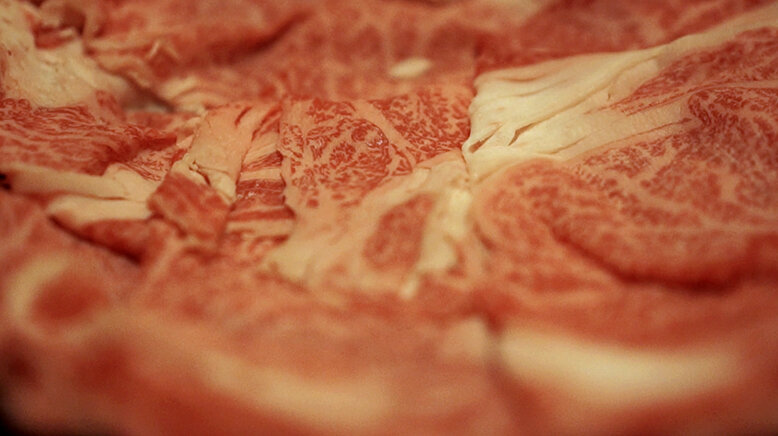 The rising star of Japan's culinary delights is the award-winning Tottori wagyu beef

The servers trailed in, one after another, holding up plates upon plates of what seemed like an endless pageant of raw pink beef, painstakingly sliced as thin as possible, its beautiful marbling in plain display. We were in awe. And by the time we realised we each had one whole plate of this glorious wagyu beef to ourselves, we shrieked in disbelief.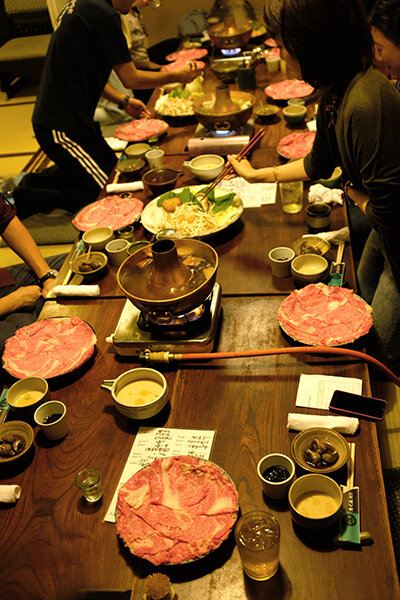 Plates of Tottori wagyu beef before our watering mouths
The second I took my first bite, I was in tears. Bursting with flavour, the wagyu beef melted in my mouth. I had never liked shabu-shabu before. And now, I will never have shabu-shabu anywhere else. Because after this, why bother?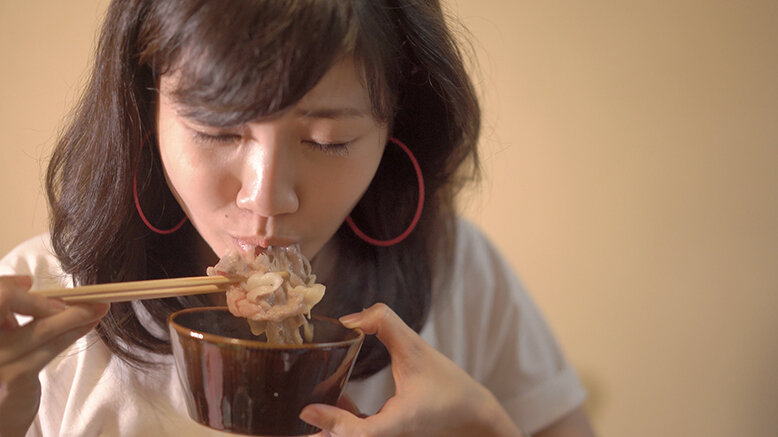 Once you've had Tottori wagyu beef, nothing else compares

Indeed, the beef that we had was also the award-winning wagyu beef in the Wagyu Olympics, organized by Wagyu Registry Organization and held every five years since 1966. In 2017, Tottori wagyu, often known by the brand name Oleic 55 (for comprising at least 55% oleic acid, a major component of olive oil, which gives the meat its sumptuous mouth melting texture), won the Best Wagyu in Japan.
And the best part? It costs a fraction of what you would pay in Kobe, where most people assume has the best wagyu beef.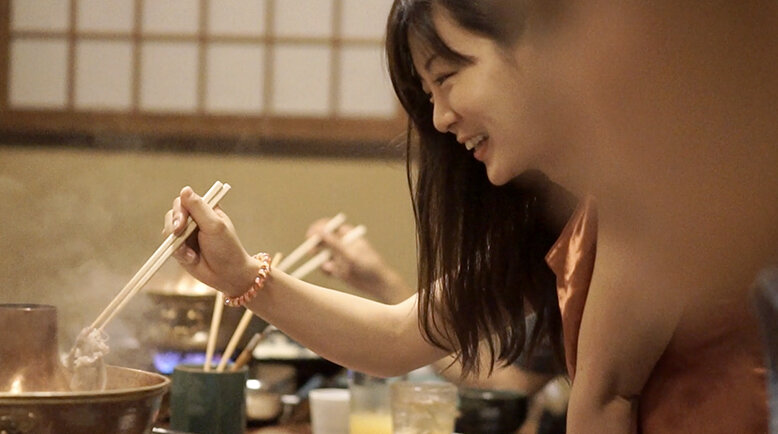 Guests enjoying the best wagyu beef Japan has to offer in little-known Tottori

If you have some time before your dinner, drop by the Tottori Folk Craft Museum just next to the restaurant. I hear this is where Takumi Kappoten gets its charming crockery from. Next time, I'm getting both my luggage full of sake cups and my tummy full of Tottori wagyu.
Takumi Kappoten
Address: 653 Sakaemachi, Tottori City, Tottori, Japan 680-0831
Tel: +81 857-26-6355